Huawei's MateBooks have always disrupted the local laptop scene with products that ride the line between price and performance. Their offerings have always had premium builds, complemented with appealing designs and the right kind of hardware.  
Their latest laptop, the MateBook 14s, continues this tradition. With a starting price of Php 68,999, the notebook boasts a mix of features we rarely see in this price segment. Headlined by an 11th generation Intel Core i7 chip with Intel EVO Platform processor that allows for intense levels of multitasking and the 2.5K Huawei FullView Display with multi-touch capability and 90Hz refresh rate, the laptop looks poised to become a game changer for the brand.
Today, we compare the MateBook 14s Laptop+ to another productivity-focused laptop in the MacBook Pro 13-inch (M1 2020) to see how much they differ. Let's dive in.
Specs and Features
Huawei MateBook 14s Laptop+
The Huawei MateBook 14s Laptop+ features a slim design with chamfered edges and an aluminum frame. The display measures 14.2-inches across with a sharp 2.5K resolution (2,520 by 1,680). It has a 3:2 aspect ratio, providing more screen height than others. You do get black bars on some videos, but it's great for viewing web pages and working on documents.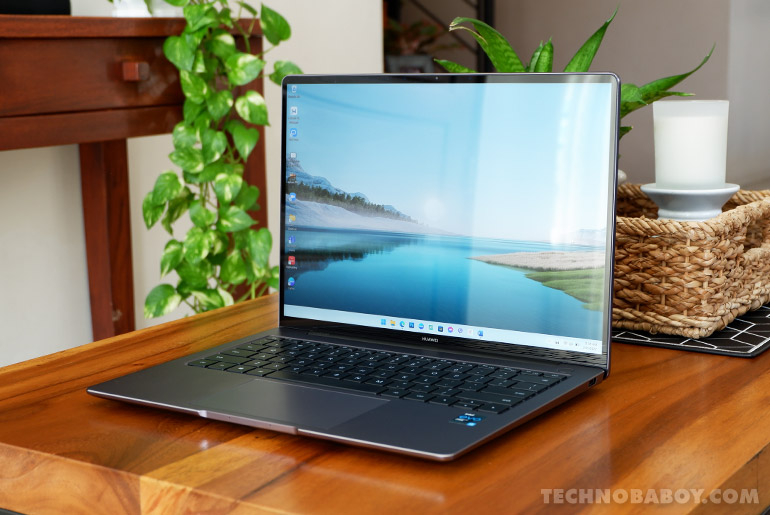 Huawei fits the laptop with a touch screen IPS panel. It's not an OLED, but it's still pretty good with vibrant colors with decent brightness.
The display also comes with a 10-point multi-touch support. I found it very responsive in use and adds further functionality to productivity with gestures such as swiping, pinch to zoom zooming, and quick tapping when affirming options.
The MateBook 14s also has an option for 90Hz refresh rate. It is a welcome addition, adding smoothness and snappiness to general use.
Our review unit boasts the 11th generation Intel Core i7 chip with Intel EVO Platform (Php 89,999), Iris Xe Graphics, 16GB RAM, and 1TB SSD storage. Other variants include Core i7 512GB model for Php 79,999, and a Core i5 512GB for Php 68,999. All models come with Windows 10 Home, but I have since updated this one to Windows 11.
As a Laptop+ device, one of its more interesting features is Huawei's Mobile App Engine. The Mobile App Engine lets you install Android applications and games via the AppGallery. Currently in Beta, you can choose from 20 available apps, including TikTok, Mobile Legends: Bang Bang, Snapchat, Garena Free Fire, Kumu, Viber, and more. In addition, the feature pairs perfectly with the 2.5K display as most apps work best with a multi-touch interface.
As for I/O ports, there are two USB-C ports that support data transfers, charging and DisplayPort. For this model, the second USB-C also has Thunderbolt 4 support. There's also an HDMI, 3.5mm audio jack, and a USB-A 3.2.
The laptop has four speakers, four microphones, a 720P front camera, and a power button with an embedded fingerprint scanner that supports Windows Hello. The speakers are downward-firing, which means you'll get a fuller sound if the laptop is placed on a flat surface. With that, sound quality is good with decent volume. While the fingerprint scanner is fast and reliable.
The keyboard is a joy to use. It's full-sized and backlit, although I did find its brightness to be lower than what I would have liked. The typing experience is great, thanks to the 1.5mm travel and the soft-landing design. The touchpad is large and responsive as well.
The MateBook 14s has a 60Wh lithium-polymer battery with a small (for laptop standards) 65W Huawei SuperCharge Adapter. Battery life is quite good. I was able to get anywhere between 7 to 9 hours of use, depending on my activities. Charging time is great, achieving a full charge in about an hour.
Apple MacBook Pro 13-inch (M1, 2020)
The MacBook Pro 13-inch M1 is Apple's middle child laptop in the Pro lineup. It has a dated design, which still looks great by today's standards.
The laptop's Retina Display has a 13.3-inch diagonal with a 2560 x 1600 resolution. It's an IPS panel, which comes out bright and vibrant. Unfortunately, you don't get touch support for the price.
The highlight of the MacBook Pro 13 is the Apple M1 chip, specifically designed for productivity. It is an 8-core CPU with four performance cores and four efficiency cores, and an 8-core GPU with a 16-core Neural Engine. These all work together to handle demanding tasks, which also contribute to a boost in battery life.
Our test unit has 8GB RAM and 512GB SSD (Php 83,990). There is also a 256GB SSD option for Php 71,990. It runs on macOS Monterey and comes with its own set of apps.
Typical of MacBooks, I/O ports are sparse with just two Thunderbolt USB-Cs and a 3.5mm audio jack. This means dongles and USB hubs should you need more.
The laptop comes with stereo speakers, placed facing up on each side of the keyboard. Sound quality is great and can get really loud as well.
The Magic Keyboard is full-sized and backlit. The arrow keys are half-sized, including the left/right keys, which means fewer accidental presses when reaching for them. As for the typing experience, it's okay. It's not great, but it will get the job done. The travel distance of the scissor switch feels shallower and, while it's still comfortable to use, not as substantial.
Above the keyboard, you have the Touch Bar. This strip is a color display that somewhat makes up for a touch screen. It replaces the usual shortcut keys you would find on a regular keyboard. In theory, it looks intuitive, but in practice, I found its uses to be limited. Regardless, the Touch Bar is not as bothersome as I thought it would be. Beside it, sits the Touch ID which I found to be very convenient.
Read More: Huawei launches MateBook 14s Laptop+ and nova 9 in the Philippines
The MacBook Pro's force touch trackpad is large and very responsive. If you've used any MacBook before, you'd find that its gestures are very intuitive and generally work very well.
The laptop is equipped with a 58.2Wh lithium polymer battery with a small 61W USB-C Power Adapter. Battery life is great. You can typically get around 9 to 10.5 hours of use with high brightness.
Comparison: Huawei MateBook 14s Laptop+ vs MacBook Pro 13 M1 2020
The differences between the MateBook 14s and the MacBook Pro 13 M1 aren't that far apart. Both offer different approaches to improving productivity and work efficiency.
In this instance, I found the MateBook 14s' touch screen display a more useful feature. It is handier to have when it came to scrolling and zooming in at web pages and documents, looking and evaluating images with pinch-to-zoom, and getting to apps. And thanks to the 90Hz refresh rate, it all looks smooth and seamless. It also affords me a faster and more streamlined workflow than the Touch Bar, which has limited uses in my case, mostly relegated to adjustments in brightness or volume for most of the time.
As for performance, it's close. On Cinebench R23, the M1 has higher scores of 7784 points on the multi-core test and 1509 points on the single-core test. The Core i7-13370H, on the other hand, got 5514 and 1105, respectively. The gap in the scores looks significant, but in real life, the difference in speed and performance is hardly noticeable.
But there is a difference when it came to image and video editing software with the M1 having an advantage in faster rendering. Then again, the Core i7 is no slouch either. All other apps' loading times are fast and indistinguishable from each other.
Read More: Huawei P50 Pro is now available in the Philippines
And then there's the typing experience. As someone who spends much of a day writing, typing on the MateBook 14S's keyboard felt better than on the MacBook Pro 13 M1. Don't get me wrong because both are comfortable to use. It's just that the former feels a lot more substantial.
Final Remarks
So, there you have it. The MateBook 14S and the MacBook Pro 13 M1 are two of the best laptops in the Php 80K to 90K price segment, each with its own merits. Both are well worth their price tags, offering great performances and features.
But compared to each other, I feel the MateBook 14s Laptop+ narrowly edges the MacBook Pro 13 M1. It provides more value thanks to its 2.5K multi-touch display with a 90Hz refresh rate and better keyboard experience. Its Core i7 is plenty fast and powerful, and the additional I/O ports give more headroom when it came to peripherals. You also get a bonus of easy integration if you're using a Huawei smartphone.
In the end, though, you can't go wrong with either one.
The Huawei MateBook 14s Laptop+ is available on the Huawei Online Store and the Huawei flagship stores on Lazada and Shopee.
Huawei MateBook 14s
MacBook Pro 13-inch
Display
14.2-inch 2.5K IPS Display, 2520 x 1680, Touchscreen, 3:2 Aspect Ratio, 90Hz Refresh Rate, 90% Screen-to-body Ratio, 100% sRGB
13.3-inch IPS Display; 2560 x 1600
Processor
Intel Evo Core i7-11370H, 3.3GHz
Intel Iris Xe Graphics
Apple M1 Chip8-core CPU with 4 performance cores and 4 efficiency cores
8-core GPU
16-core Neural Engine
RAM
16GB RAM, LPDDR4x
8GB RAM
Storage
512GB NVMe SSD Storage
512GB SSD Storage
Cameras
1MP (720P HD) Camera
720P FaceTime HD Camera
Connectivity
Wi-Fi AX Dual Band, 2×2 MIMO, Bluetooth 5.1
Wi-Fi AX, Bluetooth 5
Ports
USB-C x 2
USB 3.2 Gen1 x 1
HDMI x 1
3.5mm Combo Jack x 1
Thunderbolt/USB-C x 2
3.5mm Combo Jack x 1
Others
Fingerprint Power Button
Backlit Chiclet Keyboard
Touchpad with Multi-touch
Speakers x 4
Microphone x 4
Touch ID Sensor
Backlit Magic Keyboard
Touch bar
Stereo Speakers
Force Touch Trackpad
OS
Windows 11 Home
macOS
Size and Weight
Height: 1.67 cm
Width: 31.38 cm
Depth: 22.97 cm
Weight: 1.43 kg
Height: 1.56 cm
Width: 30.41 cm
Depth: 21.24 cm
Weight: 1.4 kg
Battery
60Wh Lithium Polymer
65W Huawei SuperCharge Adapter
58.2Wh Lithium Polymer
61W USB-C Power Adapter
Price
Php 89,999
Php 83,990