Do you want to take a break from toxic people in your (Facebook) life? Short of unfriending or unfollowing them, here are some things you can do to manage your social media feed.
Whether you're of it aware or not, Facebook has become a major contributor to stress, which can dictate your mental health. Stopping to take a break will do you good. And the best way to do it is to stay away from toxic friends and posts.
When you "take a break" on Facebook, you will be presented with three choices — you can see less of your friend on your feed, limit what your friend sees from your posts and posts you are tagged in, or you can edit who can see your posts, including photos, status updates, videos and more.
How to "take a break" on Facebook
To start, you can go to https://www.facebook.com/take_a_break on a browser. From there, you can search for a friend or profile you want to take a break from, and choose an option from there.
On Facebook mobile, you can do this by going to your friend's profile, tapping "Friends," and choosing "Take a Break." You will be presented with the same options, and choose from there.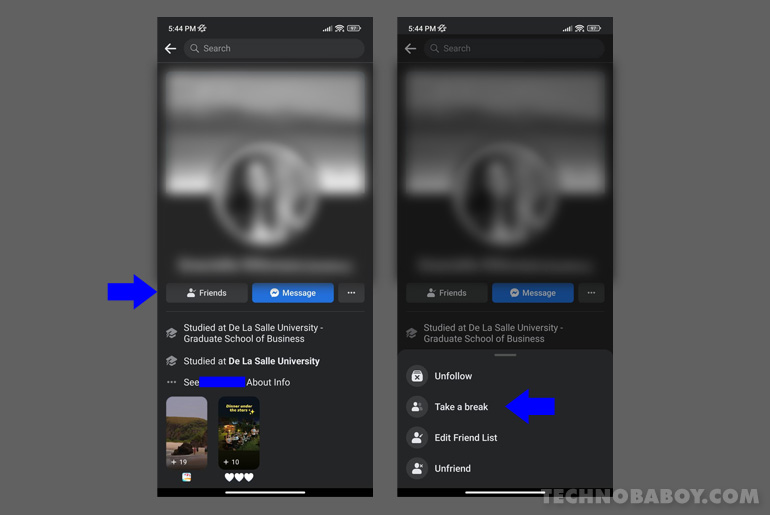 How to add a friend or profile on the Restricted List
Another option is adding a friend to the Restricted List. Friends or profiles on the restricted list can only see your profile and post you choose or set as Public, or posts you tagged them in.
If, for example, you added your ex to the restricted list, he or she can only see posts you set as Public as the audience. If you choose Friends as the audience of your post, your ex won't be able to see your post. Likewise, your ex will also see posts that you tag them in.
To add someone to your Restricted list, just do the following:
Go to the profile of the friend you want to restrict.
Tap "Friends" on the profile.
Select Edit Friend List.
Select Restricted.
These are some of the options you can choose to take a break from your friends on Facebook. If you want to totally cut off someone, you can always block or unfriend them.
How to block a profile on Facebook
When you block someone on Facebook, they won't be able to see, tag, or comment on your post. They also won't be able to add you as a friend or start a conversation with you. Take note that if you block a friend, you will also automatically unfriend them.
To block someone on Facebook. Just do the following:
Go to the profile or account you want to block.
Go to Profile Settings by tapping or clicking on the three dots/
Select Block. Click Blocking

 in the left side menu.
Now, if you really want to go cold turkey and leave Facebook altogether, here's how you can do it: How to delete your Facebook, Instagram & Twitter accounts.