If you're fed up with social media and want out, here's how you can delete or deactivate your Facebook, Instagram, and Twitter accounts.
Social media transformed dramatically in the last few years, changing from a digital place to form connections into something broader and more diverse. But recently, it also became toxic and convoluting.
If you've decided to leave it all behind to enjoy some peace of mind, you can opt to just deactivate your social media accounts. And we're here to show you how.
Take note that deleting your account would mean you will permanently lose your profile, all your photos, and videos, your memories. So I suggest you backup accordingly.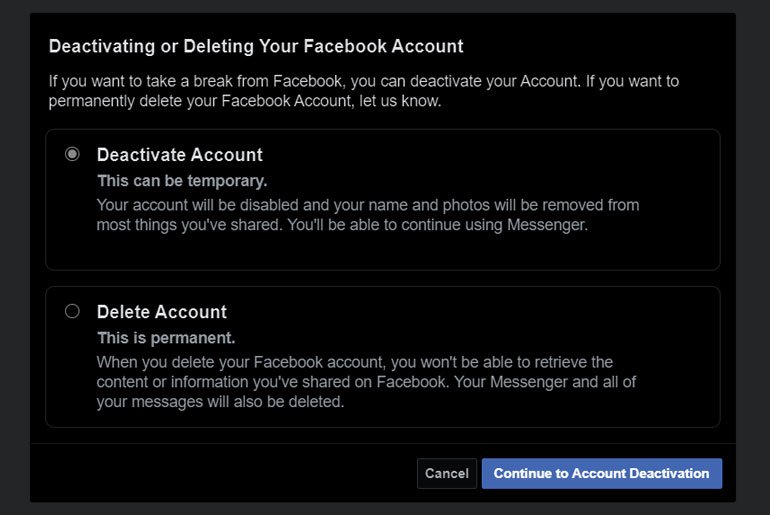 How to permanently delete or deactivate your Facebook account
Stepping away from and deciding to delete or deactivate Facebook is probably one of the hardest to do for most folks. Take note that once you do this, you won't be able to reactivate your account. You will lose all your profile, photos, posts, and everything else you have added to your account. You won't be able to sign in to apps you have used Facebook to sign in with.
If you're undecided, you can temporarily disable your account if you just need a break.
If you're fine with this, then proceed. Here we go;
Go to the arrow down button on the top right side of Facebook.
Go to Settings & Privacy, then go to Settings.
Go to Your Facebook Information. If you're using the app, go to Account Ownership and Control.
Go to Deactivation and Deletion.
Select Permanently Delete Account, and then Continue to Account Deletion.
Select Delete Account. You will be asked to enter your password to proceed. Click Continue.
After initiating the deletion, you still have a chance to take it back, should you have a change of heart. You have 30 days grace period, after which the deletion becomes final and permanent.
To cancel the deletion of your account, log on to Facebook within the 30 day grace period, and select Cancel Deletion.
How to permanently deactivate your Instagram account
Since Instagram is owned by Facebook, they have the same policies when it comes to deleting accounts. Deleting your account means you will lose all your profile, photos and videos, so backup what you need.
Like Facebook, you also get a 30 day grace period where in you have the chance to cancel the deletion if you change your mind. You can also temporarily disable your account.
For Instagram, you can only delete your account from a browser and not from the app.
On a desktop or mobile browser, go to this link. If you're not logged into your account, you will be asked to log in.
Select from the drop down menu the reason why you are deleting your account. Re-enter you password. You will only see the option to permanently delete your account once you select a reason.
Select Permanently delete my account.
Should you want to cancel deletion, go back to the Delete Your Account page. Click or tap on the gear icon next to Edit Profile on the upper right and select Log Out. Then, just log back into your account.
How to permanently deactivate your Twitter account
You can delete your Twitter account on the app or a browser. You also have 30 days grace period should you change your mind and want to restore your account.
Via browser
On a browser, go to Twitter.com. Make sure you are logged in.
Click on More (with the three dots) on the left panel. Go to Settings and privacy.
Under the Your account tab, click on Deactivate your account.
Click on Deactivate account.
Via app
On the Twitter app, tap the navigation menu icon (three lines) on the upper left corner.
Go to Settings and privacy.
Go to Account. Scroll all the way down and tap Deactivate your account.
Enter your password. Tap Deactivate.
Confirm by tapping Yes, deactivate.