There's a new streaming platform in the country. Lionsgate Play opens its services to the Philippine market.
The new streaming platform also signed a partnership deal with PLDT Home. As part of the new alliance, existing and new subscribers of PLDT Home Fiber Plans 1699 and up will get exclusive access to Lionsgate Play without additional charges until June 1, 2023.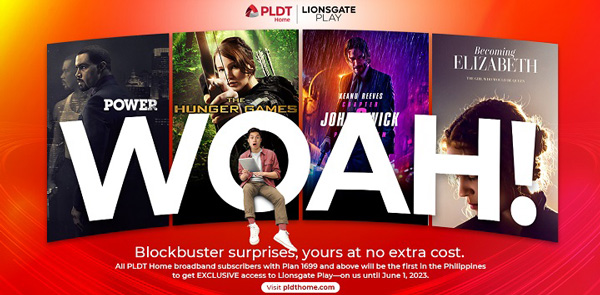 Lionsgate is a Hollywood studio that has created and distributed some of the world's biggest properties, including the blockbuster film franchises The Hunger Games, Twilight Saga, John Wick, and Saw; and the television series Mad Men, one of the most acclaimed shows in television history.
Among the content available at the Philippine launch of Lionsgate Play is the American crime drama Power. With rapper and actor Curtis "50 Cent" Jackson as executive producer, Power follows the triumph and trials of drug dealer James St. Patrick (Omari Hardwick) as he tries to leave his life of crime behind to manage his own nightclub. Power is one of American premium cable TV's most-watched and highly-rated shows.
Also among Lionsgate Play's banner content is the futuristic action film headlined by Bruce Willis, Apex; critically-acclaimed drama Gaslit that stars Julia Roberts and Sean Penn.
"PLDT Home and Lionsgate are bringing entertainment straight from the box office into people's homes. From the best love stories to the best of horror down to the most action-packed films and shows, the world's best content is simply a push of a button away with Lionsgate Play for all new and existing PLDT-powered homes… This partnership is part of our continuing mission to provide our customers the fastest broadband connection in the country so that they can better stream their entertainment choices including the most exciting and irreverent stories from Lionsgate Play." PLDT Home Senior Vice President and Head of Consumer Business-Home Group Jeremiah de la Cruz said.
Also Read: Ookla: PLDT Home is fastest internet provider in the Philippines in 2021
Lionsgate Play is also coming to Smart subscribers soon. PLDT Home subscribers who want to give Lionsgate Play a try for free may visit https://pldthome.com/lionsgateplay.