realme has achieved one of its biggest milestones so far, reigning supreme as the top smartphone brand in the country for 7 straight quarters, according to IDC data.
The achievement was solidified when realme was announced once again as the No. 1 smartphone brand for Q3 2022 according to IDC shipment sell-in reports. With a total market share of 23.4 percent, this marks realme's top rank spot for 7 straight quarters already.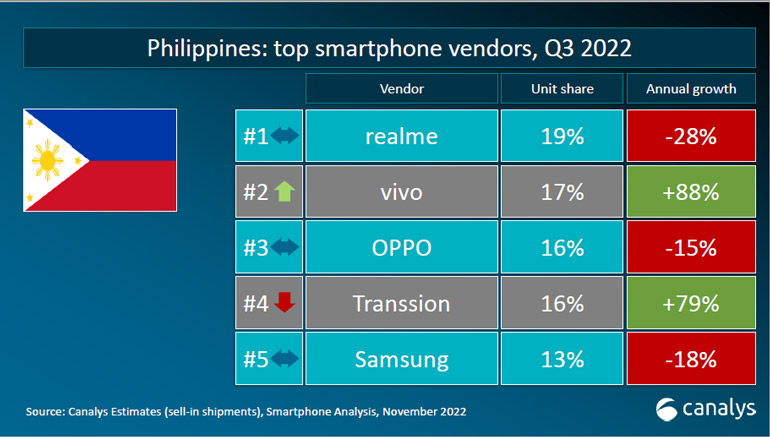 Raking in a total unit share of 19 percent across all vendors present, realme also ranked as the No. 1 smartphone brand for Q3 2022 according to Canalys, further cementing its position in the local market.
"We are all very glad and grateful to hear that we have once again ranked number one. The announcement couldn't have come at a greater time than now, given that we've also just launched the realme 10 in the PH. We'd like to thank the realme community, our fans, partners, and media friends for their continuous support of the brand. As we end the year, realme would like to show our utmost gratitude to the realme Squad with our realmeWithYou holiday campaign filled with yellow surprises," shares Austine Huang, VP for Marketing.
See also realme 10 review: Glittery design, AMOLED goodness for under 13K
Raking in more milestones, realme also sold out the recently launched realme 10 (8GB+128GB) during the 11.11 mega sale on both Shopee and Lazada.
realme also ranked #2 on Lazada and #3 on Shopee during the 11.11 sale. Alongside this, the recent addition to the C series, the realme C30s also achieved sold-out records on Lazada.
And when it comes to the tablet and wearable categories, realme ranked #4 on Shopee. Meanwhile, on Lazada, realme claimed ranks #2 and #3 in the mobiles and tablets categories respectively.