HONOR was recognized by 36 media outlets at IFA 2023, the world's leading trade show for consumer electronics and home appliances, for its innovative foldable smartphones.
The brand has launched two new foldable smartphone concepts at the event: the HONOR Magic V2, the lightest and thinnest inward foldable smartphone of HONOR, and the HONOR V Purse, a groundbreaking "Phone-to-Purse" concept that fuses fashion and technology.
HONOR Magic V2: Thin and light foldable phone with advanced features
The HONOR Magic V2 is the latest flagship foldable smartphone from HONOR. The device has a thin and light body that weighs only 231g and measures just 9.9mm thick when folded, thanks to its new generation of Silicon-Carbon-Dual-Battery with a high capacity of up to 5,000mAh. The device also has a Super-light Titanium Hinge and a new proprietary steel that enhances the durability and robustness of the hinge mechanism, which can endure more than 400,000 folds.
The HONOR Magic V2 has a triple rear camera setup that consists of a 50MP main camera, a 50MP ultra-wide camera, and a 20MP telephoto camera. The front-facing dual camera setup consists of two 16MP cameras.
The device also supports industry-leading 3840Hz PWM Dimming technology that reduces eye strain and ensures comfortable viewing. Furthermore, the device supports Parallel Space, which allows users to store work and life data separately and operate dual-space apps independently, much like having a second phone within the foldable phone.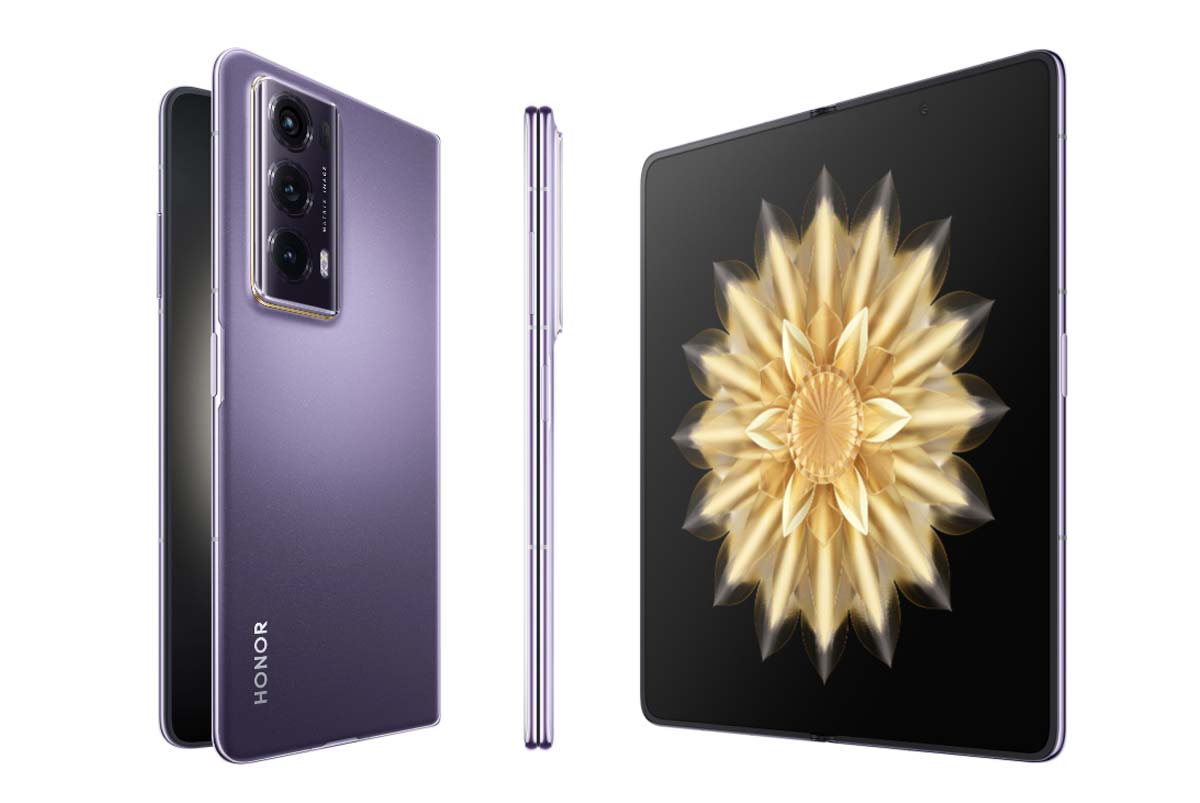 HONOR V Purse: A new concept that transforms a foldable phone into a fashionable purse
HONOR has also introduced the HONOR V Purse, a new concept that redefines a foldable smartphone as a wearable, fashion-forward purse. The device features sustainably sourced materials such as vegan leather for its straps and offers endless possibilities for style and self-expression with its customizable AODs (Always-on Displays). It also leverages emerging foldable technology to offer sustainable solutions for the environment.
HONOR has collaborated with top cultural tastemakers from across its HONOR Talents Global Design Awards platform, such as creative director from BURBERRY menswear Bram Van Diepen, contemporary artist Yunuene Esparza, professor of the China Academy of Art Yuan Youmin and crossover artist Xiao Hui Wang, to design a series of custom AODs for the device.
The device aims to transcend the physical world into a more digital space, where technology enables unlimited possibilities for style and self-expression.
HONOR's Vision for Foldable Smartphones
HONOR CEO George Zhao said during his keynote session entitled "Unfold Tomorrow" that HONOR's foldable smartphones have come a long way, with each iteration showcasing remarkable advancements in design, functionality, and durability.
He also said that with the phone-to-purse concept brought to life through the HONOR V Purse, the brand is exploring sustainable solutions that leverage emerging foldable technology to empower creativity and shape tomorrow's lifestyle.
HONOR has received 36 Media Awards at IFA 2023 following the launch of its new foldable smartphone concepts. The awards acknowledge HONOR's innovation and leadership in the smartphone industry and its contribution to shaping future lifestyles.