In case you have been in hiding, there's a movie called "Thor" which is the latest superhero film from Marvel.  I watched the film without knowing what to expect, having never seen its trailer beforehand. I came to know that Chris Hemsworth plays the character of Thor after I caught his interview with David Letterman.  I also learned that Natalie Portman is Thor's girl in the movie.
The film centers on the transformation of Thor from being a hot-tempered, arrogant heir to the throne, to being a controlled, wise leader.  The story shows us how Thor was sent to Earth by his father Odin and stripped of his otherworldly powers in order to teach him a lesson in humility.  He then meets Natalie Portman's character, who becomes the reason for his transformation.  While he is away from Asgard, Thor's brother Loki gains control over Odin's realm which made it hard for Thor to return and claim his place as the rightful heir.
The movie is simply fantastic. This is easily the best Marvel film so far, better than the Iron Man and Spiderman films.
The most amazing part of watching Thor is the visuals.  The word of Thor has been perfectly presented in the film and scenes in the world of Asgard are utterly breathtaking. They are so convincing and perfectly crafted you immediately know that Marvel has not skimped on the film's budget.  We have had too many films trying to create imaginary worlds and almost always we feel disappointed at what we see.  Thankfully Thor is not one of those films.
Another element where the film excelled in is casting.  Chris Hemsworth is perfect for the role of Thor and his acting is highly effective.  The guy is virtually unknown so no one could have expected this kind of acting from him.  But this is probably one of the reasons why he is so effective in the film.  Tom Hiddleston, the actor who played Thor's brother Loki, is also good in this film.  He portrays the emotionally conflicted character really well.  Anthony Hopkins also shines as Odin.
The film is replete with comical scenes, and most of the funny lines are delivered by Kat Dennings who plays Jane Foster's sidekick Darcy.  The film is actually most entertaining during such moments of humor, and scenes where Thor tries to adjust to our world are really funny.
The film is also action-packed.  Watch out for the fight scene where Thor and his friends stormed to Jotunheim to confront the Frost Giants.  That's easily the best fight sequence in the movie.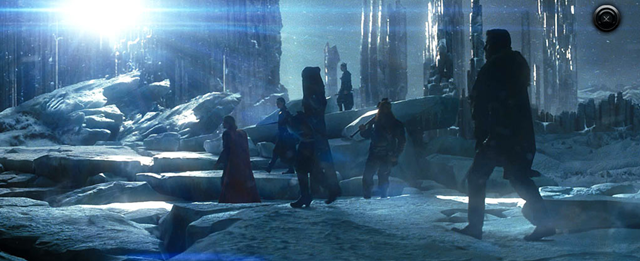 I was surprised after credits were shown that Thor's director is Kenneth Branagh who directed films such as "Hamlet" and "Much Ado About Nothing".  It is interesting that Marvel chose Branagh for Thor but I am glad it did.
FILM CAST:
Chris Hemsworth … Thor
Natalie Portman … Jane Foster
Tom Hiddleston … Loki
Anthony Hopkins … Odin
Stellan Skarsgård … Erik Selvig
Kat Dennings … Darcy Lewis
Clark Gregg … Agent Coulson
Idris Elba … Heimdall
Ray Stevenson … Volstagg
Tadanobu Asano … Hogun
Josh Dallas … Fandral
Jaimie Alexander … Sif
Rene Russo … Frigga
Here's the movie trailer.
httpvh://www.youtube.com/watch?v=JOddp-nlNvQ