The recently held 2011 Miss Universe pageant was a hit in the Philippines especially since our bet Shamcey Supsup broke into the top 5.   Shamcey was joined in the top 5 by candidates from Angola (Leila Lopes), Brazil (Priscila Machado), China (Luo Zilin) and Ukraine (Olesya Stefanko). The Miss Universe crown went to Angola and Shamsay bagged 3rd Runner-Up.
Miss Universe related topics trended on Twitter including "Go Philippines", "Runner-Up" and "Costa Rica".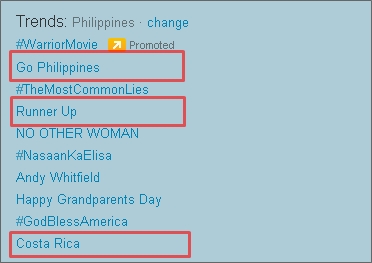 Shamcey Supsup graduated from the University of the Philippines-Diliman as magna cum laude with a degree in architecture.   She also topped the Architecture Licensure Examination last year.   It's not surprising, therefore, that Shamcey gave an intelligent answer during the question-and-answer portion.  When asked "Would you change your religious beliefs to marry the person you love? Why or why not?", Shamcey's answer was this:
"If I would have to change my religious beliefs, I would not marry the person that I love. Because the first person that I love is God, who created me.  I have my faith and my principles, and this is what makes me who I am. If the person loves me, he'll love my God too."
Filipino singer and actress Lea Salonga was one of the nine telecast judges in the Miss Universe pageant.