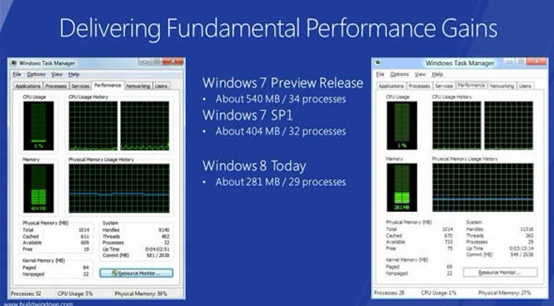 Microsoft has already previously indicated that Windows 8 will be compatible with Windows 7 systems.  At the developers' preview of the new Windows OS, Microsoft surprised many when it announced that the minimum system requirements will be much lower than those of Windows 7.
ADVERTISEMENT
CONTINUE READING BELOW
Steven Sinofsky, President of Windows and Windows Live, mentioned at the Build 2011 keynote that low end netbooks with an early generation Atom processor and 1GB of RAM can run Windows 8 well, in fact better than Windows 7, since Windows 8 requires fewer system resources.
UPDATE: If you're looking for the list of System Requirements for Windows 8, here they are:
Windows 8 System Requirements
1 gigahertz (GHz) or faster 32-bit (x86) or 64-bit (x64) processor
1 gigabyte (GB) RAM (32-bit) or 2 GB RAM (64-bit)
16 GB available hard disk space (32-bit) or 20 GB (64-bit)
DirectX 9 graphics device with WDDM 1.0 or higher driver
Taking advantage of touch input requires a screen that supports multi-touch