Cherry Mobile first brought us the affordable Supreme tablet when tablets used to be expensive.  Now that there are several cheap Android tablets in the market, Cherry Mobile made its tablet offerings more affordable.   Cherry Mobile recently launched two new super affordable Android tablets – the Cherry Mobile Superion TV and Cherry Mobile Fusion Ice.
These new tablets both run Android 4.0 Ice Cream Sandwich but the Superion TV is the better choice between the two.  The Superion TV, as the name suggests, has a TV functionality.  We used to see this in phones but Cherry Mobile is bringing it to tablets.  So with the Superion TV, you'll get an Android tablet and a portable TV in one device.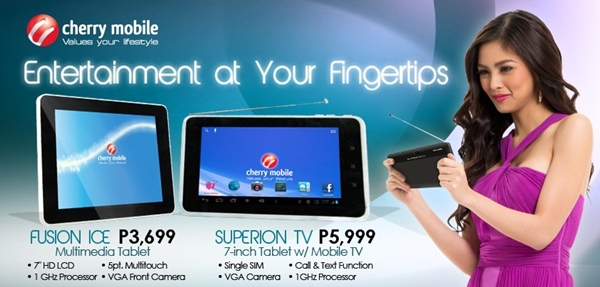 In terms of hardware specs, expect something that's just right for the price tag of P5,999.  The Superion TV sports a 1GHz single-core processor, 512MB of RAM and 4GB built-in storage but there's a microSD card slot that can handle up to 32GB of extra storage. The Cherry Mobile Superion TV also has call and text function through a single-SIM card slot.  It also features a VGA camera, Wi-Fi, Bluetooth and 3200mAh battery.
The Cherry Mobile FUSION ICE, on the other hand has inferior hardware but it only retails for Php3,699.  For this price, you get a 1GHz single-core processor, 512MB of RAM, a 7-inch display and 4GB of internal storage.  It also has a VGA front camera and 3000mAh battery.  Unlike the Superion TV, it has no phone functionality, no Bluetooth connectivity and also has no TV.
Cherry Mobile SUPERION TV Specifications
7-inch capacitive screen
1GHz single-core processor
512MB RAM
SIM slot for calls and texts
Android 4.0.4 (Ice Cream Sandwich)
4GB internal storage
microSD slot, up to 32GB
micro USB
Bluetooth, Wi-Fi 802.11 b/g
mobile TV
VGA camera
3200mAh battery
Price: Php5,999
Cherry Mobile FUSION ICE Specifications
7-inch capacitive screen
1GHz single-core processor
512MB RAM
Android 4.0.4 (Ice Cream Sandwich)
4GB internal storage
microSD slot, up to 32GB
micro USB
Wi-Fi 802.11 b/g
VGA front camera
3000mAh battery
Price: Php3,699