Cherry Mobile launched yet another Android phone and nobody seems to be surprised anymore with this move anymore.  The strategy of continuously launching new phones every so often used to surprise a lot of people but it's becoming so common it's almost expected that the company will be revealing a new phone every month.  Cherry Mobile recently launched the Omega HD Android smartphone which is supposed to be an update to the original Omega handset.  The upgrades are substantial, especially in the phone's display and camera but the rest of the specs are almost the same.
From the name of the handset, the new Cherry Mobile Omega HD features an HD display, but since Cherry Mobile has chosen not to reveal the resolution of the phone, it's safe to assume that the display has 720p quality, not the full HD 1080p type.  It should be good enough, though, as 720p on a mobile phone is still impressive however you look at it.  Instead of the 5.2-inch screen size on the original Omega handset, the HD version packs a smaller 5-inch display, which means that the "per pixel density" on the display should be better on the HD version.  It should also be pointed out here that the display on the Omega HD is IPS which has better viewing angles compared to the non-IPS type.  The Omega HD also features a Dragon Trail Glass Technology that is supposed to make the display stronger.  Dragon Trail is the other alternative to Gorilla Glass.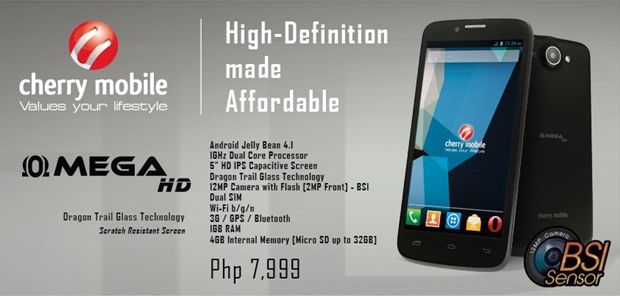 Photography enthusiasts would be glad to know that the Omega HD now packs a 12-megapixel rear camera and a 2-megapixel front camera.  Remember, though, that picture quality is not based on the number of megapixels alone, but depends mainly on the sensor used.  The other update on the Omega HD is the higher RAM which now sits at 1GB compared to the 512MB on the original Omega phone.  The processor is however the same 1GHz dual-core type.  Internal storage is also the same at 4GB. Here are the main specs of the Cherry Mobile Omega HD.
Cherry Mobile Omega HD Specs and Price
5-inch HD IPS display
1GHz dual-core processor
1GB RAM
4GB internal storage
microSD expansion up to 32GB
12-megapixel rear camera, 2-megapixel front camera
Dual-SIM
Android 4.1 Jelly Bean
Bluetooth, micro USB, Wi-Fi 802.11 b/g
GPS, 3G/HSDPA
Price: P7,999