Apple fans unite! Smart Communications announces its new postpaid plans for the iPhone 6s and the iPhone 6s Plus.
Its FREE plus 10 GB of Data.. 10 GB!
From November 6 until December 31, you can get the iPhone 6s for FREE on Plan 2000. It includes a huge 10 GB data allowance, plus All-Month Surf giving you access to the web and apps throughout the contract period. The plan also includes 150 minutes of calls and 200 free texts to all networks. It comes with a 30-month contract.
You can also get the iPhone 6s Plus for FREE on Plan 2499. It comes with an even bigger 15 GB data allowance and All-Month Surf which you can enjoy throughout the duration of the contract. This plan includes 300 minutes of calls and 300 texts. It also comes with a 30-month contract.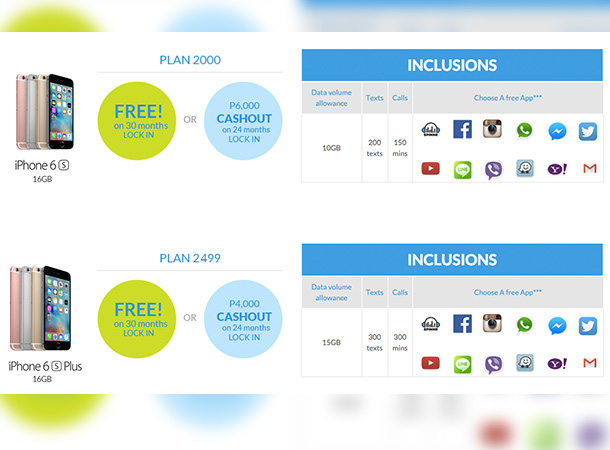 Those wanting a shorter contract period (of 24 months) can get the iPhone 6s for a one time cash out of only PHP 6,000 at Plan 2000 and the iPhone 6s Plus for PHP 4,000 at Plan 2499.
#LiveMore and Get More… FREE Stuff
Everybody loves free stuff! Smart isn't just offering you a FREE iPhone and gigabytes of data, the telco is also offering a lot of free stuff to go with your new device (hint: one of the perks allows you to take home another gadget via Smart's Share the Joy promo. Click here for more information). To make the offer even sweeter, new and existing Smart postpaid subscribers will get a lot of extras to go with their new iPhone 6s:
Get the iPhone 6S Rose Gold (16GB) via special Uber delivery from Smart. Smart and Uber have teamed up to deliver the new iPhone 6s Rose Gold (16GB) at your doorstep when the clock strikes 12:01 on November 6, Friday. Just click "Request an iPhone6s" on the Uber app and pay with your debit or credit card. Moreover, all new Uber users get 50% off (with maximum worth of PHP 200) on their next two Uber rides.
Get 20% discount from Zalora.

Get as much as 20% discount for a minimum purchase of PHP 500 from online fashion store Zalora.

Enjoy PHP 2500 Airbnb discount. Get PHP 2,500 discount on your Airbnb booking with a minimum spend of PHP 8,000 at any listing in over 190 countries around the world.
Get iflix access. Get three months' worth of iflix access plus 1 GB of data for streaming movies and TV shows. This one is a personal favorite of mine. I do love my iflix.
Win another new gadget instantly. With Smart's Share the Joy Gadget giveaway promo, get a chance to take home another brand new gadget when you sign up for a Smart Postpaid Plan or re-contract at Smart stores nationwide.
FREE Gadget Shield. Get FREE 30-day insurance for your new iPhone with Smart's Gadget Shield.
Upgrade with Smart's Wipeout promo. Wipe out your existing contract to upgrade to the new iPhones and enjoy corresponding discounts depending on the number of your remaining months in your contract.
Purchase from Apple Music, App Store and iTunes even without a credit card. Smart is the only mobile network that lets you purchase digital content from the Apple Store, iTunes and Apple Music without a credit card through the Smart Pay-With-Mobile service. Just text REG to 4949 so you can start buying apps and charging in-app items on top of your postpaid bill or deducted from your prepaid load.
#SmartiPhone6s
The iPhone 6s and the iPhone 6s Plus features the same design as last year's. But like previous "s" models, the upgrades are more performance and hardware inclined. It uses Apple's 64-bit A9 chipset said to come with 70% faster CPU performance and 90% GPU performance over the last generation A8. Other upgrades include the camera (12MP sensor for the main, and a 5MP one for the front), and the fingerprint scanner, which is visually and functionally faster than the previous hardware.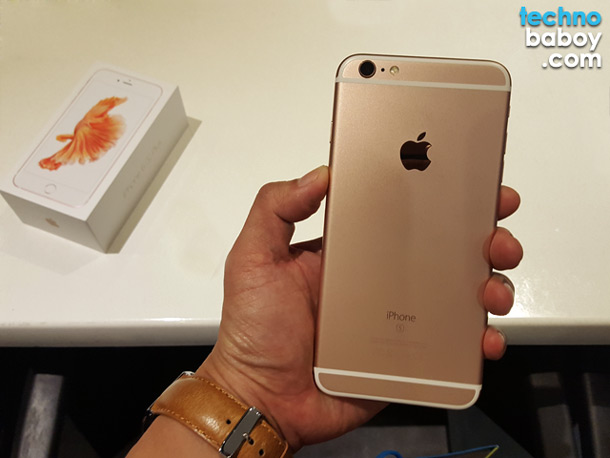 The iPhone 6s and the iPhone 6s Plus comes with retina displays that measure 4.7 inch and 5.5 inch, respectively. It comes with new colors silver, gold, space gray, and rose gold.
For more information on the iPhone, you may visit http://www.apple.com/iphone.
If you want to know more about Smart's iPhone 6s and iPhone 6s Plus offers, you may visit www.smart.com.ph/iphone. For more about Infinity's unparalleled perks and privileges that come with the new iPhone 6s and iPhone 6s Plus plan s, visit www.smart.com.ph/Infinity.
For more tech-centric news and reviews, please follow us on Facebook (facebook.com/TechnoBaboy), and Twitter (@technobaboy). We'll do our best to keep you up-to-date.