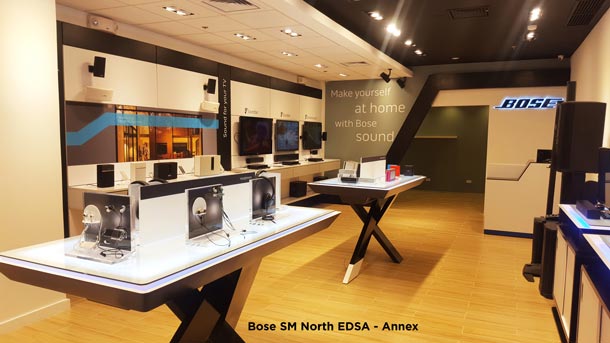 Bose exclusive distributor Eleksis Marketing Corporation has re-opened two of its newly renovated concept stores.
Bose Concept Stores
The stores, one in SM Mall of Asia and the other in SM City North EDSA, highlights Bose' latest products. Audiophiles, fans and casual customers alike can enjoy and try the different Bose products before buying. They can even try out home sound systems like the Bose Solo 5, an ultra-slim single piece speaker.
The new stores feature a more spacious demo and display areas manned by well-trained specialists.
Bose SM Mall of Asia is open from 10:00 AM – 10PM every day. If you have inquiries, you may get in touch with them at (02) 834-9987.
Bose SM City North Edsa-Annex is open from 10:00 AM – 9:00 PM Monday to Thursday, 10:00 AM – 10:00 PM Fridays and Saturdays and 10:00 AM – 9:00PM every Sunday. You may get in touch with them at (02) 372-7513.
For more tech-centric news and reviews, please follow us on Facebook (facebook.com/TechnoBaboy), YouTube (TechnoBryan) and Twitter (@technobaboy). We'll do our best to keep you up-to-date.