I have recently received a Huawei Mate 30 Pro review unit. It's a beautiful phone with top of the line specs and one of the best cameras in its class. But as most of us already know, it does not come with Google Mobile Services (GMS) — meaning no Google Play Store or Google apps.
To remedy this, a work around to install the GMS was posted online a short while after the phone became available. But as reports pointed out, that method no longer works. Thankfully, a new one was found.
The old method involved using the LZPlay app and installing the GMS apps from there. In the new method, the phone is restored from a backup image of a Mate 30 Pro that has the GMS already installed.
Also Read: Huawei Mate 30, Mate 30 Pro prices in the Philippines announced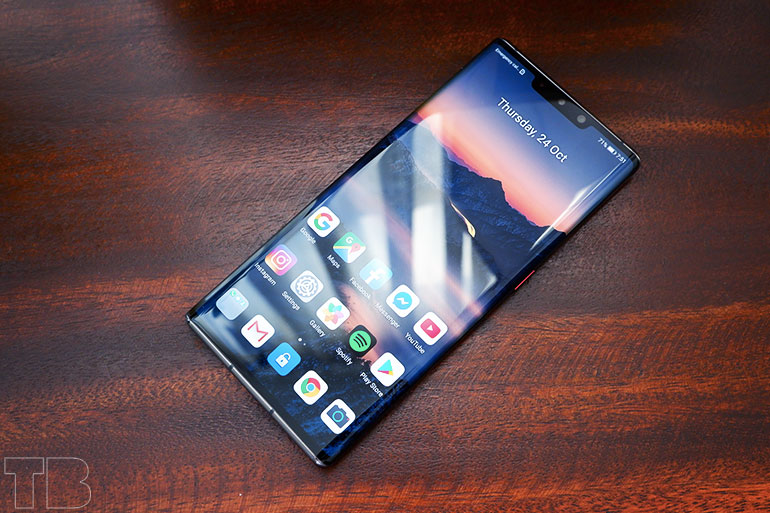 I would like to thank Jam of Jamonline.ph for this one. I had a hard time looking for the install files. I bumped into his post and saw what I needed there.
Here, I will be detailing my experience on installing GMS on the Mate 30 Pro using the method he posted. I can confirm this works as of October 22, 2019.
Before we start, a word of caution — if you're going to try this, you are doing so at your own risk. If you do not know what you're doing, either look for someone who's comfortable with it or don't do it at all.
With that out of the way, let's get started.
Step 1: Download the necessary files
First, download the necessary files needed for this method. You can use the links below. Unzip the file and save it somewhere you can easily find.
Once you unzip it, you should have two folders (EMUI 9.1.1 Google pack and HUAWEI Mate 30 Pro_2019-10-04 17.00.14) and the HiSuite_9.0.3.300 zip file.
You will also need the LZPlay APK. You can find the file here. You'll need this later on.
Step 2: Install Huawei's HiSuite application
You can download one from the Internet or you can install the one provided on the zip file then update it to the latest version. One of our readers has pointed out in the comments that you should install the latest one from Huawei's site. Apparently, updating from the program itself might not give you the latest version (Thank you, jfree).
Step 3: Connect your Huawei Mate 30 Pro to your computer
With the HiSuite program running, connect the Mate 30 Pro on your computer with a USB Type-C cable.
On your Mate 30 Pro, go to Settings> Security> More Settings and tap Allow HiSuite to use HDB. Follow the instructions and agree on everything. The HiSuite mobile app will also be installed on your device.
Step 4: Time to Restore
On the HiSuite app on your computer, click on Restore. Click the browse button (encircled below). Look for the folder HUAWEI Mate 30 Pro_2019-10-04 17.00.14 and click OK.
Make sure the System Settings (image below) shows a gear icon. You have to click on this until it changes. Click Restore to proceed. It will ask for a password. The password is a12345678. Click OK.
Step 5: Transfer the GMS APK files to the Huawei Mate 30 Pro
Transfer the APK files from the EMUI 9.1.1 Google pack folder to your Mate 30 Pro. You can either do this using HiSuite or with a USB drive via OTG. I used a thumb drive to do this. Copy it somewhere you can easily find.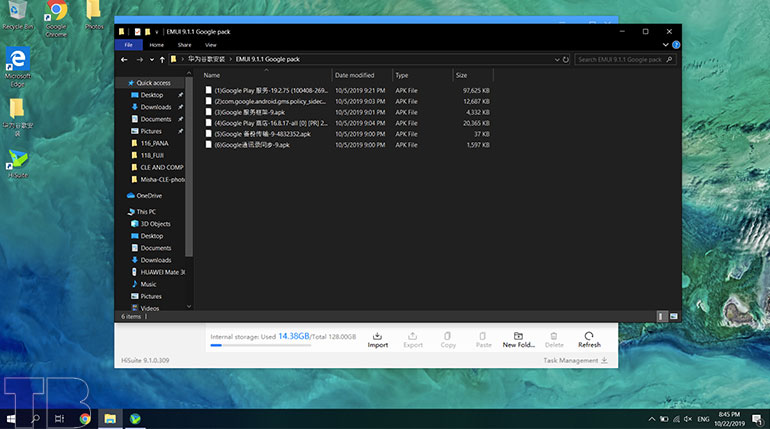 Step 6: Install the LZPlay app
Sideload and install the LZPlay app from Step 1 onto your Mate 30 Pro. You can find the file here. Follow the instructions to complete the app installation. Tap on the app (icon is a letter G with some Chinese characters) and press the button that follows.
Step 7: Install the GMS APKs
On your Mate 30 Pro, look for the Files app and look for the GMS APKs from Step 5. Proceed to install each one on your phone.
Once this is done, you will have Google Play on your Mate 30 Pro. Log in using your GMail account and proceed to install the rest of the Google apps that you need from the Play Store.
You can also uninstall the LZ Play app at this point. You need to deactivate the app as a device administrator first. To do this, go to Settings> Security> More Settings> Device Administrators. Tap on LZ Play and deactivate.
And that's it. You now have Google Play on your Mate 30 Pro. Enjoy!