PLDT recently announced its Holideals holiday sales promo.
This year's Holideals promo from PLDT Home are available to new and existing subscribers. promo period is from November 15 to December 31, 2019.
For existing PLDT Home Fibr subscribers, you can get up to 2x faster speed of your current plan with the free Speedboost. All you have to do is visit https://pldt.com.ph/speedboost. New subscribers, on the other hand, can enjoy waived installation and activation fees and no cash out when they sign up for new PLDT Home Fibr Plans.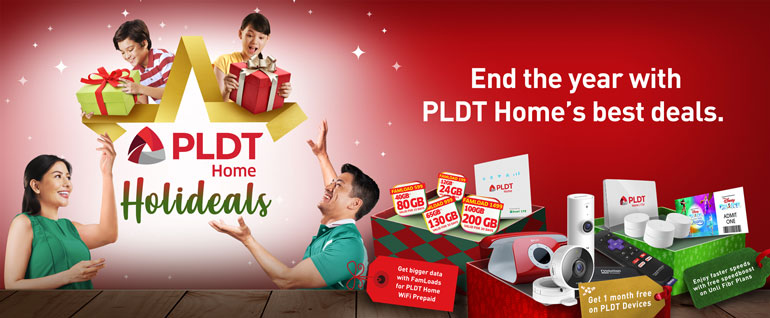 For customers looking to purchase a PLDT Home gadget, you can get one month off on TVolution Lite, New Basic and Advanced FAM CAM, all Telsets (telephone sets) and all Telpad units.
Also Read: Samsung Galaxy Fold is coming to Smart Communications
Moreover, those who subscribe to either of Home Fibr or Home gadget and automatically get an electronic raffle for a chance to win Disney on Ice tickets. While existing Fibr subscribers can also purchase Disney on Ice tickets at 10% off. They just need to present their PLDT Home bill from December 1 to 17 at any SM Tickets outlet nationwide.
And finally, you can get the PLDT Home WiFi Prepaid at a discounted price of PHP 1,295 (Original price of PHP 1,995). It comes with FREE 10GB data powered by Smart LTE. Customers can also enjoy 2x the data when they avail of Home WiFi FamLoads. With FamLoad 199, they get 24GB from 12GB, valid for 7 days.
For more information about the promo, you may visit https://pldthome.com/holideals.