In some cases, your Spotify playlist gives you a glimpse of your mood for the year. And now that 2020 is ending, you may want to see what this funny AI from The Pudding has to say about what you've been listening to on the music streaming platform.
The AI is actually funny and bitchy. It will judge you based on what you listened to most in Spotify. This link will bring you the page "How Bad is Your Spotify" where you will be asked to log in your Spotify account. The AI will then go through your playlists and top tracks, asking snarky questions, giving snarky answers, and more.
I ran it through mine and got "Do you really listen to Paris by The Chainsmokers?". I answered "yes". It was then be followed by another question "Like ironically?".
Eventually, it gave me its judgement, calling my choice of music in Spotify as folklore-evermore-dumbledore-witch-pop-eyeliner-and-screaming-nobody-puts-baby-in-a-corner bad. Hmm.. it could've been worse.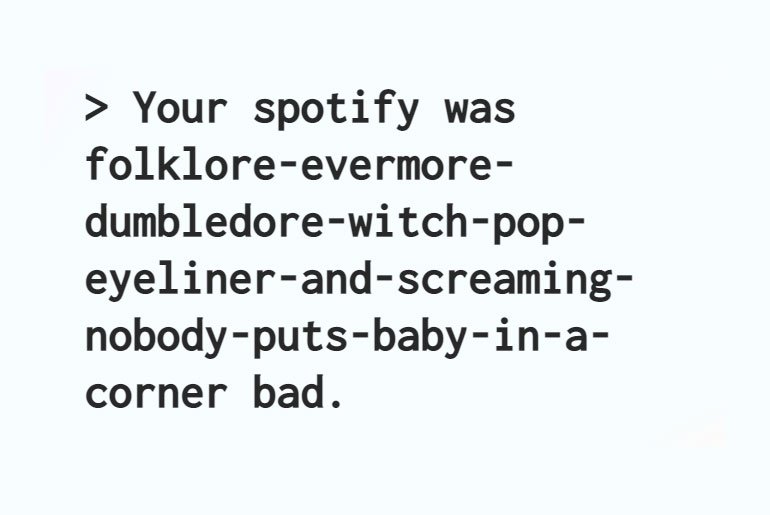 I'm not sure it captures what my playlists say about me, but I suppose its somewhat true. With access to my Spotify account, it was able to tell that I was listening to too much pop and OPM with bands like Panic! At The Disco, Cold Play, and Silent Sanctuary.
Admittedly, my taste in music is not for everyone. But this AI was kind of a fun distraction. Once you're done with the AI, don't forget to revoke its access from your Spotify account. To do that, just go to Spotify.com, then to Account> Apps. Then, find bad-music and click remove access.
Featured Image Credit: Unsplash