ADVERTISEMENT
CONTINUE READING BELOW
Smart Communications is bringing back Double Data for all Prepaid Home WiFi customers, providing twice the open access data allocation on Famload and GIGA offers to cover all online activities for school, work, business, or entertainment.
With twice the open access data, Prepaid Home WiFi subscribers can enjoy more data for apps and online services for the whole family – whether it's to attend virtual learning, send and download work files, promote a side hustle, connect with loved ones on social media, or binge-watch movies and shows on streaming sites.
Enjoy 140 GB instead of 70 GB for only Php 999
Prepaid Home WiFi customers can avail of Double Data exclusively on the GigaLife App. With this offer, subscribers who register to Famload Video 999 via the GigaLife App may now enjoy 140 GB open access data – or twice the regular 70 GB open-access data – plus 1 GB YouTube Every Day valid for 30 days for a total of 170 GB for the same price of Php999.
ADVERTISEMENT
CONTINUE READING BELOW
Double Data also applies to other Famload Video and Famload Video Plus denominations, including Famload Video 199, 599 and 1499, as well as Famload Video Plus 199, 599, 999, and 1499.
ALSO READ: Smart Infinity enables subscribers to give back
Smart Bro Pocket WiFi users can also enjoy Double Data on GIGA and GIGA Pro offers via the GigaLife App, including GIGA Video 50, 99, and 299; GIGA Stories 50, 99, and 299; GIGA Video Pro 199 and 999; and GIGA Stories Pro 199 and 199, among others.
Get up to 50% off on Prepaid Home WiFi devices
The return of Double Data coincides with Smart Bro's latest push to make it simple for Filipino families to connect online through the Prepaid Home WiFi. An easy-to-use plug-and-play device, the Prepaid Home WiFi provides instant connectivity for the whole family – you can set it up in just few minutes and go online right away.
And because it's prepaid, there's no need to worry about paperwork, lock-in period, or uncontrolled data usage because you simply load it up and register to promos that suit your needs.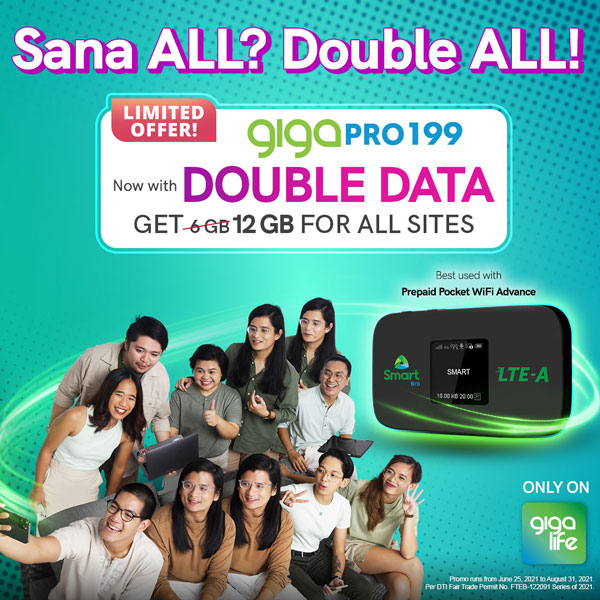 As a big treat, Smart Bro is offering up to a 50 percent discount on select Prepaid Home WiFi devices from June 25 to July 15, 2021, exclusively available at the Smart Online Store, Smart and PLDT Stores, official Smart stores on Lazada and Shopee, and select retail partners nationwide.
Under this special offer, Prepaid Home WiFi units originally sold for Php995 will be available for only Php495, while Prepaid Home WiFi Advance with carrier aggregation feature originally priced at Php 1,995 will be available for only Php 995.
Smart Bro Pocket WiFi devices will also be on sale: units originally priced at Php 888 will be available for only Php 445, while Smart Bro Prepaid Pocket WiFi LTE-Advanced units originally priced at Php 1,995 will be available for only Php 995.
Make the most of the Prepaid Home WiFi with the GigaLife App
You can make the most of your Prepaid Home WiFi by linking your device to the GigaLife App. Downloadable on Google Play Store, Apple App Store, and Huawei Mobile Services, the GigaLife App lets you instantly access your account details with just a few taps on your smartphone.
ALSO READ: Watch Gilas Pilipinas in the 2021 FIBA Asia Cup live on gigafest.smart
You can check your remaining load balance, view active promos, and keep tabs on your data usage. Through the app, you can also earn and accumulate GigaPoints which you can use to redeem exciting data rewards and lifestyle perks.
To link your Prepaid Home WiFi to the GigaLife App, simply do the following:
Download the GigaLife App on Google Play Store, Apple App Store, or Huawei Mobile Services on your smartphone.
Connect your smartphone to your Prepaid Home WiFi.
Open the GigaLife App, which will instantly detect your account number for easy log-in and registration.
To know more about Smart Bro devices and offers, visit https://smart.com.ph/bro.