Here are the Netflix movies and TV shows for the month of July 2021.
It's now July and that means Netflix will be introducing new films and shows for us to binge on. The June roster was pretty good, bringing us Trese and Rurouni Kenshin: The Final. So what should we expect next month?
Personally, there are three shows I have my eyes on. First, there's How I Became a Superhero (July 9). I am a sucker for sci-fi with superheroes and powers so this is right up my alley.
Next, we have Dynasty Warriors (July 1) which is based on the timeless video game Romance of the Three Kingdoms. I also like period movies with swords and action, so again, right up my alley.
And last, we have Kingdom: Ashin of the North (July 23). This show has zombies set in the Joseon era. That should be enough to entice most people.
But these are just three that I'm excited to watch in July. How about you? Which shows are you looking forward to watch? Check out the list below and you'll likely find one to enjoy.
Netflix July 2021
Dynasty Warriors (Film) – July 1
Warlords, warriors and statesmen wage a battle for supremacy in this fantasy tale based on the hit video games and the "Romance of the Three Kingdoms."
Young Royals (Series) – July 1
Prince Wilhelm adjusts to life at his prestigious new boarding school, Hillerska, but following his heart proves more challenging than anticipated.
Mobile Suit Gundam Hathaway (Anime Film) – July 1
After Char's rebellion, Hathaway Noa leads an insurgency against Earth Federation, but meeting an enemy officer and a mysterious woman alters his fate.
Fear Street Part 1: 1994 (Film) – July 2
After a series of brutal slayings, a teen and her friends take on an evil force that's plagued their notorious town for centuries. Welcome to Shadyside.
The 8th Night (Film) – July 2
With prayer beads in one hand and an ax in the other, a monk hunts down a millennia-old spirit that's possessing humans and unleashing hell on Earth.
We The People (Kids & Family) – July 4
Learn the basics of rights and citizenship with upbeat songs by popular artists like Janelle Monáe, H.E.R., Adam Lambert, Brandi Carlile and more.
Ben X Jim: Season 1 (Series) – July 5
Childhood friends Ben and Jim lose touch then reconnect years later when a pandemic forces them to confront their true feelings while in quarantine.
Ben X Jim: Season 2 (Series) – July 5
Ben and Jim continue to navigate their romance. Will their love endure — or is it time to let go?
You Are My Spring (Series) – July 5
A hotel concierge and a psychiatrist with traumatic childhoods form a heartfelt bond when they become entangled in a perplexing local murder case.
RESIDENT EVIL: Infinite Darkness (Anime) – July 8
Years after the horrors of Raccoon City, Leon and Claire find themselves consumed by a dark conspiracy when a viral attack ravages the White House.
Fear Street Part 2: 1978 (Film) – July 9
In the cursed town of Shadyside, a killer's murder spree terrorizes Camp Nightwing and turns a summer of fun into a gruesome fight for survival.
How I Became a Superhero (Film) – July 9
In a world where humans and superheroes coexist, a lone wolf cop teams up with a bright detective to dismantle a dark plot to extract superpowers.
ALSO READ: How to set up a Netflix watch party with family and friends
Atypical: Season 4 (Series) – July 9
With Casey and Sam both on the cusp of leaving the nest, each member of the Gardner family faces big decisions about where life will go next.
Last Summer (Film) – July 9
During summer vacation in a beachside town, 16-year-old Deniz seeks the affection of his childhood crush and navigates a love triangle.
Dare to Love (Series) – July 9 (Weekly Episodes)
A high school student secretly falls in love with a senior, who becomes a lawyer after graduating and captures the hearts of other suitors.
Ridley Jones (Kids & Family) – July 13
Curious kid Ridley and her friends protect the Museum of Natural History's treasures and keep its magical secret safe: Everything comes alive at night!
A Classic Horror Story (Film) – July 14
Travelers on a bus are ritualistically murdered one by one in a deliberately meta-horror story, complete with all the expected tension and gore.
Never Have I Ever: Season 2 (Series) – July 15
A new love life, a new classmate and new reasons to bicker with mom give Devi plenty more ways to make courageous moves… and questionable decisions.
My Amanda (Film) – July 15
Two unusually close friends share every aspect of their lives together but as their own worlds change and evolve, their bond remains the only constant.
Fear Street Part 3: 1666 (Film) – July 16
Dark secrets. Unspeakable evil. The merciless world of 1666 holds the truth behind a powerful curse — and the key to one town's future.
Glorious (Film) – July 17
A woman in her 50s begins a passionate affair with a 22-year-old who sweeps her off her feet, but those around them are quick to judge their love.
Words Bubble Up Like Soda Pop (anime) – July 22
After meeting one bright, sunny day, a shy boy who expresses himself through haiku and a bubbly but self-conscious girl share a brief, magical summer.
Kingdom: Ashin of the North (Film) – July 23
Tragedy, betrayal and a mysterious discovery fuel a woman's vengeance for the loss of her tribe and family in this special episode of "Kingdom."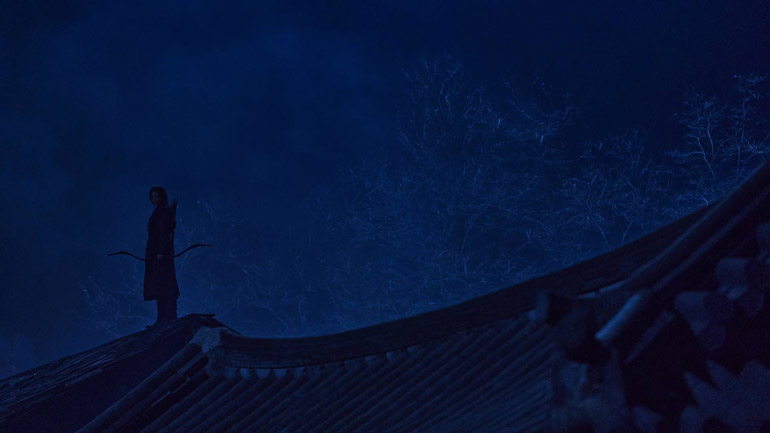 Blood Red Sky (Film) – July 23
Flying with her young son, a mysteriously ill woman is forced to unleash a dark secret when terrorists attempt to hijack their transatlantic flight.
The Last Letter From Your Lover (Film) – July 23
After finding a trove of love letters from the 1960s, a journalist sets out to solve the mystery of a secret affair. Based on the novel by Jojo Moyes.
Resort to Love (Film) – July 29
To escape recent heartbreak, an aspiring singer takes a gig at a tropical resort that seems like paradise… until two unexpected guests arrive.
Transformers: War for Cybertron: Kingdom (anime) – July 29
The final entry in the Cybertron trilogy, featuring a pivotal turn for the Beast Wars characters.
Outer Banks: Season 2 (Series) – July 30
Season 2 tests the crew like never before as the hit series returns for another round of summer adventures.
Centaurworld (Kids & Family) – July 30
On a quest to reunite with her trusty rider, a fearless war horse journeys through a whimsical world filled with magic, adventure and singing centaurs.