PLDT Home launched the first-ever 10,000Mbps internet fiber service in the Philippines. The new service puts our country next to first-world nations such as South Korea, Japan, Sweden, Norway, Italy, New Zealand, and the USA, in terms of ultra-fast home internet speed.
The planned rollout was the culmination of PLDT Home's year-long network expansion program in 2021, in a deliberate move to provide Filipino homes with only the strongest internet connections.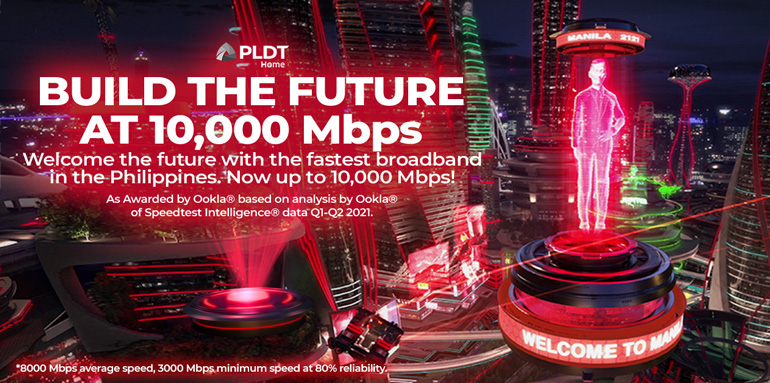 "We at PLDT continue to play an active role in shaping the future of our country and leading the way towards a connected nation. We are doing all these for our north star — our customers: business owners, professionals, tech mavericks with very large homes, multiple high-bandwidth users with multiple screens. And with all that life requires of them, they need the fastest home broadband powered by the fastest network. And we are more than ready to give them what they need – all 10,000 of it," said Alfredo Panlilio, PLDT President and Chief Executive Officer.
The service will first pilot in Metro Manila this December and will then implement further expansions in other key cities outside Metro Manila like Cebu and Davao in 2022. The 10,000Mbps Fiber Plan will come with a WiFi 6 Mesh System, guaranteeing coverage on an area of over 550 square meters.
ALSO READ: PLDT to surpass 1M new fiber customers target for 2021
As the undisputed fastest fixed network in the country, PLDT Home delivers the most powerful broadband services for Filipinos. As of September 2021, PLDT has added 324,000 new fiber subscribers, wrapping up the third quarter with a market-leading count of 2.77 million fixed broadband customers.
Early this month, the telco also introduced its upgraded Fibr plan offerings, with up to triple the original speed. These are reinforced by the Group's expansive 615,000 kilometers of fiber-optic network. The company thus delivers fixed broadband connectivity to an estimated 12.7 million homes passed.
For more information about PLDT Home's new services, you may visit www.pldthome.com.
Featured image: Unsplash.com