Power Mac Center is starting 2022 with a bang. They have updated the price list of older Apple devices, discounting the SRP of the iPhone 11 Pro and Pro Max, the iPhone XS, and older iPad Air, iPad Pro, and Apple Watch devices.
The new prices are valid for the whole year with up to 30% off on select models, available at all Power Mac Center and The Loop stores nationwide, and on their Viber and Web stores.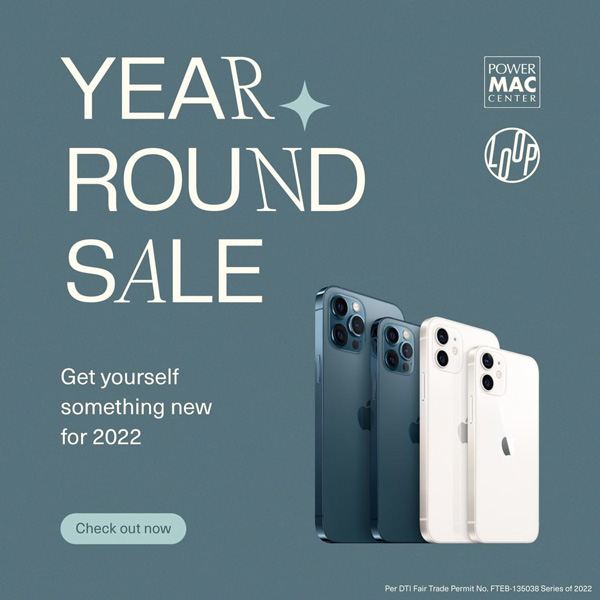 What's more, they are throwing in additional promos as well. Buyers can get up to 50% off on the AirPods Pro and cases when purchased together with an iPhone 12 Pro, iPhone 12 Pro Max, or iPad mini (5th gen). Shoppers can also get up to 80% off on Apple accessories when purchased with any Apple device.
Some notable items you can check out are the iPhone 11 Pro 64GB, which you can grab for only PHP 38,990; the iPhone XS 64GB for PHP 33,990; the 10.5-inch iPad Pro WiFi+Cellular 64GB for PHP 31,490; and the 12.9-inch iPad Pro (2nd gen) Wi-Fi 64GB for PHP 32,190.
Also Read: 2021 iPhone price list in the Philippines
Even though they are older models, make no mistake. These are still very good devices that offer an outstanding experience, even in 2022.
Check out the Power Mac Center's updated price list below.
Power Mac Center iPhone and iPad price list
| | | |
| --- | --- | --- |
| Apple Devices | Retail Price | Offer Price |
| iPhone 11 Pro 64GB | ₱52,990.00 | ₱38,990.00 |
| iPhone 11 Pro 256GB | ₱58,990.00 | ₱48,990.00 |
| iPhone 11 Pro 512GB | ₱70,990.00 | ₱61,990.00 |
| iPhone 11 Pro Max 256GB | ₱64,990.00 | ₱54,990.00 |
| iPhone 11 Pro Max 512GB | ₱76,990.00 | ₱67,990.00 |
| iPhone XS 64GB | ₱35,990.00 | ₱33,990.00 |
| iPhone XS 256GB | ₱38,990.00 | ₱36,990.00 |
| Apple Watch Series 1 38mm | ₱7,990.00 | ₱6,990.00 |
| Apple Watch Series 1 42mm | ₱9,990.00 | ₱8,990.00 |
| Apple Watch Series 2 38mm | ₱9,990.00 | ₱8,990.00 |
| Apple Watch Series 2 42mm | ₱11,990.00 | ₱10,990.00 |
| Apple Watch Series 4 GPS 40mm | ₱17,990.00 | ₱12,990.00 |
| Apple Watch Series 4 GPS 44mm | ₱19,990.00 | ₱14,990.00 |
| Apple Watch Nike+ Series 4 GPS 40mm | ₱17,990.00 | ₱12,990.00 |
| Apple Watch Nike+ Series 4 GPS 44mm | ₱19,990.00 | ₱14,990.00 |
| Apple Watch Series 5 GPS, 40mm | ₱19,990.00 | ₱15,990.00 |
| Apple Watch Nike Series 5 GPS, 40mm | ₱19,990.00 | ₱15,990.00 |
| Apple Watch Nike Series 5 GPS, 44mm | ₱21,990.00 | ₱18,990.00 |
| Apple Watch 38mm Stainless Steel Case | ₱9,000.00 | ₱6,000.00 |
| iPad (6th gen) WiFi 128GB Gold | ₱23,990.00 | ₱16,790.00 |
| iPad (7th gen) WiFi 32GB | ₱19,990.00 | ₱15,990.00 |
| iPad (7th gen) WiFi + Cellular 32GB | ₱27,990.00 | ₱22,390.00 |
| iPad mini (4th gen) WiFi 128GB Gold | ₱17,990.00 | ₱14,390.00 |
| 9.7-inch iPad Pro WiFi 32GB Gold | ₱29,990.00 | ₱20,990.00 |
| 9.7-inch iPad Pro WiFi+Cellular 32GB | ₱36,990.00 | ₱25,890.00 |
| 9.7-inch iPad Pro WiFi+Cellular 256GB | ₱44,990.00 | ₱31,490.00 |
| 10.5-inch iPad Air (3rd gen) WiFi 64GB | ₱29,990.00 | ₱23,990.00 |
| 10.5-inch iPad Air (3rd gen) WiFi 256GB | ₱39,490.00 | ₱31,590.00 |
| 10.5-inch iPad Air (3rd gen) WiFi+Cellular 64GB | ₱37,990.00 | ₱30,390.00 |
| 10.5-inch iPad Air (3rd gen) WiFi+Cellular 256GB | ₱47,490.00 | ₱37,990.00 |
| 10.5-inch iPad Pro WiFi 512GB | ₱57,990.00 | ₱40,590.00 |
| 10.5-inch iPad Pro WiFi+Cellular 64GB | ₱44,990.00 | ₱31,490.00 |
| 10.5-inch iPad Pro WiFi+Cellular 512GB | ₱65,990.00 | ₱46,190.00 |
| 11-inch iPad Pro WiFi 64GB Silver | ₱39,990.00 | ₱31,990.00 |
| 11-inch iPad Pro WiFi 1TB | ₱54,990.00 | ₱43,990.00 |
| 11-inch iPad Pro WiFi+Cellular 64GB | ₱44,990.00 | ₱35,990.00 |
| 11-inch iPad Pro WiFi+Cellular 256GB | ₱49,990.00 | ₱39,990.00 |
| 11-inch iPad Pro WiFi+Cellular 512GB | ₱54,990.00 | ₱43,990.00 |
| 11-inch iPad Pro WiFi+Cellular 1TB | ₱59,990.00 | ₱47,990.00 |
| 12.9-inch iPad Pro (3rd gen) Wi-Fi 512GB | ₱86,490.00 | ₱69,190.00 |
| 12.9-inch iPad Pro (2nd gen) Wi-Fi 64GB | ₱45,990.00 | ₱32,190.00 |
| 12.9-inch iPad Pro (2nd gen) Wi-Fi + Cellular 64GB | ₱53,990.00 | ₱37,790.00 |
| 12.9-inch iPad Pro (2nd gen) Wi-Fi + Cellular 256GB | ₱62,990.00 | ₱44,090.00 |
| 12.9-inch iPad Pro Wi-Fi 32GB | ₱39,990.00 | ₱27,990.00 |
| 12.9-inch iPad Pro Wi-Fi + Cellular 128GB | ₱50,990.00 | ₱35,690.00 |
Source: Power Mac Center
Featured Image: Unsplash