Electricity is one of those things we often take for granted. We'll only miss it once it's gone. That's what happened to many following the onslaught of Severe Tropical Storm Paeng.
If you're one of those who have a power outage because of the storm, here's how to report it to Meralco.
Via Meralco Hotline
You can call the Meralco Hotline at:
You can also text them at:
Smart – 0920-9716211
Sun – 0925-7716211
Globe – 0917-5516211
Make sure you have your billing statement in hand should they ask for your account details.
Via Facebook Messenger or Twitter
You can also contact Meralco via Facebook Messenger either on their official account page or website, or direct message them on Twitter.
See also PLDT, Smart confirm network resilience following Paeng; Continue rollout of aid in affected areas
Again, have your billing statement with you should they ask for your account details.
Via Online
If you're unable to get in touch with Meralco via their hotline numbers or social media, the next best thing is to report the power outage online.
Scroll down until you see "View/Report Outages" and tap. Agree to give Meralco access to your location.
Choose the location, either "Current Address" or "Other Address". Double-check the location on the provided map.
Choose "Report an Outage".
Input the necessary details. You have the option to upload photos if you want.
> If you don't know your Service ID Number, you can opt to input your address instead.
Tap "Submit" once you're done. (For some reason, it took a couple of taps before Submit worked).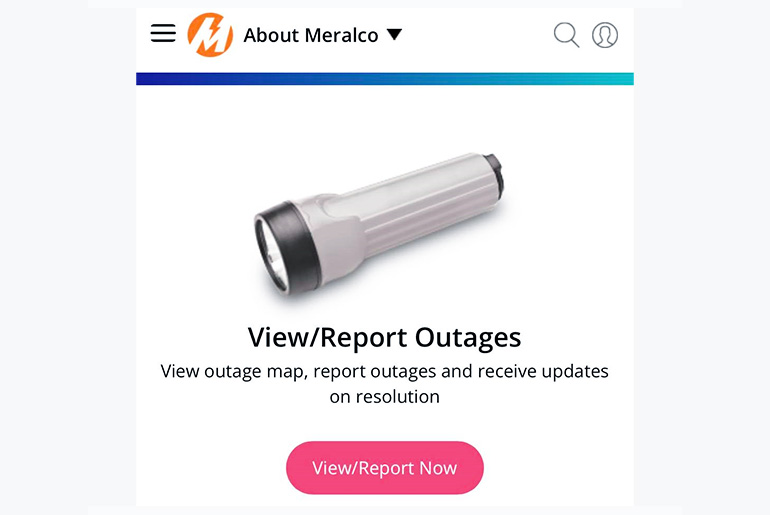 If you chose the option to receive updates via SMS, you will receive a text message confirmation on the report.