Acknowledging creative professionals' different needs, ASUS has purposely built a powerful tool with maximizing productivity in mind. Enter the ASUS Zenbook Pro 14 Duo OLED, their latest premium laptop made for creatives.
Powered by up to an Intel Core i9 processor with a 120Hz 14.5-inch OLED display, a secondary 12.7-inch IPS ScreenPad Plus, and ASUS's AAS Ultra design, the Zenbook Pro 14 Duo OLED looks the part of the perfect creative tool. But is it for you?
If you're in the creative industry, here are 5 reasons why we think it's the best tool for you.
5 Reasons Why the Zenbook Pro 14 Duo OLED is the best laptop for creatives
The ASUS Zenbook Pro 14 Duo OLED comes with an array of features to make workflows easier to manage and boost productivity. But here are 5 reasons that make it stand out from other laptops for creatives.
Serious Design
The ASUS Zenbook Pro 14 Duo OLED features a sleek design with a metal body. It looks good with a very solid build. Design-wise, everything about it feels premium with no compromises.
The Zenbook measures 12.74 x 8.85 x 0.77 inches and weighs 1.70 kg or 3.75 lbs, meaning it's easy to manage and carry for creatives on the go.
The laptop has several ports that include a USB 3.2 Gen 2 Type-A, two Thunderbolt 4 that supports Display/Power Delivery, an HDMI 2.1, a 3.5mm combo audio jack, and a micro SD Express 7.1 card reader.
It also features ASUS's Active Aerodynamic System Ultra (AAS Ultra) design, which lifts the second display to enhance the airflow for better cooling and to provide the optimal viewing angle.
Main Display
The ASUS Zenbook Pro 14 Duo OLED is the first laptop to have a 120Hz 14.5-inch OLED 16:10 display with a 2.8K 2880×1800 resolution. It features a cinema-grade industry-standard 100% DCI-P3 and 133% sRGB color gamut. It also has a VESA DisplayHDR True Black 500 certification and its PANTONE Validated too, assuring accurate color and high dynamic contrast reproduction.
In addition, the panel is bright with up to 550 nits while emitting 70% less harmful blue light than LCD panels, certified by TÜV Rhineland.
I am not a creative but I do edit photos using Adobe Photoshop. With this, I do find the display to be very bright with deep blacks and very punchy and saturated colors. It's sharp, allowing me to discern more details, and I love how accurate the colors are.
In addition, the display is amazing for watching content. The colors are rich without looking over-saturated and the videos look crisp. It's also Dolby Vision certified and supports HDR.
Fun Fact: The 120Hz OLED display provides a smoother visual experience than a 165Hz LCD display.

How might you ask? According to ASUS tests, the 120Hz OLED display takes approximately 8.3 ms to refresh to the next frame, and thanks to its extremely fast 0.2ms response time, takes just 8.7 ms to show an image fully. Meanwhile, a 165Hz/3ms display needs approximately 9.06 ms (6.06+3 ms) to show the correct image. This means the 120Hz OLED display not only shows richer and more vivid colors than a 165Hz LCD but also has better motion clarity, providing users with a smoother visual experience.
ScreenPad Plus
The Zenbook Pro 14 Duo OLED also comes with a secondary display, whose purpose is to boost creatives' productivity. The ASUS ScreenPad Plus has an IPS panel. It's bright and has good colors. It is powered by the new ScreenXpert 3 software, which allows for cross-screen multitasking while making creative workflows more efficient.
The built-in Control Center has various control functions. It's quick and easy to use, allowing you to do things such as adjusting the brightness, turning the mic and camera on or off, and choosing which ScreenPad Plus apps to use.
Moreover, the laptop comes with the ASUS Pen 2.0 stylus, which you can use on the main or the second display. I found that it works better to write notes on the ScreenPad Plus.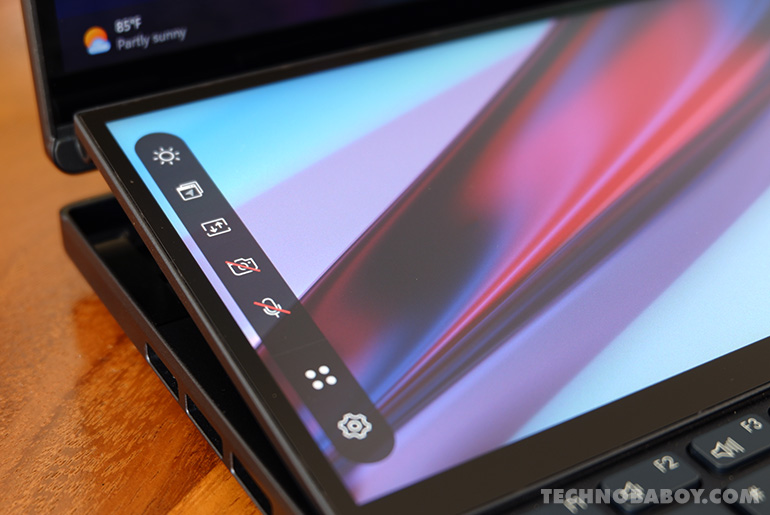 The ScreenPad Plus supports Adobe Premiere, After Effects, Photoshop, and Lightroom Classic in the past. The latest version adds Adobe Illustrator.
See also Samsung Galaxy Z Fold4 review: Should you get a foldable phone?
There is also a physical button that allows you to conveniently move open apps/windows between displays, and an on/off button if you don't want to use it or want to save on battery.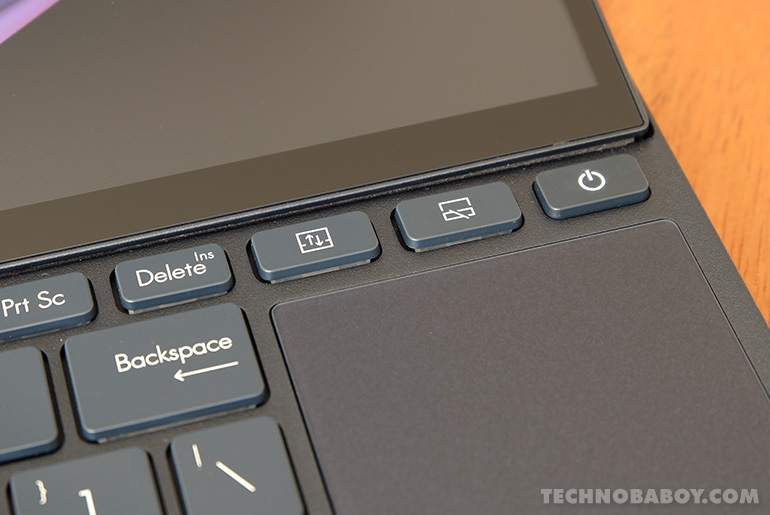 Fun Fact: You can turn the ScreenPad Plus into a number pad or a full-width TouchPad by tapping it with three fingers, or use it as a secondary display for watching videos or streaming music in the background while you use the main display as your work screen. And since it's a touchscreen, you can easily fiddle with media controls.
Performance
The Zenbook Pro 14 Duo OLED can be configured to up to a 12th generation Intel Core i9 processor with an NVIDIA GeForce RTX3050Ti 4GB graphics. Our review unit has an Intel Core i7-12700H clocked at up to 2.3Ghz with 16GB LPDDR5 RAM and 512GB M.2 NVMe PCIe 4.0 SSD.
It also features ASUS's IceCool Plus thermal technology that uses two 12V efficient fans with 97 and 93 blades, and dual 8mm heat pipes for improved overall heat dissipation.
Moreover, it features ASUS's unique AAS Ultra design. When you open the laptop, the secondary display will rise to 12 degrees, allowing not only a better view but also opening an intake for 38 percent higher airflow to help sustain the performance needed for heavy workflows.
As mentioned, I used it mostly with Adobe Photoshop and tested it with Adobe Premiere. Of course, we do have different workflows, but I did find the performance to be as good as advertised. For both programs at least, they loaded quickly without issue, and overall performance while editing looked and felt good.
See also Lenovo Yoga 6 13-inch (13ALC7) review
One thing of note is how often the fan starts. It's not as quiet as I would have liked, but it's not bothersome either. It does, however, come with a Fan profile, where you can switch to Whisper mode to reduce fan noise to less than 28dB, or go all out on Performance mode for maximum performance.
I would also like to quickly talk about the ErgoSense Keyboard. It has a 1.4 mm key travel which makes for a good typing experience. However, the placement of the keyboard is not at the center of the laptop, and then the small touchpad is placed on the right. It takes a bit of getting used to, but it works once you develop the muscle memory for it.
Fun Fact: While the Zenbook Pro 14 Duo OLED is not a gaming laptop, it can play games with decent performance. It is very much able to thanks to its Intel Core i7-12700H processor, 16GB LPDDR5 RAM, NVIDIA GeForce RTX 3050Ti 4GB GPU, and the 120Hz OLED display with a fast 0.2ms response time. For demanding games, though, you may need to adjust the settings (such as the resolution and graphics quality) to get optimal results.
Harman Kardon Speakers
The laptop comes with downward-firing Harman Kardon tuned speakers with Dolby Atmos support. It's driven by a powerful DSP chip, made to enhance the maximum volume by up to 350 percent with clearer sound at all frequencies.
The speakers sound surprisingly good and it gets really loud, too. The sound quality is rich with a lot of depth to it. Actually, it's one of my favorite things about the Zenbook. Since these are downward-firing speakers, they sound a lot better when the laptop is on a table or a flat surface.
For creatives and content creators, this means a better experience when creating or listening to audio in your videos, movies, music, or games.
Price and Availability
The ASUS Zenbook Pro 14 Duo OLED is priced at PHP 159,995. It is available in ASUS Concept Stores and partner dealers nationwide, which you can find on this link.
ASUS Zenbook Pro 14 Duo OLED specs
Display 1
14.5-inch 2.8K OLED Display, Touch Screen, 2880×1800, 120Hz Refresh Rate, 16:10 Aspect Ratio, Up to 550 nits, 100% DCI-P3 Color Gamut, 1,000,000:1, VESA Certified Display HDR True Black 500, PANTONE Validated
Display 2
12.7-inch IPS ScreenPad Plus, 2880×864, Stylus Support
Processor
Intel Core i7-12700H, 2.3 GHz
(24MB Cache, up to 4.7 GHz, 6P+8E cores)
GPU
NVIDIA GeForce RTX 3050 Ti, 4GB GDDR6
RAM/Storage
16GB LPDDR5 RAM
512GB M.2 NVMe PCIe 4.0 SSD
Front Camera
720p HD Camera
I/O Ports
1x USB 3.2 Gen 2 Type-A
2x Thunderbolt 4 supports Display/Power Delivery
1x HDMI 2.1
1x 3.5mm Combo Audio Jack
Micro SD Express 7.1 card reader
Connectivity
Wi-Fi 6e Dual Band, Bluetooth 5.3
Others
Backlit Chiclet Keyboard with 1.4mm Key-travel, Touchpad, Office Home and Student 2021, US MIL-STD 810H Military-grade Standard, Trusted Platform Module, IR Webcam for Windows Hello, ASUS Pen 2.0 Support, Harman/kardon Speakers
OS
Windows 11 Home
Dimensions
12.74″ x 8.85″ x 0.70″ ~ 0.77″
1.75 kg / 3.86 lbs
Battery
76WHrs, 4S1P, 4-cell Li-ion
180W AC Adapter