Mobile Legends: Bang Bang Professional League – Philippines (MPL-PH) Season 10 champions Blacklist International and runner-up ECHO head to Jakarta to compete in the upcoming MLBB M4 World Championship.
This season's battle cry, "Pinas Lang Malakas," aims to ignite the players' strength, pride, and honor to bring the championship title to the Philippines again. Dubbed the birthplace of greatness, the Philippines has been the strongest nation in MLBB esports, with the most championship titles under its wing. It is also the defending country in the said prestigious competition.
Starting January 1, 2023, 16 teams will compete for the most-coveted title and the lion's share worth USD 800,000. The winners will also get to choose the M4 winner's championship skin and receive a UBS-exclusively designed gold ring.
Revealed in the M4 Group Draw press conference on December 8, world champions Blacklist International are part of Group A alongside Falcon Esports, Burn X Flash, and Incendio Supremacy.
The codebreakers are headed by coaches Kristoffer "BON CHAN" Ricaplaza and Aniel "MASTERTHEBASICS" Giandani. Johnmar "OhMyV33nus" Villaluna, Danerie James "Wise" Del Rosario, Edward Jay "Edward" Dapadap, Calvin Kiel "Oheb" Soriano, Salic "Hadji" Imam, Mark Jayson "Eson" Gerardo, and Dexter "Dex Star" Alaba will represent the team.
Meanwhile, ECHO joins Group C with RSG SG, Occupy Thrones, and RRQ Hoshi. The "Superteam" is headed by coaches Harold Francis "Tictac" Reyes and Robert Alexis "Trebor" Sanchez. The team will be composed of Tristan "Yawi" Cabrera, Karl Gabriel "KarlTzy" Nepomuceno, Jankurt Russel "KurtTzy" Matira, Sanford "Sanford" Vinuya, Alston "Sanji" Pabico, and Frederic Benedict "Bennyqt" Gonzales.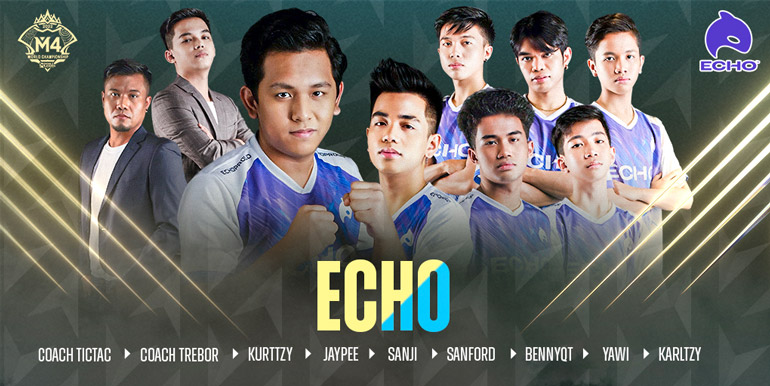 The Group Stage will have a single round-robin (BO1) match format. The Knockout follows, wherein the first two rounds of the lower bracket will be in a best-of-three (BO3) series. The Knockout Stage will follow from January 7 to 15 in a double elimination format that will feature competing teams facing each other in a BO5 series – save for January 9 and 10 (BO3), where matches will be played in a BO3 format. Lastly, the Grand Finals will be in a best-of-seven (BO7) format.
The Road to Greatness Begins
MPL Philippines has prepared numerous exciting online and on-ground activities to allow fans to support their teams:
Firstly, fans can submit creative video entries stating their message of support to the Philippines' M4 reps with the official battle cry of #PinasLangMalakas. This enables them a chance to win an all-expense paid flight and hotel accommodation in Jakarta, Indonesia, to witness the biggest MOBA tournament live.
Within the Mobile Legends: Bang Bang app, fans can score event items by completing tasks in exchange for rewards. They can get a Christmas profile avatar border and random skin experience cards of Blacklist and ECHO's signature heroes.
Various watch parties will be held nationwide dedicated to all the players and the whole MLBB community. Tune in to MPL Philippines' official pages to find out about the participating malls, cafes, open spaces, universities, and schools.
See also realme gears up for Mobile Legends Cup Regional Wars
Meanwhile, Asia's Soul Supreme KZ Tandingan and Filipino rapper Nik Makino will release M4 Philippines' theme song to showcase the Filipinos' strength and sense of pride. There will be a music video with a special dance choreography to demonstrate the PH cheer-up pose, to convey the key message "Pinas Lang Malakas."
For more information about the biggest MOBA tournament in the world, you may visit the following MPL Philippines channels: