Reminders to all motorists. Brace yourselves for a new and improved traffic enforcement system coming your way. The Metropolitan Manila Development Authority (MMDA) is set to pilot test the single ticketing system starting today, May 2, in seven LGUs: San Juan, Muntinlupa, Quezon City, Valenzuela, Parañaque, Manila, and Caloocan.
The MMDA is deploying a fleet of almost 900 enforcers across the capital's main thoroughfares to keep an eye on any traffic violations. The new system will make it easier for violators to pay fines through the use of handheld devices that accept cashless payments.
The single ticketing system is an attempt to harmonize the national and local traffic laws and standardize the penalties and fines for the most common traffic violations listed in the Metro Manila Traffic Code. It also aims to improve transport and traffic management in the metro by streamlining apprehension procedures, fine payments, and the redemption of vehicle plates and driver's licenses.
With this integration of systems, the MMDA hopes to establish a more efficient and effective traffic management system in Metro Manila.
For fines and penalties under the single ticketing system, refer to the image below:
Traffic Violation Fines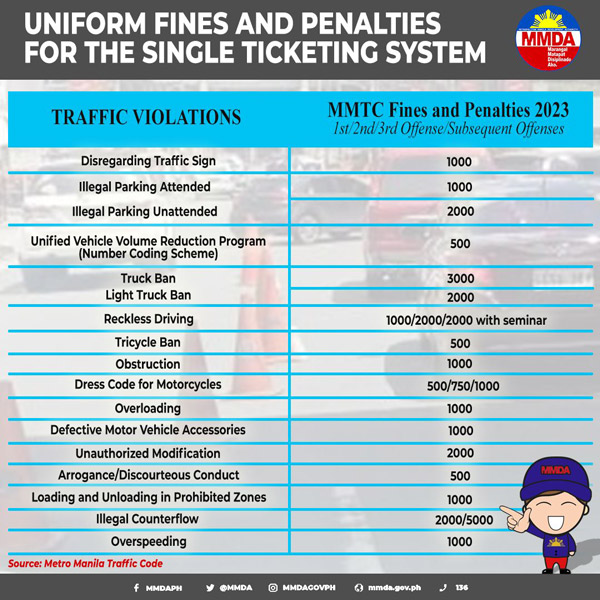 Traffic Violation Fines Under Special Laws