The Metro Manila Council (MMC) has approved the implementation of the single ticketing system for cities in the National Capital Region. This will allow for a more centralized structure for paying penalties.
At a meeting held at the Metropolitan Manila Development Authority's (MMDA) new office in Pasig City, the 17 mayors of Metro Manila established the Metro Manila Traffic Code of 2023, which will provide a system of interconnectivity among government instrumentalities involved in the transport and traffic management in the metropolis with harmonized fines and penalties.
MMDA Acting Chairman Atty. Don Artes called the single ticketing system a "historic moment", as the new scheme will allow apprehended motorists the convenience of paying for their traffic violation-related fines wherever regardless of the city they have been caught.
"The single ticketing system would help avoid confusion among our driving public, as well as the option to pay electronically for their violations. Driver's license will also not be confiscated during apprehension," he added.
According to the MMC, the single ticketing system would be in effect within the first quarter of 2023.
"The Metro Manila LGUs will have to pass their respective ordinances adapting the Metro Manila Traffic Code 2023 on or before March 15 to fully implement the single ticketing system," said MMC President and San Juan City Mayor Francis Zamora.
You might also like MMDA: Private vehicles are allowed to use all lanes on EDSA-Ayala Southbound
According to the new guidelines of the Metro Manila Traffic Code, traffic violations will incur fines that range anywhere from ₱500 to ₱10,000. The new uniform fines and penalties under the single ticketing system are detailed below.
Traffic Violation Fines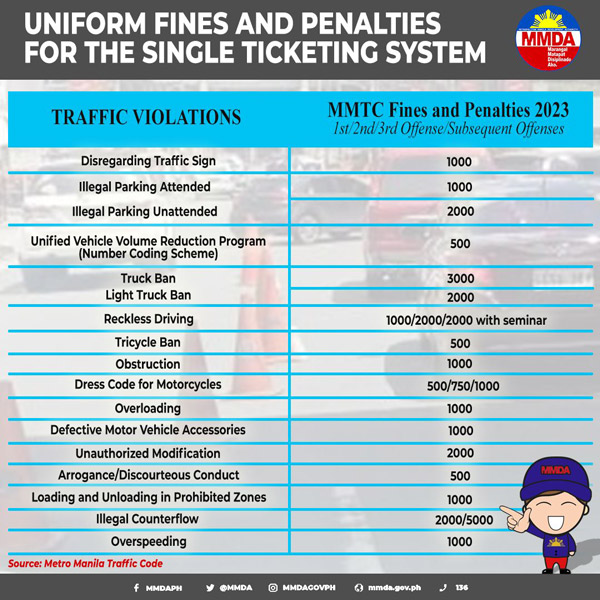 Traffic Violation Fines Under Special Laws