MediaTek announced its latest flagship processor, the Dimensity 9300. The new chip is based on a 4nm process technology and features an all-big core CPU design, making it a strong competitor to Qualcomm's Snapdragon 8 Gen 3.
The Dimensity 9300 has eight CPU cores with four Cortex-X4 performance cores clocked at up to 3.25GHz and four Cortex-A720 efficiency cores clocked at up to 2.0GHz. This is a significant improvement over the previous generation Dimensity 9000, which had one Cortex-X2 ultra core, three Cortex-A710 super cores, and four Cortex-A510 efficiency cores. MediaTek claims the new CPU configuration delivers up to 30% higher performance and 20% lower power consumption than the Dimensity 9000.
The GPU of the Dimensity 9300 is also upgraded, with an Immortalis-G720 that offers an almost 46% boost in GPU performance and a 40% reduction in GPU power consumption while at the same level of power consumption as the previous generation chipset. It also promises to deliver console-level global illumination effects at a smooth 60 FPS with MediaTek's second-generation hardware raytracing engine.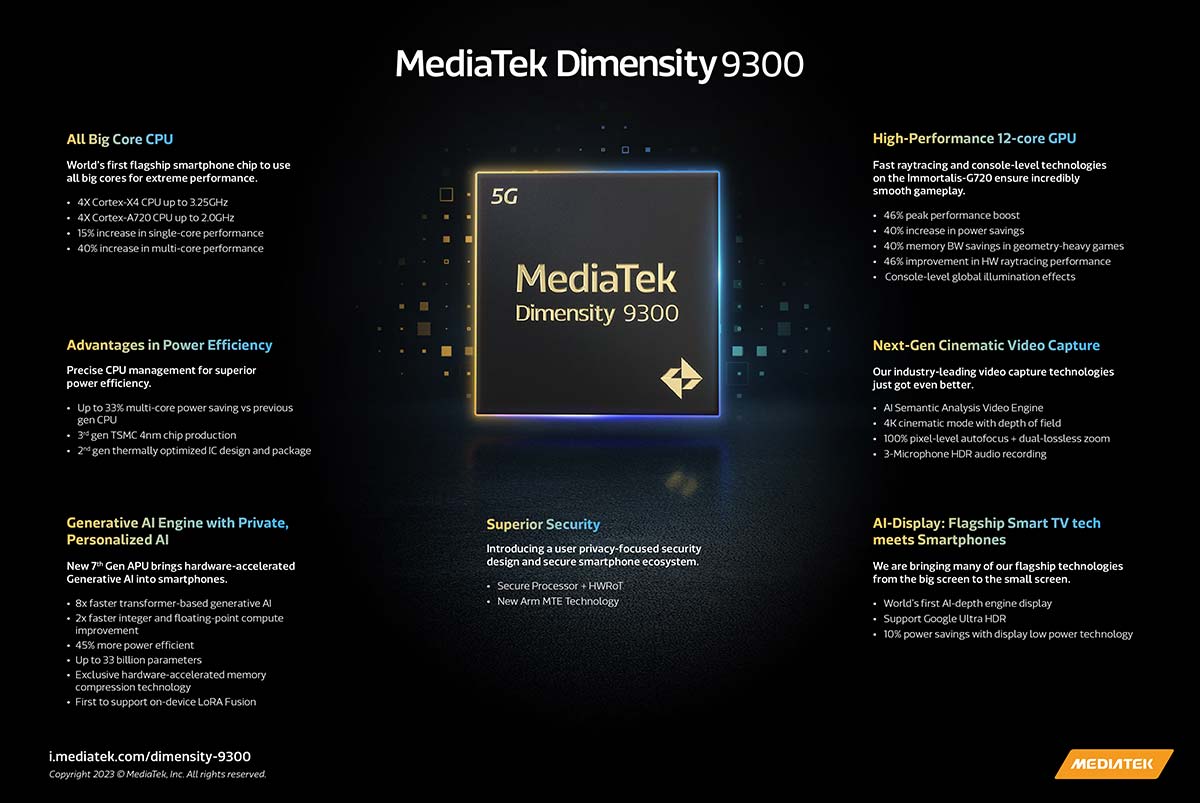 The new chip supports 4K up to 120Hz or WQHD up to 180Hz displays. The chip also supports LPDDR5T memory and UFS 4 storage. In terms of connectivity, the Dimensity 9300 has an integrated 5G modem that supports both sub-6GHz and mmWave bands, as well as Wi-Fi 7 and Bluetooth 5.4.
The Dimensity 9300 also boasts impressive AI capabilities, with a MediaTek APU 790 AI processor designed to significantly improve generative AI performance. It can handle various AI tasks, such as face detection, voice recognition, image enhancement, and video encoding. The chipset also supports 4K at 30fps cinematic mode with real-time bokeh tracking for professional quality bokeh enhancements, as well as 4K AI Noise Reduction (AI-NR) and AI processing on RAW photos and videos, and the new Ultra HDR format in Android 14.
The Dimensity 9300 is expected to power the next generation of flagship smartphones from various brands. It will go head-to-head with Qualcomm's Snapdragon 8 Gen 3.
The first smartphones powered by the Dimensity 9300 chipset will be available in the market by the end of 2023.