In a possible attempt to wrest some market share from Apple's Macbook Air, Sony will make its Vaio Z laptop thinner than its predecessor.  Sony just revealed the details of the upcoming ultrathin Vaio Z laptop to the European press.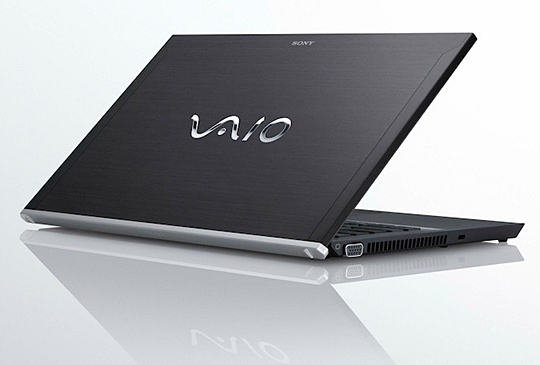 The new Vaio Z is a 13.1-inch notebook that weighs under 1.2kg and has a 21.8mm thin profile.  It has a 2.7GHz Intel Core i7 processor, 256GB SSD, 8GB RAM, and 1600×900 resolution screen, with up to 7 hours of computing power.   The Vaio Z features a Power Media Dock, which has an AMD Radeon 6650M GPU with 1GB of dedicated memory connected via Light Peak.  The dock has one USB 3.0 and additional USB, VGA and HDMI ports, and a slot for a DVD or Blu-ray drive. The Vaio Z is also the first laptop, apart from Apple, to have the new Thunderbolt technology.
The Vaio Z will ship by the end of July in Europe.  The rest of the world will probably get a glimpse of this ultraportable soon thereafter.   Price will most likely go north of P100,000.
VAIO Z Specifications
Processor:  Intel® Core™ i7-2620M 2.70GHz (with Turbo Boost up to 3.40GHz)
OS:  Genuine Windows® 7 Professional (64bit) with Service Pack 1
Memory:  8GB DDR3 1333Mhz SDRAM
Drive:  256GB SSD Flash memory (RAID 0)
Screen:  33.2cm (13.1″) VAIO Display Premium (1600×900) with wide (16:9) aspect ratio
On-board graphics:  Intel® HD Graphics 3000
Optical drive:  DVD SuperMulti Drive (included with VGP-PRZ20C Power Media Dock)
Others:   WLAN 802.11a/b/g/n; 3G WWAN; Bluetooth® 2.1 + EDR; USB 2.0 x1, docking station/USB port x1 (supports USB 2.0/3.0 compatible devices); HDMI™ out (3D supported); stereo speakers with Dolby® Home Theater® v4; HD web camera powered by 'Exmor' (1.3 effective megapixels); Web, VAIO and Assist buttons; touchpad with gesture support; fingerprint sensor; Quick Boot
Dimensions: 210 x 16.65 x 330mm
Weight:  1.18kg (with standard internal battery)
Power Media Dock Specifications
Graphics Accelerator:  AMD Radeon™ HD 6650M
Video RAM:  1GB DDR3
Max. resolution:  Analogue RGB: 1920 x 1200
HDMI: 1920 x 1080
Optical drive:  VGP-PRZ20C: DVD SuperMulti Drive
VGP-PRZ20A:  Blu-ray Disc™ Drive with DVD SuperMulti
LAN port:  1000BASE-T/100BASE-T/10BASE-T x1
USB port:  Hi-Speed USB (USB 2.0) Type A Connector x2, SuperSpeed USB (USB 3.0) x1
Monitor port:  Mini D-Sub 15 pin x1
HDMI output port:  x1 (3D Supported)
Dimensions:  148 x 16.65 x 220mm
Weight:  0.685kg