So I was right, as most of the people on blogosphere were.  Nokia had a teaser o its Facebook page saying "It's almost time to try something new".   That something is the new update called Symbian Belle, already shown installed in some handsets such as the Nokia N8 even before today's official launch.
Along with the launch of the Symbian Belle, Nokia unveiled three new handsets – the Nokia 700, 701 and 600, some of which we've already seen in leaked images.  The Symbian Belle has NFC sharing capability and updated the home screen of the Anna, now totalling six.  It also has a dynamic lock screen, live widgets, and a pull-down taskbar and notification menu (similar to that Android feature).
httpvh://www.youtube.com/watch?v=2l0AkY07PKs
Now let's look at the three handsets unveiled by Nokia.
Nokia 700
The Nokia 700 has been leaked before as the "Zeta".  Nokia claims that it is the world's most compact touchscreen monoblock smartphone.   The Nokia 700 will pack a 1GHz CPU, a 3.2-inch AMOLED "ClearBlack" display with Gorilla Glass, NFC capability, 5 megapixel full-focus camera and pentaband 3G radio.  It also struts with a "green" tag, being constructed using recycled materials.  The Nokia 700 has a price tag of about $390.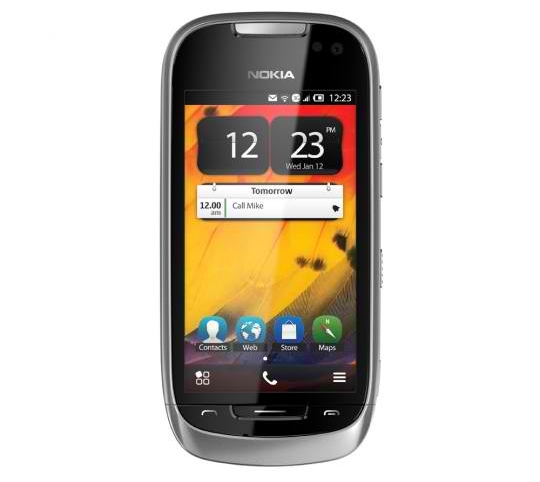 Nokia 701
The Nokia 701 was the "Helen" phone.  It is being marketed as the handset with the brightest ever mobile phone display.  It sports a ClearBlack 3.5-inch IPS LCD with Gorilla Glass.  Specs wise, this is better than the Nokia 700, bringing with it a 1GHz CPU, pentaband 3G radio, NFC capacity, 8 megapixel full focus camera with dual LED and a front-facing camera.  It will have an 8GB internal storage which may be expanded up to 40GB via microSD card.  Price is $420.
Nokia 600
The Nokia 600 used to be known as "Cindy".  This device has the music-lovers in mind.  It Nokia's loudest phone to date and features an FM radio with internal antenna.  This means you don't need to plug in your headphones in order play FM radio.
The Nokia 600 is the cheapest of the new handsets, as it carries a $260 price tag.  For specs, you will not be disappointed as it also packs a 1GHz CPU and features a 3.2-inch nHD display, 5 megapixel full focus camera with LED, 720p video capture capability, NFC functionality and FM transmitter.  It will have a 2GB internal storage which may be expanded via microSD.
Release of the Nokia 600, 700 and 701 phones are expected in the third quarter.
For current Nokia owners, the following handsets are confirmed to be compatible with Symbian Belle:  N8, E6, E7, X7, C7, C6-01 and Oro.