There are millions of videos on the internet. Sometimes – just sometimes – you want to get your own copy of the video you're watching.  Video sharing sites like YouTube, Metacafe, Vimeo, Daily Motion, CollegeHumor.com, FunnyOrDie.com and StupidVideos.com do not provide for a way to download these videos.  There are sites which grab these videos but the process is not as simple as the one offered by the free software RealDownloader.
RealDownloader is a software that lets you download videos directly from YouTube, Metacafe, Vimeo and Daily Motion and other websites where you see videos, including Facebook, by just one click of a button.  The software is very easy to use, and as long as you are allowed to download the video, you can easily download a copy for your personal files.  RealDownloader needs to be installed you your desktop first before you can download videos.  Here is the simple process of installing RealDownloader and downloading videos using this software.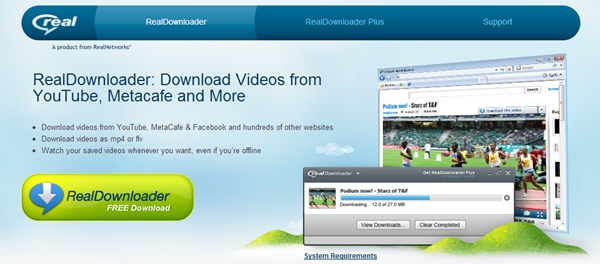 How to download videos from YouTube, Vimeo and others using RealDownloader
1. Install RealDownloader; You can download the software for free from here.
2. Go to the video sharing website you like and select a video;
3. Hover the mouse cursor on the video or over the upper-right corner of the video;
4. A "Download This Video" button will appear; If it does not appear immediately, try clicking the play button first; 
5. Click the "Download This Video" button to begin downloading the video;
6. A window will open which shows the progress of your download;
7. The downloaded videos will be stored by default in a folder entitled RealDownloader found inside the main folder My Videos.
That's basically what you need to do and remember when you want to download videos from just about any website on the internet.  After you have installed the RealDownloader software on your desktop, you just have to hover your cursor over videos when they are playing to see if they can be downloaded. The downloaded videos are in the form of mp4 or flv, files that you can easily transfer to your mobile devices if you want.
Here are screenshots showing the "Download This Video" badge shown on some video sharing websites.
RealDownloader should work without any issues on Firefox and Internet Explorer.  On Google Chrome, the "Download This Video" button does not appear sometimes.  If this happens, go here and find out how you can fix the problem.  The easier way, really, is to just use Firefox or Internet Explorer.
Hope this "how to" post helps.