Nowadays, gadgets are no longer just status symbols, they are a necessity.  It's therefore not surprising that almost everyone has a smartphone or a tablet or some other portable device.  These devices all have limited power supply, of course, so power boosters or power packs are needed to get these gadgets last through the day. The market is saturated with portable chargers and the good thing about this is that they tend to become cheaper and cheaper.  Some of them used to go as high as P10,000 but if you look for one now, you can get something priced below P2,000.
One of the portable chargers you can check out is Inboosta.  It's a relatively new brand but it offers useful features and is well-designed to boot.  The fact that it is competitively priced only makes it a more attractive option.
I had the chance to review the Inboosta Travel Booster Rainbow Series Plus.  There's the Professional Series Plus if you want a more premium looking charger.  The Rainbow Series Plus gets the name from the available color options.  There's white, yellow, green, blue, purple and red.  For purposes of this review, I used a blue one with a 5200mAh capacity.  The other variants available have 4400mAh and 6000mAh capacities.  The 4400mAh variant is priced at P1,990, the 5200mAh variant at P2,490 and the 6000mAh variant costs P2,990.
The Inboosta Travel Booster is small and definitely easy to carry around.  It has a little heft, but not too much to make it heavy to lug around.  The Inboosta Travel Booster has a rather short and curved profile that can easily fit in your pocket. The travel charger itself only has two slots and one button.  One end hosts the mini USB slot and the other end hosts the USB slot.  On the front surface there's a power button below which are four light indicators.  The package includes a mini USB cable and four adaptors for micro-USB and chargers meant for the PSP, Nokia phones, and Samsung devices.  You can use the USB connector of your iOS devices like iPhone, iPod Touch or iPad to use the Inboosta Travel Charger.
Using the Inboosta Travel charger is easy.  If you want to charge the device, you need to do it through the USB slot on computers or through compatible AC adapters.  The travel charger is fully charged if all the light indicators are on.  When charging, you plug use the mini-USB end to connect the correct adaptor.  On my iPhone 5, the 5200mAh capacity of the Inboosta Travel Charger was able to squeeze out two full charges, with a few more power to spare. That's good enough for me especially since the iPhone 5's battery drains easily when 3G is on.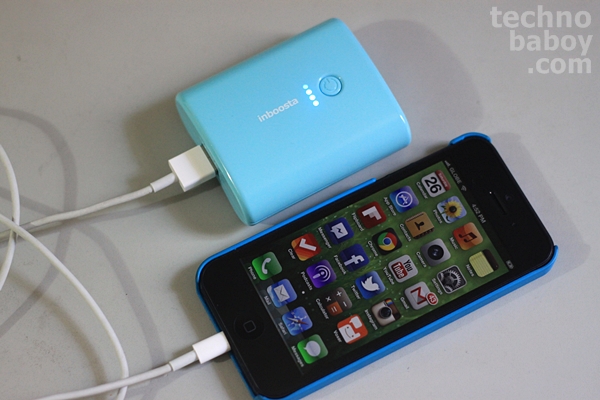 The Inboosta Travel Charger has a few helpful features which should make it stand out from other alternatives in the market.  For one, it is designed with efficient energy saving system.  It also has safety features such as high voltage fuse, over-current protection and automated shutdown. This makes it safe not only for your gadgets but also for you, the user.
The Inboosta Travel Charger is available at Digital Hub, Digital Walker and Beyond the Box outlets.
Rating: 8.7/10