The latest Android device from Huawei has just been unveiled in an event in London.   The Huawei Ascend P6 has been excessively leaked online and finally it is now official.  The Ascend P6 is an ultrathin handset, coming in at only 6.18mm thick.  That's even thinner than the iPhone 5 which measures at 7.6mm.  It's also light, weighing only 120 grams.
The Huawei Ascend P6 has a sleek design that really reminds me of the iPhone 5.  The two phones have striking similarities and I can't help but think that the Ascend P6 copied the iPhone.  The band on the side of the Ascend P6 is eerily similar to that of the iPhone 4 and 4S, even the iPhone 5 and only possible difference is the bottom part which is not covered by the band. Needless to say, it's a nice-looking phone and it's one that I wish I own.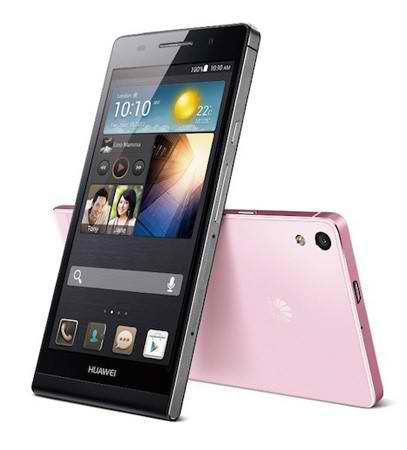 For hardware specs, you'd expect a 1.5GHz quad-core CPU, 2GB of RAM and 8GB of internal storage that's expandable up to 32GB via a microSD card slot.  The Ascend P6's primary camera is an 8-megapixel shooter with F/2.0 BSI lens and the front shooter is a 5-megapixel affair.  The Huawei Ascend P6 has an HD display though not full HD, just the 720p type sporting a 1,280 x 720 resolution.  The phone's battery is 2,000mAh which is really not much since the HD screen could use up a lot of juice.  The phone will run on Android 4.2.2 skinned with Emotion UI.  For connectivity options, it only offers HSPA+ radio and has no LTE on launch, although an LTE version will become available soon.
The Huawei Ascend P6 will be available in China from June and in other countries in July.  It's said that the device will be available in a total of 100 countries so the Philippines is most likely in the list.  The Ascend P6 is priced at around $600 in some countries but this could be padded when it reaches our side of the planet.
Here are videos showing off the Huawei Ascend P6.
httpvh://www.youtube.com/watch?v=E75gTh3nK1k
httpvh://www.youtube.com/watch?v=oN6_w_U96r4
httpvh://www.youtube.com/watch?v=HfHVQMEnKUE