The Android tablet market is getting saturated by the day so it's naturally getting harder for brands to get noticed, especially those who are relatively new in the market or are simply smaller compared to behemoths like Samsung and Sony for instance.   For these smaller brands, the only way to compete, or survive even, is to go dirt-cheap when it comes to pricing.  The Xenon XPad 7 is one such budget Android tablet, going for only Php4,299.
Xenon XPad 7 – Design and Hardware
The Xenon XPad 7 looks like the Xenon XPad 10, only smaller of course as it has a 7-inch display instead of the 10.1-inch display found on the bigger XPad.  And where the Xpad 10 is a mix of plastic and metal finish, the Xpad 7 is all plastic.  It has a dark gray brushed metallic look to it and when combined with the all black front of the tablet, the overall appeal is actually nice, like the tablet is more expensive than its actual price.
The XPad 7 has rounded corners and curved edges, making it comfortable to hold. It helps that the weight o the XPad 7 is manageable so it doesn't bother your arm during long periods of use.  Ports and buttons on the Xpad 7 are limited to the power button, volume rocker, 3.5mm headphone jack, micro-uSB slot, charging slot and microSD card slot.  There's also rear-facing and front-facing camera.
For the main specs, the Xenon XPad 7 include a 1GHz Cortex A8 processor, 512MB RAM and 4GB of internal storage expandable up to 32GB via microSD slot.  It runs the Android 4.2 Jelly Bean which is the latest version of the Android OS.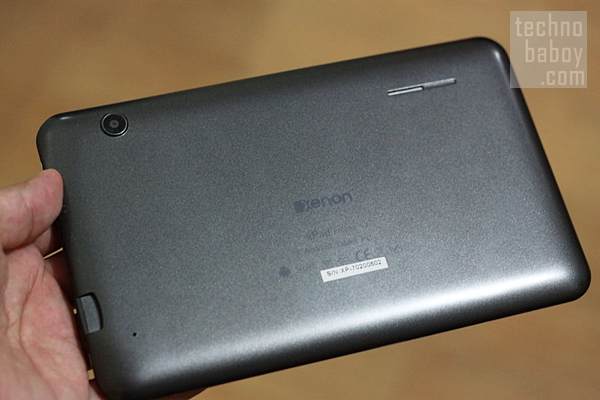 Xenon XPad 7 (XP-702) Specs and Price
7-inch TFT LCD display (800×480)
1GHz Cortex-A8 Processor
Mali 400 MHz GPU
512 RAM
4GB internal memory
microSD card slot up to 32GB
Wi-Fi 802.11 b/g/n
3.5mm headphone jack
micro-USB slot
Dual-camera
3000mAh Li-Poly battery
Android 4.2 Jelly Bean
Price: Php4,299
One of the best features of the XPad 7 is the display.  It is sufficiently sharp and bright and colors are rendered accurately.  It's therefore nice for watching photos and videos.
Xenon XPad 7 – Performance and Battery Life
The Xenon XPad 7 performs rather well for a Php4,299 tablet.  If your needs are as basic as reading ebooks, playing the most popular games, browsing the internet and viewing videos and photos, the Xenon XPad 7 is a tablet that does these tasks well.  Apps run smoothly and multitasking is a good, although when you start running several apps, the tablet experiences a bit of a lag, but not to a point that it becomes a serious issue.
Just don't expect this tablet to play graphics-intensive games as the rather basic internal hardware of the tablet naturally has limitations.  But for the ordinary person who wants to experience internet and run basic apps in a 7-inch tablet, the Xpad 7 is worth considering.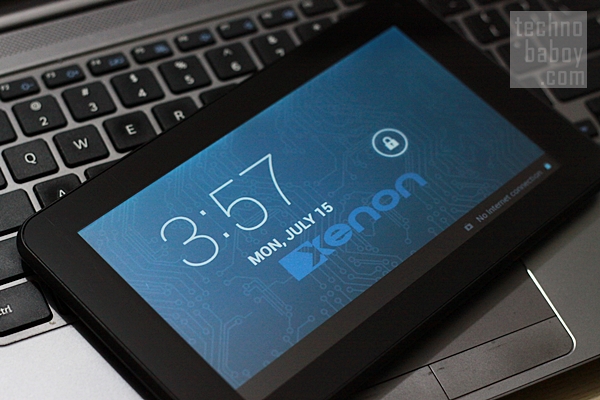 In terms of battery life, the Xenon XPad 7 promises 10 hours of music playback or 4.5 hours of video playback or 4 hours of web browsing.  I was able to get around these figures when I used the XPad 7 tablet.   This battery life is made possible through the tablet's huge 3000mAh battery.
Wrap Up
To judge the Xenon XPad 7, you have to consider the price point, which is Php4,299.  At this price, you get an Android Jelly Bean tablet with decent hardware specs that include a 7-inch TFT LCD display (800×480), 1GHz Cortex-A8 Processor, 512 of RAM and 4GB internal memory that is expandable up to 32GB.  You also get Wi-Fi 802.11 b/g/n, dual- camera and a huge 3000mAh nbattery.  This set of specs deliver a decent performance and when the price is considered, the hardware limitations do not seem that bad at all.
The Xenon XPad 7 is not a Nexus 7 competitor by any means.  It has fairly inferior specs but it's understandable that Xenon had to make sacrifices to reach a very low price point.  But when everything is considered, the XPad 7 is actually a decent tablet that a lot of budget-conscious Filipinos can definitely consider.
 Rating: 8/10