I am an avid consumer of movies and TV shows. If you're anything like me (or if you have a bigger movie problem than I do), then I suggest you take a look at Sky On Demand. The service has one of the biggest lineup of TV channels, on-demand TV shows and movies that include a huge selection of both local and foreign films that you can watch anytime and anywhere.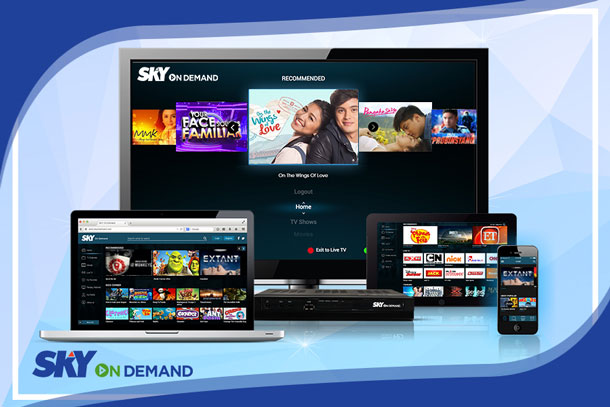 Sky On Demand
SKY On Demand is a video streaming service that lets SKY subscribers enjoy cable TV shows and movies on their TVs, computers, smartphones, and tablets. It has a host of channels that include ABS-CBN HD, AXN, Asian Food Channel, Basketball TV, Disney Channel, History, Nickelodeon, Sony, HGTV, Warner TV and RTL-CBS Entertainment, among others.
For those who like to binge watch movies from yesteryears (like me), the service also has a Premium Pack they can avail. The Premium Pack is filled with classic and popular movies from Star Cinema, Paramount Pictures, NBC-Universal, Regal Films, and Viva Films. Subscribers can enjoy foreign and local films like Star Trek, Transformers: Revenge of the Fallen, How To Train Your Dragon, One More Chance, Four Sisters and a Wedding, and 24/7 In Love. Those new to the service can try the Premium Pack for 60 days, free of charge.
SKY on Demand is exclusive to all SKY subscribers and is accessible through a SKY broadband connection at home or through SKY Mobi for those on the move. SKY Cable subscribers can upgrade to a SKY On Demand Digibox to watch on their TVs. The SKY On Demand mobile application is also downloadable from the Apple App Store and Google Play Store. The availability of shows and channels is based on a SKY subscriber's current cable TV plan.
For more information on Sky On Demand, you may visit www.mysky.com.ph/skyondemand, or you may follow them on Facebook (facebook.com/SKYOnDemandPH).
For more tech-centric news and reviews, please follow us on Facebook (facebook.com/TechnoBaboy), and Twitter (@technobaboy). We'll do our best to keep you up-to-date.