For a limited time, Smart GigaSurf 99 will come with an additional 1GB of data on top of the regular service offering.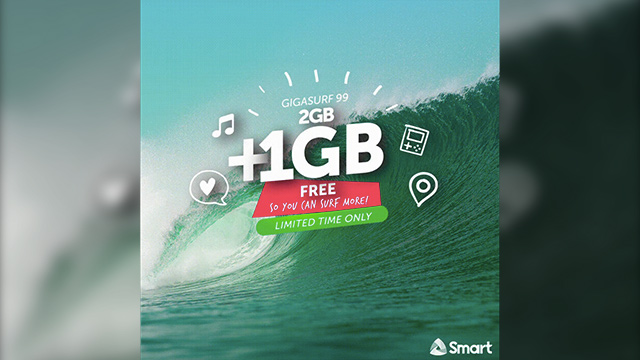 Smart GigaSurf 99
That's right. This is another value for money promo from Smart Communications. Starting March 23 to April 1, 2018, Smart GigaSurf 99 will come with an additional 1GB of data, on top of 2GB; for a total of 3GB. The service is good for 7 days, and also comes with unlimited texts to all networks.
With the new promo, you can do what you love to do online. It's more than enough for those who enjoy surfing the web, browsing and posting on social media, streaming online videos, and chatting with friends and family.
Also Read:
To use the service, just text GIGA99 and send to 9999. Or you can also avail of the service through the My Smart app, available on iOS and Android.
Too bad the promo is only available for a limited time. But who knows, maybe Smart will extend it. Even bette if they make it permanent.
Do you want to know how much data you need? Get an estimate with Smart's data-calculator.
For more geek-centric news and reviews, please follow us on Facebook (facebook.com/TechnoBaboy), YouTube (TechnoBryan), Twitter (@technobaboy), Instagram (technobryan), and Google+ (technobryan). We'll do our best to keep you up-to-date.