Sony Xperia XZ1 Review
The Sony Xperia XZ1 is one of the three flagship offerings from Japanese tech giant Sony Mobile for 2017. Launched late last year, the smartphone features a sleek aluminum unibody design, 5.2-inch FHD HDR display, a 19-megapixel main camera and a 13 megapixel front camera, an octa-core processor, 4GB RAM, 2700 mAh battery, and runs on the latest Android 8 Oreo.
The Sony Xperia X1 carries the following specifications:
5.2-inch FHD HDR Display
Qualcomm Snapdragon 835
Adreno 540 GPU
Android 8 (Oreo)
4GB RAM
64GB UFS internal memory, microSDXC support (up to 256GB)
19 MP (f/2.0, 25mm, 1/2.3″, 1.22 µm), gyro EIS, predictive phase detection and laser autofocus, LED flash,
13 MP (f/2.0, 22mm, 1/3″), gyro EIS, 1080p
Single SIM (Nano-SIM) or Hybrid Dual SIM (Nano-SIM, dual stand-by)
LTE (4G) Cat16 with Gigabit-class speeds
WiFi Miracast
Bluetooth 5.0 wireless technology
A-GPS, A-Glonass, Beidou, Galileo
USB Type-C
Virtual Phones Technology
PS4 Remote Play
Fingerprint sensor (side-mounted)
2700 mAh non-removable battery
Dimensions: 148 x 73 x 7.4 mm; weight: 156g
Colors: Black, Warm Silver, Venus Pink, Moonlit Blue
IP 68 water and dust resistance
Out of the box, the phone comes with a USB type C charger, a headset with earbuds, and a user manual.
Design and Build
The Sony Xperia XZ1, as with any other Sony smartphone, sports one of the most recognizable designs in the world of mobile telephony. While some might consider its overall design language as dated, I believe this is as an advantage because it allows the Xperia line to stand out among other current devices which carry an almost similar design cue.
The Xperia XZ1 is encased in a metal unibody featuring what Sony calls a loop design, a slight aesthetic upgrade which lends more rounded edges to the latest Xperia models. It's not as boxy as the earlier models but it's still the same rectangular outline that most consumers are familiar with.
Overall, the phone feels premium, sturdy, and well-built. It does not feel like it will easily yield if dropped accidentally from a moderate height. The all-metal chassis also ensures that no fingerprints will smudge your device during daily use.
The screen, meanwhile, is reinforced by tough Corning Gorilla Glass 5, providing resistance to scratches and protection from drops of up to 1.6 meters in height.
One handed use of the phone can be a challenge though because it feels slippery when naked. However, this is just s minor issue that can easily be remedied by putting on a slim case that adds grip.
All physical buttons – volume rocker, power button which also doubles as fingerprint sensor, and camera shutter button – are located at the right side of the device. On the left side, you will find the Nano-SIM and microSD slots. The headphone jock is located at the top while the stereo speakers are located on the front of the phone.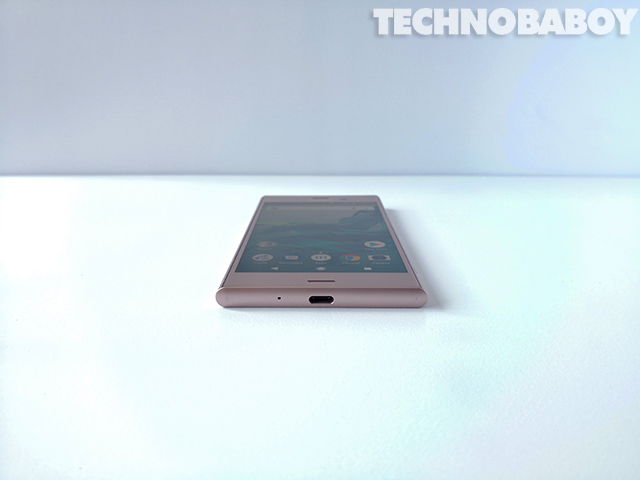 For those who are unaccustomed, having the fingerprint sensor on the side of the handset might not feel comfortable at first but you will get used to it quickly. The sensor is responsive, accurate, and reliable. A gentle press will unlock your device in a flash.
Display and UI
At 5.2 inches, the phone's screen size is subpar if you compare it with the supersized screens of other flagship devices these days. However, as it is, 5.2 inches is big enough for an enjoyable gaming experience as well as watching movies and videos.
Sony Xperia XZ1's High Dynamic Range (HDR) screen uses Sony's own BRAVIA Technology to produce images that are crisp, clear, and lifelike. It's not as bright as AMOLED but the difference is negligible even when compared side by side. In addition, the Sony Xperia XZ1 features Triluminos Display which produces 138% of the color spectrum shown by standard displays, and X-Reality that renders razor-sharp images.
The Sony Xperia XZ1 runs on the latest Google Operating System (OS), Android Oreo, with Sony's custom UI. As an iOS user with very little personal experience with Android devices, I had my biases before testing the device. It's not that I don't like Android but I am just more familiar with iOS so I was expecting the transition and adjustment to be a little challenging.
However, having used the Sony Xperia XZ1 for a week, I must say that I was absolutely satisfied with how fluid the experience was. My adjustment to Android applications were minimal, save for some gestures that I have been so used to in iOS. Nevertheless, I was excited with the flexibility and many possibilities that Android has to offer in terms of personalizing your device. Overall, the experience felt very similar to iOS.
The device is not just premium in terms of looks but in its performance as well. Applications load fast and smooth, with no lag. I can also say the same when switching from one application to the next: quick and snappy.
The phone also comes with a few cool tricks under its sleeve. It features 3D Creator technology which allows users to capture people and objects, and turn them into high-resolution 3D avatars which you can either print or save as mementos. It also works with the latest Playstation 4 so you can play your favorite games in your phone anywhere.
Furthermore, the more you use your Sony Xperia XZ1, the more it gets to know you, giving you more personal and smarter suggestions every time you open your device.
If you love the outdoors, you can bring your phone with you with less worries as it is IP68 water and dust resistant. Your device can withstand a few splashes and moderate rain but do be careful not to submerge it in water.
Performance and Benchmarks
I tested the performance of the Sony Xperia XZ1 using benchmark applications to see how the device will fare. The phone is powered by an octa-core Snapdragon 835, 4GB of RAM, and Adreno 540 GPU.
I ran Geek Bench and got a single-core score of 1925 and multi-core score of 6100. As for Antutu Benchmark, I did three runs and go the following results: 164,670 (1st run), 149,143 (2nd run), and 139,655 (3rd run).
Lastly, for 3D Mark, the Sony Xperia XZ1 got the following scores: Sling Shot Extreme Open GL (3045) and Sling Shot Extreme Vulkan (2378).
The device also handled gaming pretty well. I played two games, namely, Into the Dead 2 and Old Man, to test how the phone holds up when it comes to graphics intensive applications. Both games loaded fast and transitions were uninterrupted even after a fair amount of play time. There were no lags or down times throughout both applications.
Call Quality
Call quality is excellent. When I made several test calls, I was able to hear the other line perfectly well, with very little to no noise. The receiver at the other end of the line also said that my voice was clear and audible.
Camera
Noticeably, Sony Xperia XZ1 has not yet jumped into the dual camera bandwagon. Nonetheless, photographs come out really sharp and crisp in most situations. The phone features a 19-megapixel primary camera and a 13-megapixel front camera.
I did a few test shots and I am quite impressed with the quality of the photos taken outside in regular daylight. I like how the colors turned out vivid and true-to-life. Moreover, the camera was able to capture texture and a lot of details in most of my subjects. I did notice, however, that the camera struggled when it comes to indoor or low-light scenarios.
(Editor's note: Test images were resized in Photoshop)
If you like creative control over your photographs, then you might be satisfied to know that the Xperia XZ1 offers manual mode for both rear and front cameras.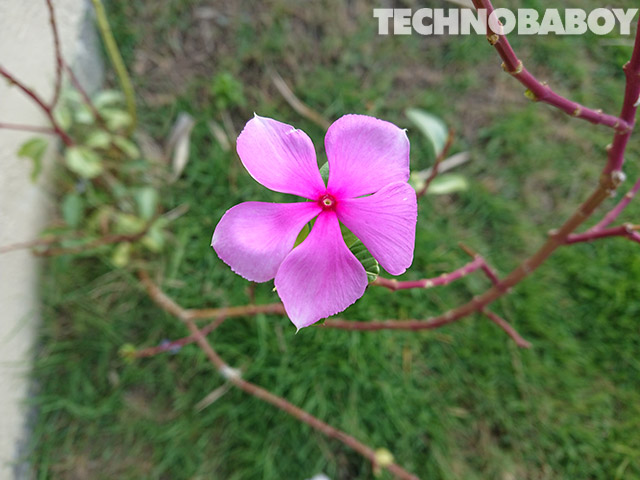 Battery Life
Powering the device is a non-removable 2700 mAh Li-ion battery. I wanted to find out how far a fully charged XZ1 can take me. In 24 hours, I would say battery performance was pretty standard as with all recent flagships. A fair amount of gaming, casual web browsing, checking social media, and photography on the XZ1 left me with 13% battery charge after 24 hours. At 15% battery level, you can activate STAMINA mode which restricts some features and functions until your next charging session.
Conclusion
To sum it up, I was very impressed with the Sony Xperia XZ1. It's a premium device that has been carefully crafted to give the best and most immersive experience to users. Both hardware and software meld seamlessly for a smartphone that performs flawlessly. Its design might not be considered as groundbreaking by some techies but I believe this is a strong point for Sony Xperia XZ1 because it sets it apart from other flagships these days. All in all, it's a worthy investment for those who are looking to upgrade or switch devices.
Ivan is the principal blogger of travel and lifestyle blog www.ivankhristravels.com. 
For more geek-centric news and reviews, please follow us on Facebook (facebook.com/TechnoBaboy), YouTube (TechnoBryan), Twitter (@technobaboy), Instagram (technobryan), and Google+ (technobryan). We'll do our best to keep you up-to-date.