Here's our full review of the Huawei Mate 20 Pro. Priced at PHP49,990, the handset features a Kirin 980, in-display fingerprint sensor, triple Leica cameras.
Huawei Mate 20 Pro Review
The Huawei Mate 20 Pro is the leading candidate for smartphone of the year (in my opinion, at least). And it comes with what you would expect a flagship brings with a price of PHP49,990.
But despite all the praise, the phone is not perfect. Like most things, the Mate 20 Pro comes with its own laundry list of baggages. It's still a very good phone though, and in case its not obvious, I like it a lot.
Before we proceed with the review, here's the Mate 20 Pro's specs at a glance.
| SPECS | HUAWEI MATE 20 PRO |
| --- | --- |
| Display | 6.39-inch Quad HD+ OLED Display (3120 x 1440, 539ppi), 19.5:9 Aspect Ratio, HDR Support, Notch |
| Processor | Octa-Core HiSilicon Kirin 980 Processor, Dual NPU |
| GPU | Mali-G76 MP10 GPU |
| RAM | 6GB RAM |
| Storage | 128GB UFS 2.1 Storage, Nano Memory Card |
| Rear Camera | Triple Rear Cameras, 40MP (f/1.8, Wide) + 20MP (f/2.2, Ultra Wide) + 8MP (f/2.4, 3x Telephoto), Leica Optics |
| Front Camera | 24MP Front Camera, Leica Optics, 3D RGB + IR |
| Connectivity | 4G LTE Cat 21 |
| Wi-Fi | Wi-Fi 802.11ac |
| Bluetooth | Bluetooth v5.0 |
| GPS | GPS, AGPS, GLONASS, BDS |
| Othes | 3D Face Unlock, In-Display Fingerprint Scanner, IR Blaster |
| OS | EMUI 9.0, Android 9.0 Pie |
| Colors | Twilight, Classical Black, Midnight Blue, Emerald Green, Pink Gold |
| Dimensions | 157.8 x 72.3 x 8.6 mm, 189 g |
| Battery | 4,200 mAh Battery, SuperCharge Fast Charging, Wireless Charging, Reverse Charging |
The phone's retail package consists of  a complete set. Apart from the unit, you have the 40W fast charger, the USB Type-C cable, an USB Type-C earbuds, a USB Type-C audio jack adapter, and a clear soft case.
Design and Build
The Mate 20 Pro is a very beautiful phone. I like how the edges of the display tapers to the side of the frame in a sloping manner. It looks very clean and very sleek with a 19.5:9 body. In the hand, it is very comfortable to hold.  Design-wise, the face of the handset reminds me of the Samsung Galaxy S9+.
The phone measures in at 157.8 x 72.3 x 8.6 mm and weighs in at 189 g. It is almost the same size as an iPhone 8 Plus, but with a slimmer and thinner frame. It fits pockets fine as well.
Build quality is top notch. I really like how it feels in the hand — very premium with good weight. It's not heavy, but it's not so light that it feels low-end.
The Mate 20 Pro's front is mostly display. Side bezels are tiny, with a small chin. It has a wide notch which houses the earpiece, the light sensor, the front camera, and a new 3D Face ID sensor.
The left side is empty, but on the right you have the volume rocker and a red power button, which is a nice touch.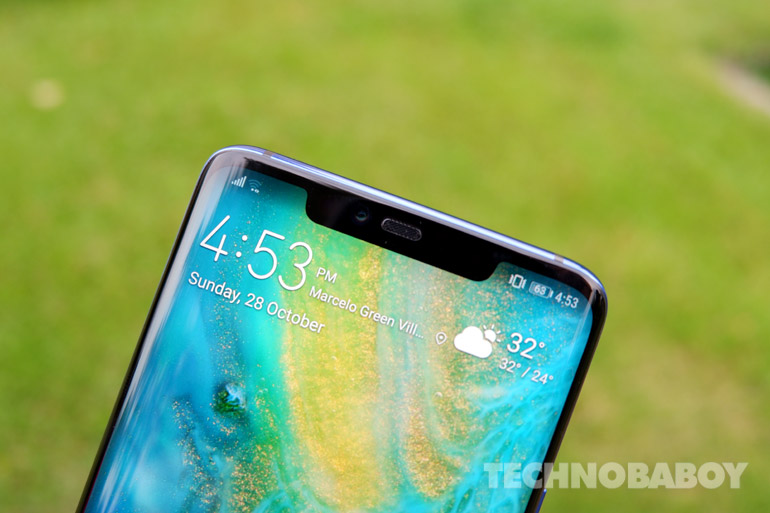 At the bottom you have the mic, a USB Type-C port (which doubles as a speaker), and the nano SIM tray with the new nano memory card slot. The top has an IR blaster and a secondary mic.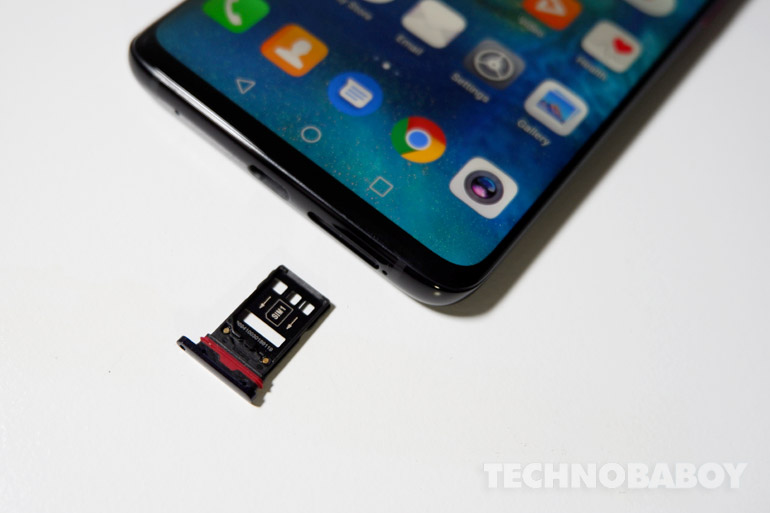 Sadly, the Mate 20 Pro lacks a 3.5mm audio jack. It means you have to rely on either Bluetooth or the USB Type-C port for audio connections. The retail box does come with an adapter for this.
But honestly though, the audio jack is one of my most missed hardware feature. In my opinion, Huawei should have included it. Two reasons why — One, because almost most everyone have wired headphones/earphones. And two, the Mate 20 Pro's Dolby Atmos and equalizer only works on wired audio accessories.
Display and UI
The Mate 20 Pro comes with a 6.39-inch quad HD+ OLED display with a 3120 x 1440 resolution and a pixel density of 539 ppi pixel. It is bright with nicely saturated colors. It is sharp with good viewing angles and good sunlight legibility.
The display has a feature where you can set the screen resolution to save on power. Its default setting is on Smart Resolution, which automatically does this for you depending on what you're doing, but you can set it manually to HD+, FHD+ and WQHD+ in the display settings.
Personally, I have it set on FHD+. The display is still plenty sharp and the phone doesn't have to spend so much resources and power to push a large quad HD resolution screen.
One caveat — despite the gorgeous display quality, I find the 19.5:9 aspect ratio not suited for watching videos. Most videos are not made for that size, so you'll get black bars on the sides while watching. And in cases where you do get to watch one in full screen, you'll have the notch ruining the view.
As for the UI, the handset runs on EMUI 9. Admittedly, I wasn't a fan of it at the get go. It looks like it was inspired by both Apple and Samsung.
But after using it for some time, it has grown on me. For whatever reason, the UI looks better on a 19.5:9 aspect ratio. It has some level of customization through Huawei's Themes app. You can change the icons, the overall color scheme, and the wallpaper, to name a few.
For those who don't like the default launcher and want more customization options, you can install a 3rd party app like the Nova Launcher. Be warned though as there are reported issues that come with it.
Performance and Benchmarks
The Mate 20 Pro comes with EMUI 9 based on Android 9 Pie. It has an octa-core octa-core HiSilicon Kirin 980 processor with dual NPU, a  Mali-G76 MP10 GPU, 6GB RAM, and 128GB UFS 2.1 storage.
That being said, the phone is butter smooth and very responsive. Basic operation is a breeze and apps launches are fast. There are no lags or stutters.
Compared with the P20 Pro, the difference in how smooth basic animations ran was very noticeable. Don't get me wrong, the P20 Pro is still plenty fast and smooth, but you can really tell the Mate 20 Pro has the upper hand.
The performance of the phone's speakers, though, are average to above average. The Mate 20 Pro uses the earpiece and the bottom speaker to produce stereo sound. Volume is not as high as I wanted and it sounds a bit tinny at times. It's still better than what others offer, but I expected more.
In-Display Fingerprint and 3D Face Unlock
The Mate 20 Pro also comes with an in-display fingerprint scanner and 3D face unlock.
The fingerprint scanner works even if the display is off. And it works fine with minimal errors. The spot where you're supposed to place your finger lights up when you pick up the phone. It's not as fast as a dedicated fingerprint scanner though. There is a delay of around a second when unlocking through this method.
3D face unlock also works as advertised. It is fast and rarely makes mistakes during my time with it. It even works in the dark. I noticed that it also works even when I'm wearing shades. I'm not yet sure if this is a good thing or a bad thing.
Benchmarks
I ran AnTuTu a few more times to see how if the score improved compared to before. The phone received a few updates since my last benchmark run and it had remarkable improvements.
The AnTuTu Benchmark score finally eclipsed 300,000. Others have already reported the phone reaching and surpassing that number before, but my review unit stayed a just under it in the past. But it has finally breached the mark after some updates.
AnTuTu Benchmark – 303,064
Geekbench 4 – 3,387 (Single-Core) and 10,118 (Multi-Core)
3D Mark Sling Shot Extreme – 4,251 (OpenGL) and 4,236 (Vulkan)
Call Quality
Calls coming from and calls to others are clear with no issues. It was clear on both ends of the call for the receiver and the caller. No problems here.
Gesture Controls
The Huawei Mate 20 Pro features gesture controls. To activate, go to Settings> System> System Navigation> and then select Gestures.
I really like the way Huawei has implemented gestures on the Mate 20 Pro. I have come to rely on it and has switched to using the navigation scheme full time. Its easy to use and you'll quickly get used to it after just a few tries.
To go back to the previous screen, just swipe inward from the left or right edges. To go to the home screen, just swipe up from the bottom. For recent tasks, just swipe up from the home button and pause in the middle. It will slightly vibrate when done correctly.
You can also call on the Google Assistant by swiping up from the bottom corners. I use assistant a lot, but have opted to disable this feature. It confuses the system when I try to go to the home screen, which gets frustrating real fast.
Cameras
We wrote a more detailed review about the Mate 20 Pro's cameras. You can find it HERE.
Here's an excerpt from the conclusion of our review:
All in all, the Huawei Mate 20 Pro has managed to improve upon what was started by the P20 Pro. For the camera performance alone, it is highly recommended for those looking to upgrade their mobile photography to a new level.
Just a quick rundown, the phone comes with a triple camera setup of 40MP (f/1.8) + 8MP (f/2.4, 3x Telephoto) + 20MP (f/2.2, Ultra Wide) sensors. This new setup does not involve a monochrome sensor.
The main 40MP RGB sensor uses a quad-bayer filter that allows more light in and boosts details and colors. Just like the P20 Pro, it takes 40MP resolution photos, and compiles it into a 10MP image.
The 8MP camera comes with an 80mm lens that allows up to 3x telephoto with OIS. And lastly, the 20MP camera comes with an ultra wide angle lens and replaces the monochrome sensor.
Battery Life
The Mate 20 Pro comes with a 4,200 mAh battery. It supports SuperCharge fast charging, wireless charging, and reverse charging.
The phone easily last a day up with heavy usage. If you're a light or moderate user, you can stretch it to two. Charging from 20% to 100% takes a bit less than an hour using the fast charger.
It also supports reverse charging, where you can charge other devices wirelessly. To activate it, go to Settings> Battery> and toggle Wireless Reverse Charging.
Conclusion
The Huawei Mate 20 Pro is one of the best handsets in the market right now. I highly recommend it for those looking to upgrade their phones this year. It comes with a great camera set, awesome features, and the speedy Kirin 980.
The phone is not perfect, though. It comes with its own set of compromises (3.5mm audio jack please). But it has a lot more positives that it overwhelmingly drowns out the negatives.
The Mate 20 Pro is now available in Huawei concept stores and kiosks with a price of PHP49,990.