If you're thinking of buying a PlayStation 4, now is as good a time to get one as any. Sony Philippines is offering PHP3,000 discount on various PlayStation 4 bundles.
The promo is from December 22, 2018 until January 2, 2019. You can check with your favorite authorized PlayStation dealer if it is available.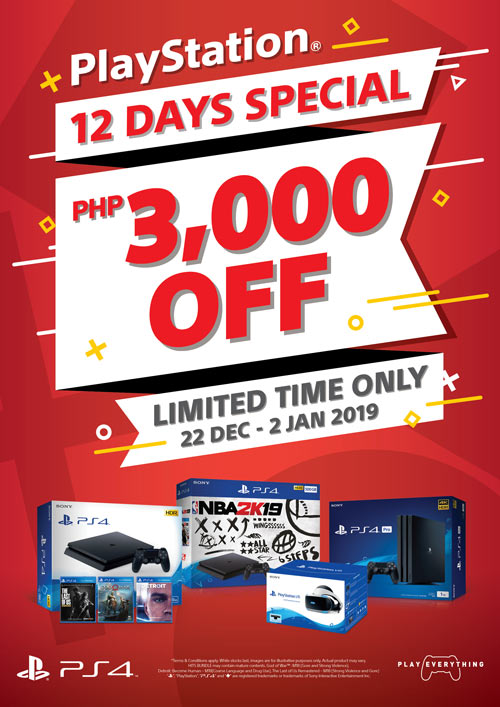 The discount applies to the following PS4 bundles:
PlayStation 4 Hits Bundle (500GB) – Comes with The Last of Us Remastered, God of War, and Detroit: Become Human. Price: PHP14,990.
PlayStation 4 NBA 2K19 Bundle(500GB) – Comes with NBA 2K19, free DualShock 4 Wireless Controller. Price: PHP17,490.
PlayStation 4 Pro (1TB) – Comes with free DualShock 4 Wireless Controller. Price: PHP20,990.
PlayStation VR with Camera – Price: PHP16,990.
In my opinion, the PlayStation 4 Hits Bundle is one of the more compelling buys because of God of War and Detroit: Become Human. These two are great games. Including The Last of Us is icing.
For those looking for that nostalgic console feel, you can get a PlayStation Classic instead. This is miniature version of the PS One and comes pre-loaded with 20 classic game titles such as Tekken 3, Resident Evil, Grand Theft Auto, and Final Fantasy VII. For the complete list of games, check out our post HERE.
For the list of local authorized PlayStation dealers, you may go HERE.