Aside from smartphones, Huawei also has a roster of great laptops. Their recent release, the Huawei MateBook D 15, is one of those devices. Priced at PHP 37,990, it comes with a generous set of features like a spacious 15.6-inch IPS display, an AMD Ryzen 5 3500U processor, and a 256GB SSD.
Huawei's local office sent us a review unit. I set aside my MacBook Air 2015 and gave the MateBook a run as my daily driver for the past weeks.
So, is it a good buy? Is it worth our money? Let's find out.
Aluminum for all
The first thing I noticed when I unboxed the MateBook D 15 was it's design and build. I am very much liking the aluminum body. It not only gives the laptop a handsome look, but that premium feel as well. Plus, it adds to its sturdiness without the burden of weight.
Speaking of premium, the MateBook D 15 is smooth to the touch. I love how it feels in the hand. It has no sharp edges or corners, making it a wonder to handle. It's also surprisingly easy to carry, with dimensions measuring in at 357.8 x 229.9 x 16.9 mm, and a weight of just 3.6 lbs. The thin bezels around the 15.6-inch display allowed Huawei to manage the size well.
Also see: Huawei's AppGallery enroute to becoming a top app marketplace
The laptop comes with a full size keyboard with chiclet keys and no number pad. Just below it is a decent sized trackpad.
The power button doubles as a fingerprint scanner. It works flawlessly with Windows Hello. I love how it allows me to quickly log-in and access my files.
On the left side, you have the USB Type-C charging port, a USB-A 3.0, and an HDMI port. The right side has two USB-A 2.0, and a 3.5 mm headset a21321nd microphone 2-in-1 jack. It also has two built-in mics facing you, and a 1MP HD recessed camera that's revealed with a click of a button.
Underneath it you'll find the downward firing stereo speaks, and a grill for the fan to manage heat.
Display looks good, love the keyboard and touchpad
The MateBook D 15 has a 15.6-inch full HD IPS display with a 1920 x 1080 resolution, an 87% screen-to-body ratio and a 16:9 aspect ratio. It has a matte surface which means minimal reflections. 
I must say, I never thought I'd enjoy such a big screen. Colors are great and I like how sharp it looks. It's more than enough for what I do — writing, editing photos, browsing the web, and watching movies and videos. You can even set the resolution to 4K on supported YouTube clips.
The display goes up to 250 nits of brightness, which is adequate and plenty bright in most situations. But there are times I wish it would go higher, especially in brightly lit areas or outdoors (yes, I know that we very seldom take our laptops outdoors). It has above average viewing angles which, like most laptops, suffer when outdoors.
The keyboard is good as well. Sadly, these aren't backlit. The addition of backlighting would have made this perfect, but considering the price, I think that would be asking too much. Still, it has a good bounce with decent travel.
The trackpad is spacious, tactile and responsive. It's smooth considering that it's plastic and not glass, but not MacBook smooth. Still, I find it adequate and accurate.
More than enough power for what I need
The MateBook D 15 is powered by an AMD Ryzen 5 3500U processor with a Radeon Vega 8 graphics, 8GB RAM and 256GB PCIE SSD with 1TB HDD storage. The setup is more than enough for most people.
I like how fast and responsive the laptop is in everyday operation. The SSD allows for fast application load times. Adobe Photoshop opens quickly, needing only a few seconds before I can start using it. Even boot up times are fast.
Also see: Huawei Y7p review: Compelling budget phone
The laptop also comes with downward firing stereo speakers. These actually sound pretty good. It's not thin and tinny with average bass and a decent amount of "breath." Since these are downward firing, you have to place the MateBook on a table or a flat surface to maximize sound quality.
One bonus feature I enjoy is Huawei Share. With this, you can connect your Huawei smartphone via NFC. No more need for cables and transfer times are fast.
Good battery life for a large laptop
The MateBook has a battery rating capacity of 42 Wh. In actual use, this translates to around 4 to 5 hours of battery life in "Best Performance" mode in full brightness. It's actually quite good for a laptop of this size and performance. You can add a couple of hours to that with more modest power settings.
Also see: Here's an easier way to install the Google Play Store on your Huawei phone
The MateBook D 15 charges with a 65W USB Type-C charger, which is compatible with Huawei and other brand smartphones. It's small, so carrying it around won't be a problem.
Verdict
The Huawei MateBook D 15 is one of the best bang-for-buck laptops in the market right now. Priced at PHP 37,990, it has a great display with good performance and a premium aluminum build. Despite the size, it's an easy carry with a thin body at under 4 lbs.
I highly recommend the MateBook D 15 for those looking for a robust and capable daily driver without breaking the bank.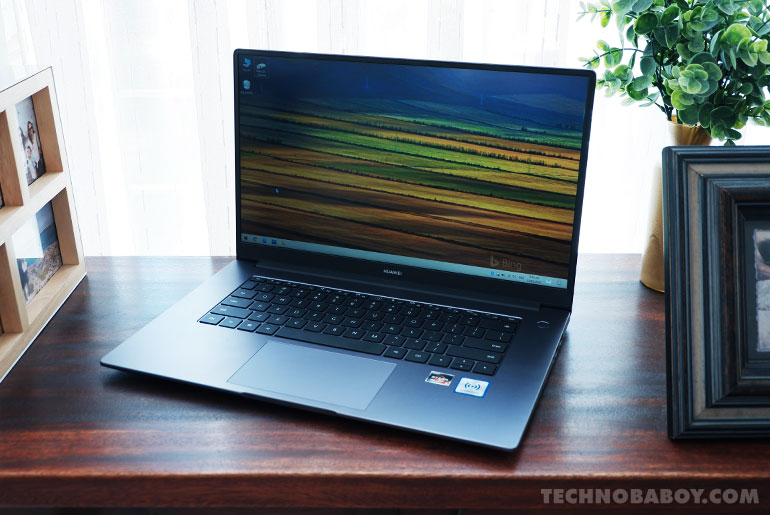 Huawei MateBook D 15 specs
15.6-inch Full HD IPS Display (1920 x 1080, 141 ppi)
Quad-core AMD Ryzen 5 3500U Processor
Radeon Vega 8 GPU
8GB DDR4 RAM
256GB SSD + 1TB HDD Storage
1MP Front Facing Camera
Wi-Fi 802.11ac, Dual Band
Bluetooth 5.0
1x USB Type-C, 1x USB-A 3.0, 2x USB-A 2.0
HDMI, 3.5mm Combo Jack
Power Button/Fingerprint Sensor
Built-in Microphone
Stereo Speakers
Dolby Atmos
Windows 10 Home
Colors: Mystic Silver, Space Grey
Dimensions: 357.8 x 229.9 x 16.9 mm
Weight: 1.62 kg (SSD + HDD)
Battery: 65W SuperCharge