After AnTuTu released their top 10 most powerful smartphones for July, they followed that up with their top 10 most powerful mobile processors or SoCs for the first half of 2020.
The chipsets on the list has a score range from 249,151 all the way up to 401,108. Take note the the list refers to AnTuTu's domestic SoCs, meaning those that ran the benchmark app in China.
You won't see the Exynoss chip here, because Samsung flagship phones in China are equipped with Snapdragon chips.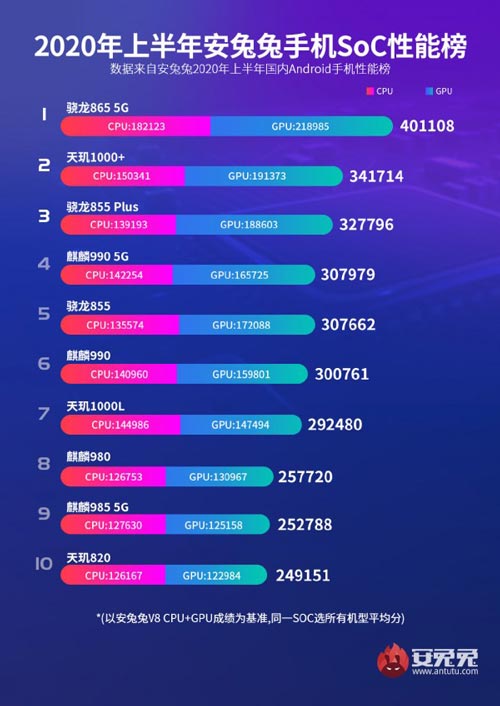 As you can see, the top 10 list is comprised of three chips from Qualcomm, three from MediaTek, and four from Kirin.
And as expected, Qualcomm's latest Snapdragon 865 leads the pack. July's top ten smartphones all came with one. But MediaTek is not far behind with its new Dimensity 1000+ processor. At third, we have the Qualcomm Snapdragon 855+, which debuted last July.
You might also like: Huawei says incoming Mate 40 will be last Kirin smartphone
The Kirin 990 follows at fourth with the Snapdragon 855 at fifth and the Kirin 990 at sixth. Its a shame Huawei won't be able to release Kirin chipsets anymore.
At seventh, we have another MediaTek chip in the Dimensity 1000L, followed by the Kirin 980, and the Kirin 985 5G. And lastly, rounding out the top 10 is the Dimensity 820.
AnTuTu's Top 10 Mobile Processors
Qualcomm Snapdragon 865
MediaTek Dimensity 1000+
Qualcomm Snapdragon 855+
Kirin 990 5G
Qualcomm Snapdragon 855
Kirin 990
MediaTek Dimensity 1000L
Kirin 980
Kirin 985 5G
MediaTek Dimensity 820