Leaks have now become a part of every smartphone's journey. It gives us a glimpse of what to expect before a device is even released, often times a source of excitement or disappointment. But in the case of Xiaomi leaks, its the former.
Recently, the Xiaomi Mi 10T and the Mi 10T Pro briefly appeared online on Amazon Spain, baring key details such as the phones' designs, specs, as well as the price.
Accordingly, the Mi 10T is expected to come with a 5G enabled Snapdragon 865 chipset with 6GB RAM, 128GB storage and a 64MP main camera.
The Pro model, on the other hand, will have the same chipset but with 8GB RAM, 128GB or 256GB of storage, and 108MP main camera.
You might also like:
Both models will have a full HD displays with a punch hole selfie camera, and what looks like large rear camera modules with an interesting layout. Its on a rectangular platform with the main camera on a prominent position and three other sensors right under together with the flash.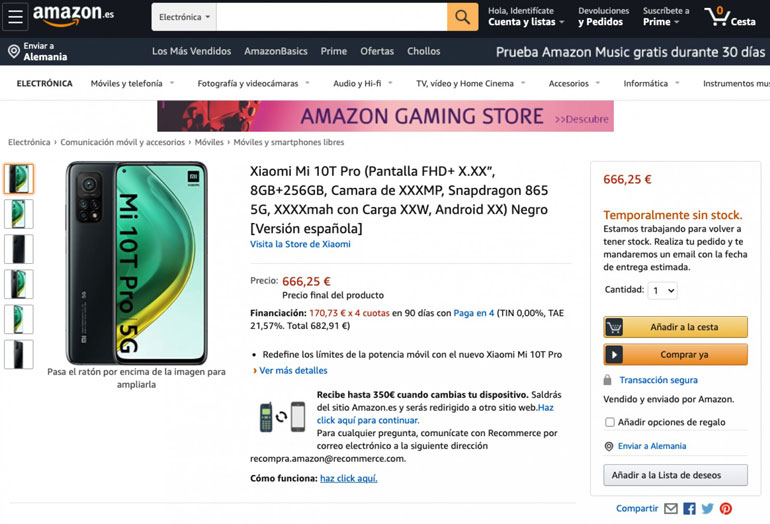 As for the price, if the listing on Amazon Spain is accurate, then this is what we should expect:
Xiaomi Mi 10T 6GB + 128GB: EUR 550 (around ~PHP 31,700)
Xiaomi Mi 10T Pro 8GB + 128GB: EUR 640 (~PHP 36,800)
Xiaomi Mi 10T Pro 8GB + 256GB: EUR 666 (~PHP 38,400)
That's about it for the leaks. Both the Xiaomi Mi 10T and the Mi 10 T Pro are expected to launch this month.