Smart Communications introduces its biggest prepaid data offer for prepaid subscribers in the new Smart GIGA Pro.
Available to all prepaid subscribers, the highest offer is GIGA Pro 999 which comes with a total of 114 GB data valid for 30 days for only Php 999. This is inclusive of 3GB per day of any GIGA offer for 30 days plus 24GB open access data, which subscribers can use for work or school as well as their daily dose of entertainment through online videos, music, and games.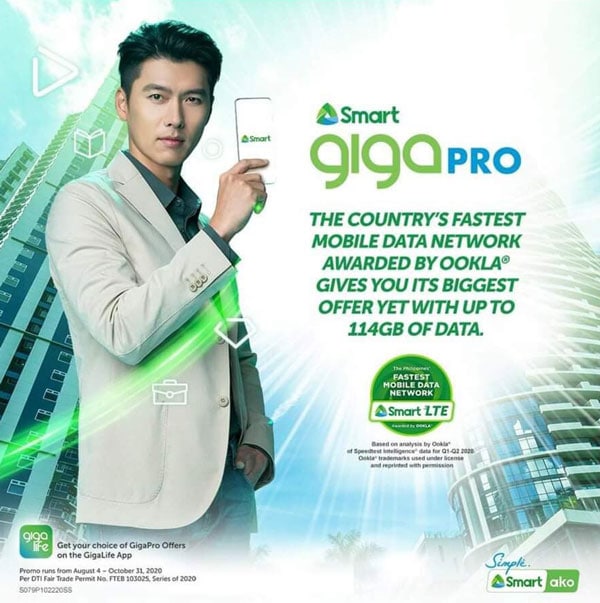 GIGA Pro also comes in other denominations to give prepaid subscribers more flexibility when it comes to their data needs.
GIGA 199 comes with a total of 27GB data valid for 7 days, which is inclusive of 3GB per day of any GIGA offer for 7 days plus 6GB open access data. On the other hand, GIGA Pro 599 offers a total of 57GB valid for 15 days, which is also inclusive of 3GB per day of any GIGA offer for 15 days plus 12GB open access data.
To avail the new prepaid promos, Smart Prepaid subscribers can register to GIGA Pro via the new GigaLife App, which is available for download on the Google Play Store and Apple App Store.
Simply open the app and select the GIGA Pro offer of your choice to start. Customers can also register to GIGA Pro by dialing *123#, choosing GIGA Pro, and selecting their preferred denomination.
GIGA Pro is the ideal data package for subscribers who want to accomplish and do more online. For example, subscribers can achieve more in their career with GIGA Work Pro's suite of productivity apps, including MS Teams, Office 365, and G Suite, among others.
On the other hand, students can gear up for more online learning with GIGA Study Pro, which provides access to handy distance learning tools, including Google Classroom, Meet, Google Search, Office 365, and more.
GIGA Pro's big data inclusions also enable prepaid subscribers to stream videos in HD resolution for a more immersive experience while binge-watching the latest series, films, and documentaries. For this, subscribers can register to GIGA Video Pro, which provides data for YouTube, NBA TV, NBA League Pass, iWant, and Cignal Play.
Avid mobile gamers can also level up their gameplay with GIGA Games Pro, which offers access to Mobile Legends, Clash of Clans, Clash Royale, Arena of Valor and Facebook Gaming, while those who love creating and sharing content may register to GIGA Stories Pro to connect more on TikTok, Instagram, Facebook, and Twitter.
To learn more about GIGA Pro, follow Smart's official accounts on Facebook, Twitter, and Instagram. 
Main image from Unsplash