The amount of data Facebook Messenger collects from its users is staggering. The image below shows just how much user data the social media giant has access to.
Its no secret Facebook gets most of its revenue from advertisements. And to do this effectively, they make use of data collected from users. One of the channels social media company uses to collect data is through Facebook Messenger, the most popular messaging app in the world.
Recently, Apple announced a new privacy tool which shows iPhone and iPad users the data an apps collect. Unsurprisingly, this bothered companies, Facebook included, that use your data for their businesses. To be clear, it only shows iOS users the "data linked to you". It doesn't actually prevent you from stopping it from collecting said data.
The image below is from 9to5Mac and it shows the staggering amount of data Facebook collects from its users.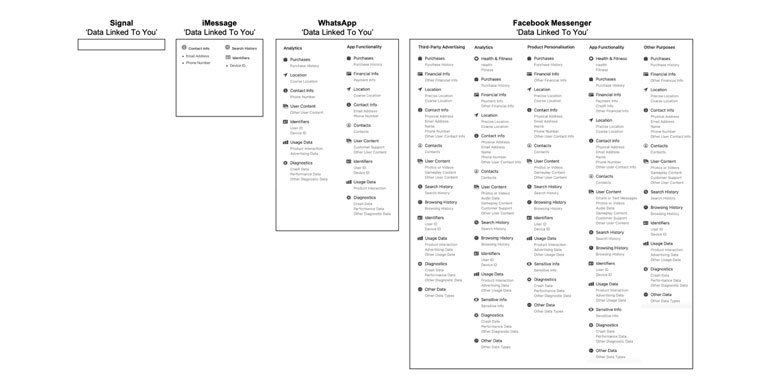 As you can see in the image above, other messaging apps WhatsApp, iMessage and Signal pale in comparison to what Facebook Messenger collects. Just look at the long laundry list of data it has access to: personal information such as contact information and location, purchase history, search history, browsing history, financial information, usage data, among other things.
With all the data Facebook has on us, we can assume it knows us better than we do ourselves. Despite the list, though, it remains to be seen if it influences user behavior when it comes to messaging apps. Simply put, do users even care?
9to5Mac also lists all the data Facebook Messenger has access to, under different categories such as Third-Party Advertising, Analytics, Product Personalization, App Functionality, and Other Purposes. You can check out the full list below.
Third-Party Advertising
PURCHASES
FINANCIAL INFO
LOCATION
Precise Location
Coarse Location
CONTACT INFO
Physical Address
Email Address
Name
Phone Number
Other User Contact Info
CONTACTS
USER CONTENT
Photos or Videos
Gameplay Content
Other User Content
SEARCH HISTORY
BROWSING HISTORY
IDENTIFIERS
USAGE DATA
Product Interaction
Advertising Data
Other Usage Data
DIAGNOSTICS
Crash Data
Performance Data
Other Diagnostic Data
OTHER DATA
Developer's Advertising or Marketing
PURCHASES
FINANCIAL INFO
LOCATION
Precise Location
Coarse Location
CONTACT INFO
Physical Address
Email Address
Name
Phone Number
Other User Contact Info
CONTACTS
USER CONTENT
Photos or Videos
Gameplay Content
Other User Content
SEARCH HISTORY
BROWSING HISTORY
IDENTIFIERS
USAGE DATA
Product Interaction
Advertising Data
Other Usage Data
DIAGNOSTICS
Crash Data
Performance Data
Other Diagnostic Data
OTHER DATA
Analytics
HEALTH & FITNESS
PURCHASES
FINANCIAL INFO
Payment Info
Other Financial Info
LOCATION
Precise Location
Coarse Location
CONTACT INFO
Physical Address
Email Address
Name
Phone Number
Other User Contact Info
CONTACTS
USER CONTENT
Photos or Videos
Audio Data
Gameplay Content
Customer Support
Other User Content
SEARCH HISTORY
BROWSING HISTORY
IDENTIFIERS
USAGE DATA
Product Interaction
Advertising Data
Other Usage Data
SENSITIVE INFO
DIAGNOSTICS
Crash Data
Performance Data
Other Diagnostic Data
OTHER DATA
Product Personalization
PURCHASES
FINANCIAL INFO
LOCATION
Precise Location
Coarse Location
CONTACT INFO
Physical Address
Email Address
Name
Phone Number
Other User Contact Info
CONTACTS
USER CONTENT
Photos or Videos
Gameplay Content
Other User Content
SEARCH HISTORY
BROWSING HISTORY
IDENTIFIERS
USAGE DATA
Product Interaction
Advertising Data
Other Usage Data
SENSITIVE INFO
DIAGNOSTICS
Crash Data
Performance Data
Other Diagnostic Data
OTHER DATA
App Functionality
HEALTH & FITNESS
PURCHASES
FINANCIAL INFO
Payment Info
Credit Info
Other Financial Info
LOCATION
Precise Location
Coarse Location
CONTACT INFO
Physical Address
Email Address
Name
Phone Number
Other User Contact Info
CONTACTS
USER CONTENT
Emails or Text Messages
Photos or Videos
Audio Data
Gameplay Content
Customer Support
Other User Content
SEARCH HISTORY
BROWSING HISTORY
IDENTIFIERS
USAGE DATA
Product Interaction
Advertising Data
Other Usage Data
SENSITIVE INFO
DIAGNOSTICS
Crash Data
Performance Data
Other Diagnostic Data
OTHER DATA
Other Purposes
PURCHASES
FINANCIAL INFO
LOCATION
Precise Location
Coarse Location
CONTACT INFO
Physical Address
Email Address
Name
Phone Number
Other User Contact Info
CONTACTS
USER CONTENT
Photos or Videos
Gameplay Content
Customer Support
Other User Content
SEARCH HISTORY
BROWSING HISTORY
IDENTIFIERS
USAGE DATA
Product Interaction
Advertising Data
Other Usage Data
DIAGNOSTICS
Crash Data
Performance Data
Other Diagnostic Data
OTHER DATA