Shortly after Samsung launched the Galaxy S21 series, Smart and Globe announce their postpaid plans for the Galaxy S21+ and the Galaxy S21 Ultra.
The Galaxy S21+ features a 6.7-inch FHD Dynamic AMOLED 2X display with 120Hz refresh rate and an ultrasonic fingerprint scanner. It is powered by a 5nm Exynos 2100 processor with 8GB RAM and 256GB storage. It also has triple rear cameras with a 12MP main, a 12MP ultra-wide and a 64MP telephoto. There's also a 10MP selfie camera in front, and a 4,800mAh battery inside.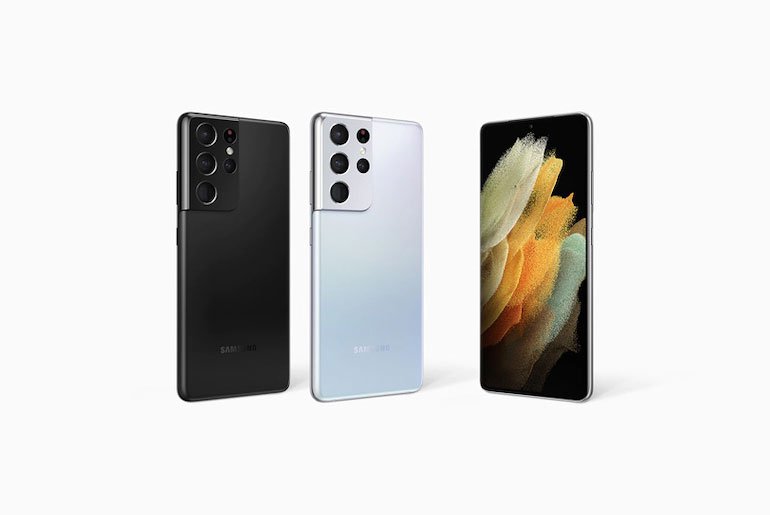 The Galaxy S21 Ultra takes it up a notch with a larger 6.8-inch display with WQHD resolution, 12GB RAM, and four rear cameras, namely a 108MP main, a 10MP tele with 3x zoom, another 10MP tele but with 12x zoom, and a 12MP ultra-wide. It also has a 40Mp selfie snapper, and a larger 5,000mAh battery.
The Galaxy S21+ and the Galaxy S21Ultra are priced at Php 57,990 and Php 69,990, respectively. Both phones are not packaged with chargers.
The smartphones are available for pre-order under Smart Signature postpaid plans and Globe ThePlan postpaid plans. Pre-order period is from January 15 to January 28, and comes with the following freebies: Galaxy Buds Live or Buds Pro, Galaxy SmartTag, Galaxy Tab A 8.0, and a 25W wall charger.
You can check out the postpaid plans for both Smart and Globe below.
Smart Signature Postpaid Plans
Samsung Galaxy S21+
Plan S
Plan M
Plan L
Plan XL
5G Plan L
5G Plan XL
Data
5GB
10GB
15GB
30GB
30GB
60GB
Calls
Unli All Net Calls
50 mins to PLDT
Unli All Net Calls
100 mins to PLDT
Unli All Net Calls
150 mins to PLDT
Unli All Net Calls
300 mins to PLDT
Unli All Net Calls
150 mins to PLDT
Unli All Net Calls
300 mins to PLDT
Text
Unli All net Text
Unli All net Text
Unli All net Text
Unli All net Text
Unli All net Text
Unli All net Text
Cashout
P37,800
P34,200
P30,600
P23,300
P30,600
P23,300
Monthly
P999
P1,499
P1,999
P2,999
P2,299
P3,299
Option
NA
NA
One time cashout - P9,900
Monthly - P2,899
One time cashout - P7,200
Monthly - P3,699
One time cashout - P9,900
Monthly - P3,199
One time cashout - P7,200
Monthly - P3,999
Samsung Galaxy S21 Ultra
Plan S
Plan M
Plan L
Plan XL
5G Plan L
5G Plan XL
Data
5GB
10GB
15GB
30GB
30GB
60GB
Calls
Unli All Net Calls
50 mins to PLDT
Unli All Net Calls
100 mins to PLDT
Unli All Net Calls
150 mins to PLDT
Unli All Net Calls
300 mins to PLDT
Unli All Net Calls
150 mins to PLDT
Unli All Net Calls
300 mins to PLDT
Text
Unli All net Text
Unli All net Text
Unli All net Text
Unli All net Text
Unli All net Text
Unli All net Text
Cashout
P49,800
P46,200
P42,600
P35,300
P42,600
P35,300
Monthly
P999
P1,499
P1,999
P2,999
P2,299
P3,299
Option
NA
NA
One time cashout - P15,020
Monthly - P3,199
One time cashout - P12,300
Monthly - P3,999
One time cashout - P15,020
Monthly - P3,499
One time cashout - P12,300
Monthly - P4,299
Globe ThePLAN Postpaid Plans
Samsung Galaxy S21+
| | | | | | | | | | | |
| --- | --- | --- | --- | --- | --- | --- | --- | --- | --- | --- |
| | ThePLAN 599 | ThePLAN 799 | ThePLAN 999 | ThePLAN 1299 | ThePLAN 1499 | ThePLAN 1799 | ThePLAN 1999 | ThePLAN 2499 | ThePLAN 2999 | |
| Data | 2GB | 3GB | 5GB | 8GB | 11GB | 16GB | 18GB | 31GB | 51GB | |
| Calls | Unli to Globe/TM | Unli to Globe/TM | Unli to all networks | Unli to all networks | Unli to all networks | Unli to all networks | Unli to all networks | Unli to all networks | Unli to all networks | |
| Text | Unli to all networks | Unli to all networks | Unli to all networks | Unli to all networks | Unli to all networks | Unli to all networks | Unli to all networks | Unli to all networks | Unli to all networks | |
| Cashout | P40,800 | P39,600 | P37,200 | P34,800 | P31,200 | P30,000 | P27,600 | P22,800 | P22,800 | |
| Monthly | P599 | P799 | P999 | P1,299 | P1,499 | P1,799 | P1,999 | P2,499 | P2,999 | |
Samsung Galaxy S21 Ultra
| | | | | | | | | | |
| --- | --- | --- | --- | --- | --- | --- | --- | --- | --- |
| | ThePLAN 599 | ThePLAN 799 | ThePLAN 999 | ThePLAN 1299 | ThePLAN 1499 | ThePLAN 1799 | ThePLAN 1999 | ThePLAN 2499 | ThePLAN 2999 |
| Data | 2GB | 3GB | 5GB | 8GB | 11GB | 16GB | 18GB | 31GB | 51GB |
| Calls | Unli to Globe/TM | Unli to Globe/TM | Unli to all networks | Unli to all networks | Unli to all networks | Unli to all networks | Unli to all networks | Unli to all networks | Unli to all networks |
| Text | Unli to all networks | Unli to all networks | Unli to all networks | Unli to all networks | Unli to all networks | Unli to all networks | Unli to all networks | Unli to all networks | Unli to all networks |
| Cashout | P52,800 | P51,600 | P49,200 | P46,800 | P43,200 | P42,000 | P39,600 | P34,800 | P34,800 |
| Monthly | P599 | P799 | P999 | P1,299 | P1,499 | P1,799 | P1,999 | P2,499 | P2,999 |
Samsung Galaxy S21+ 5G specs
Display: 6.7-inch FHD+ Dynamic AMOLED 2X Display, Adaptive Refresh Rate 48Hz – 120Hz Refresh Rate
Processor: Octa-core Exynos 2100, 5nm
RAM: 8GB RAM
Storage: 256GB Storage
Rear Cameras: 12MP Main, OIS + 12MP Ultra-wide + 64MP Telephoto, OIS, Triple Cameras, 8K Video
Front Camera: 10MP Selfie Camera
Network: 5G, 4G LTE
Connectivity: Wi-Fi 6E, Bluetooth, GPS, NFC
Others: Ultrasonic Fingerprint, USB-C, Ultra Wideband, IP68 Water and Dust Resistant, Samsung DeX, Stereo Speakers Sound by AKG
OS: Samsung One UI, Android 11
Colors: Phantom Silver, Phantom Violet
Dimensions: 75.6 x 161.5 x 7.8 mm, 202 g
Battery: 4,800mAh Battery, Wireless PowerShare, Super Fast Charging, Fast Wireless Charging
Samsung Galaxy S21 Ultra 5G specs
Display: 6.8-inch WQHD Dynamic AMOLED 2X Display, Adaptive Refresh Rate 10Hz – 120Hz Refresh Rate
Processor: Octa-core Exynos 2100, 5nm
RAM: 12GB/16GB RAM
Storage: 256GB/512GB Storage
Rear Cameras: 108MP Main, OIS + 10MP Tele 1, OIS, 3x Zoom + 10MP Tele2, OIS, 10x Zoom + 12MP Ultra-wide, OIS, Quad Cameras, Laser AF, 8K Video
Front Camera: 40MP Selfie Camera
Network: 5G, 4G LTE
Connectivity: Wi-Fi 6, Bluetooth, GPS, NFC
Others: Ultrasonic Fingerprint, USB-C, Ultra Wideband, IP68 Water and Dust Resistant, Samsung DeX, Stereo Speakers Sound by AKG, S-Pen Support
OS: Samsung One UI, Android 11
Colors: Phantom Silver, Phantom Black
Dimensions: 75.6 x 165.1 x 8.9 mm, 228 g
Battery: 5,000mAh Battery, Wireless PowerShare, Super Fast Charging, Fast Wireless Charging