Huawei Philippines teases the arrival of the highly anticipated all-new P-series, the Huawei P50 Pro and Huawei P50 Pocket, set to launch on February 4, 2022.
As you may be aware, Huawei pushed to produce the P Series, focusing on photography. It started with the P9 Series where all the multi-lense camera phone era began. Then followed by the Huawei P10, Huawei P20, Huawei P30, Huawei P40 series, which pushed boundaries, driving innovation in smartphone photography with intelligent algorithms, larger and more sophisticated sensors, and better zoom capabilities.
This evolution continues with two of its latest P series phones, the Huawei P50 Pro and the foldable P50 Pocket.
The Huawei P50 Pro is the perfect blend of form and function. It has been designed, sporting an effortlessly elegant look which is the main characteristic of the P series. Its iconic Dual-Matrix Camera Design sees an array of high-end lenses working together in harmony. This is further enhanced by the Huawei XD Fusion Pro image engine and the Huawei XD Optics technologies, that allow the phone to capture the essence of true photography and artistry.
Meanwhile, the Huawei P50 Pocket continues a legacy of aesthetic excellence with a unique eye-catching design, which sees intricate etchings on its outer casing beautifully intertwine light and shadow. In an age of smaller, more portable, and powerful devices, the Huawei P50 Pocket achieves the balance between portability and function – all by fusing innovation with artistry.
Read More: Check out the Huawei P50 Pro and P50 Pocket at Huawei Experience Stores for a limited time
The Huawei P50 Pro boasts fast-charge capability with the 66W SuperChange. It takes 38 minutes of high-speed charging to fill up a 4300mAh battery. The Huawei P50 Pocket on the other hand also has a fast-charging capability with 44W SuperCharge.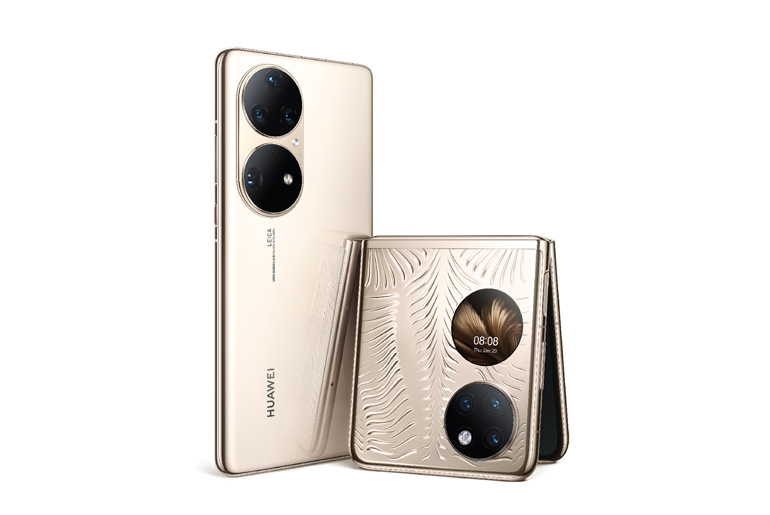 Both P Series smartphones feature the EMUI version which comes with a bunch of new features and improvements over EMUI 12 and provides a better user experience. It is a smart operating system, featuring an innovative design for smoother interaction and comfortable viewing.
The Huawei P50 Pro and Huawei P50 Pocket will launch in the Philippines on February 4, 2022. You can check it out on the following links below:
Huawei P50 Pro specs
Display
6.6-inches OLED Display, 2700 x 1228, 120Hz Refresh Rate, 300Hz Touch Sampling Rate, 1440 Hz high-frequency PWM dimming
Processor
Qualcomm Snapdragon 888 4G
Adreno 660
RAM
8GB RAM
Storage
256GB Storage
Rear Cameras
50MP Main, f/1.8, True Chroma Camera, OIS
40MP Mono, f/1.6, True Chroma Camera
13MP Ultra-wide, f/2.2
64MP Telephoto, f/3.5, OIS
Front Camera
13MP Selfie Camera, f/2.4
Network
4G LTE
Connectivity
Wi-Fi AX Dual Band, 2×2 MIMO, Bluetooth 5.2, GPS, NFC
Others
Fingerprint Scanner, USB-C, IP68
OS
EMUI 12
Battery
4360mAh Battery, 66W SuperCharge
Huawei P50 Pocket specs
Display
Main Screen: 6.9-inch OLED Display, 2700 x 1228, 120Hz Refresh Rate, 1440 Hz High-frequency PWM Dimming, 300Hz Touch Sampling Rate
Cover Screen: 1.04-inch OLED Display, 340 x 340, 60Hz Refresh Rate, 120Hz Touch Sampling Rate
Processor
Qualcomm Snapdragon 888 4G
Adreno 660
RAM
8GB RAM
Storage
256GB Storage
Rear Cameras
40MP Main, f/1.8, True Chroma Camera, OIS
32MP True Chroma Camera
13MP Ultra-wide, f/2.2
Front Camera
10MP Selfie Camera, f/2.4
Network
4G LTE
Connectivity
Wi-Fi AX Dual Band, 2×2 MIMO, Bluetooth 5.2, GPS, NFC
Others
Fingerprint Scanner, USB-C, IP68
OS
EMUI 12
Battery
4000mAh Battery, 40W SuperCharge