Prime Video is one of the more underrated streaming services here in the Philippines. The platform has a good roster of titles at an affordable price point and will work well either as your leading streaming service or as a complimentary one to your existing subscriptions.
As we enter the last month of 2022, Prime Video will end the year with the addition of 8 new titles to bolster its collection. Check out the list below.
Your Christmas Or Mine?
Streaming on December 2, 2022
Synopsis: Students Hayley and James are young and in love. After saying goodbye for Christmas at a London train station, they both make the same mad split-second decision to swap trains and surprise each other. Passing each other in the station, they are completely unaware that they have just swapped Christmases.
Hayley arrives at a vast mansion in a small village in the Gloucester countryside to find a place where Christmas does not exist, whilst James heads north to a small semi-detached in Macclesfield and steps into the warm and chaotic pandemonium that only a large family Christmas can bring.
When the entire country is blanketed in the biggest snowfall on record, our star-crossed lovers are trapped at the most manic time of the year. Christmas traditions are turned on their head, secrets are revealed, and family truths are told with hilarious consequences. The couple realizes that there is an awful lot they don't know about each other. Will they be able to swap back in time for Christmas Day? And will Hayley and James' fledgling relationship make it through to the New Year?
Drag Den with Manila Luzon
Streaming on December 8, 2022
Synopsis: The world's most famous Filipino drag queen Manila Luzon hosts a reality drag competition where the Philippines' finest drag queens compete in performance, comedy, and fashion challenges in hopes of snatching the historic crown as the first ever drag supreme.
The Forbidden Marriage
Streaming on December 9, 2022
Synopsis: When the crown princess dies, the crown prince is so sad he doesn't get married for 7 years and proclaims a law that bans everyone in the 8 provinces of Joseon from getting married. Ye So-rang, who calls herself Hanyang's greatest matchmaker, takes her greatest scheme to the king in order to save the dreary country.
Something from Tiffany's
Streaming on December 9, 2022
Synopsis: Nothing compares to the magic and excitement of the holidays in New York City, where the streets blaze with lights, windows dazzle, and a special box from Tiffany could change a person's life. Or several lives. Rachel and Gary (Zoey Deutch, Ray Nicholson) are happy enough but not quite ready for that big commitment. Ethan and Vanessa (Kendrick Smith Sampson, Shay Mitchell), the perfect picture, are just about to make it official.
Also Read Comparison: Popular streaming services in the Philippines
When a simple mix-up of gifts causes all of their paths to cross, it sets off a series of twists and unexpected discoveries that lead them to where they're truly meant to be. Because love – like life – is full of surprises, in the holiday romance Something from Tiffany's.
Ultimate Oppa
Streaming on December 15, 2022
Synopsis: Follows the story of Yana, a K-drama enthusiast and a die-hard fan of Shiwoo- A big celebrity in Korea, and her journey after winning the meet and greet contest with her idol in South Korea. As the contest comes to a close, she realizes that the man she has been crushing on for years is not what she thinks he is in real life and she has developed feelings with Shiwoo's manager- Jay.
Tom Clancy's Jack Ryan Season 3
Streaming on December 21, 2022
Synopsis: In the third season of the action-thriller series, Jack Ryan is working as a CIA case officer in Rome, when he is tipped off that the Sokol Project, a secret plan to restore the Soviet Empire, is being resurrected more than 50 years after it was thought to have been shut down. Jack embarks on a mission to confirm the intelligence, but things quickly go awry, and he is wrongly implicated in a larger conspiracy.
Accused of treason, with a Red Notice out for his arrest, Jack is forced to run from his own government, if he has any hope of uncovering the rogue faction before it's too late. Crisscrossing Europe as he is hunted by former allies and new enemies alike, Jack races against the clock to stop the cascade of destabilizing conflicts from leading to global catastrophe.
Always
Streaming on December 22, 2022
Synopsis: This is a romantic drama about two people with different outlooks on life, both damaged by the cruelties of the world – one physically and the other emotionally. It tells the story of Anna, a blind girl who remains cheerful despite her disability, and Lino, a former boxer who tries to stay away from people because of some bitter personal experiences he encountered.
They make a connection, and fall in love and Lino learns later that he is somehow responsible for the accident that killed Anna's parents and made her blind. Weighed down by guilt, he will then make a sacrifice just for Anna to get the chance to regain her eyesight but Lino goes missing when Anna gains her sight back.
Island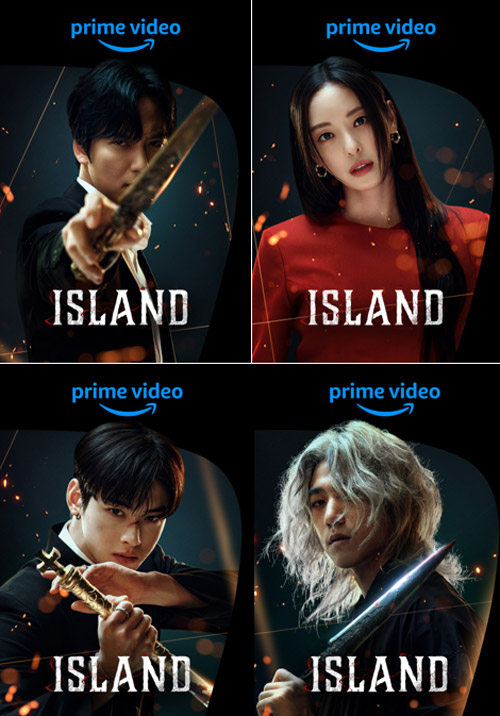 Streaming on December 30, 2022
Synopsis: Island is a fantasy action series based on the comic/webtoon of the same name by Yoon In-wan and Yang Kyung-il.  Set in Jeju island, it depicts the journey of the characters fighting the evil force that is trying to destroy the world.
Produced by YLab Flex, Studio Dragon, and Gilstory Ent, Island assembles one of the best on and off-screen teams, including director Bae Jong (Welcome to Dongmakgol, Fabricated City), writer Oh Bo-hyin and an A-list cast including Kim Nam-gil, Lee Da-hee, Cha Eun-woo, and Sung-joon in lead roles. Set on the most famous and beautiful Korean island of Jeju, Island taps into the legends and folklore of the well-known tourist destination through which the audience gets to experience its natural beauty.
Prime Video Philippines
Prime Video has a reasonable subscription price of just ₱149 per month. It offers a lot of quality content, such as Rings of Power and Wheel of Time, along with new anime like Chainsaw Man, Jujutsu Kaisen, and Mob Psycho 100 III.