The unfortunate truth is that even the most expensive laptops come with mediocre webcams. It ruins the experience of video calls and online meetings. An external webcam fixes the problem, but the question is, should you spend so much for one?
Enter the Rapoo C280, a budget webcam that features a 2K resolution, a wide field of view, and plug-and-play usability. Priced under Php 2K, is it a viable upgrade over your laptop's built-in webcam? Let's find out.
Design & Features
The Rapoo C280 is a simple, plug-and-play device with a clean design. It has a matte black finish that matches most laptops and desktops. It has a plastic build with a lightweight construction, and a small footprint that measures only 90x45x50mm.
The webcam has a clip on base with rubber pads, which allows it to be placed on top of either a stand alone monitor or laptop monitor. It also has a standard screw at the bottom, should you prefer to just mount it on a table top tripod.
The Rapoo C280 is fully adjustable with a 360 degree horizontal rotation, allowing you to freely adjust its orientation to get the viewing angle that you need. You can also rotate it all the way back, should you want to face it the other way.
The lens has an 85 degree wide angle field of view with a 2K 2560×1440 resolution, a maximum frame rate of 30 frames, and a video quality of up to 1080p. Meanwhile, the built-in microphone come with dual noise reduction that can minimize unnecessary noises during calls.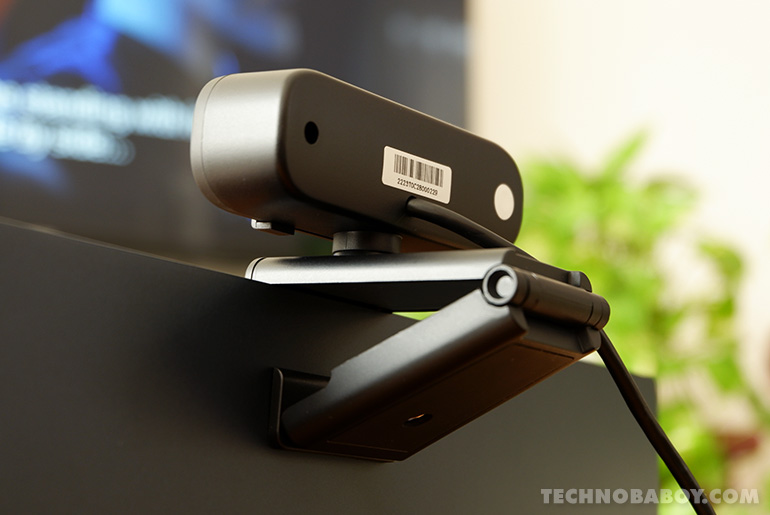 The Rapoo C280 connects via a 146cm (or about 4.8 feet) of cable that terminates on a USB-A 2.0 port. And for those who worry about privacy, it also has a built-in cover which you can just slide over the lens to block it.
Setup & Performance
Setup is pretty simple. Its plug-and-play, so all you need to do is connect it to a USB-A port on your laptop and you're all set. You might need to set it as a primary camera, though. But other than that, it was an easy setup.
Image quality is good for video calls. In fact, I found it a little too clear for my liking where I can see some fine lines and a few white hairs. But its nothing a beauty filter couldn't fix.
Also, the 85 degree field of view is wide enough that more of your background will be in the frame, so keep that in mind before hopping onto a meeting. You also get some distortion near the sides and edges associated with wide angle lenses, but its doesn't look like it affects the center, where you'll most likely be during calls.
Here's a selfie taken from the camera to give you a better sense of what the quality looks like. Its taken with room lights and a small secondary light source similar to a ring light.
As for the mic quality, its fine for video calls and meetings. It picks up my voice without issues, but it does pick up background sounds, such as other people talking or the sound of a TV.
Verdict
Even with the world opening up after the pandemic, online meetings and video calls will not be going away anytime soon as offices and schools adapt to hybrid setups that mix face-to-face interaction with work from home arrangements and online classes. That means a sensible webcam is a must for a much better experience.
With that, the Rapoo C280 is a great option, not only because of its overall performance, but also because of its price. For a webcam under Php 2K, its significant upgrade from the standard 720p cameras that come with your laptop.
Price & Availability
At the time of writing, the Rapoo C280 is priced at Php 1,795, available on PC Express, and through these links on Shopee and Lazada. However, it is currently on sale on the said e-commerce platforms for only Php 1,399.