The Philippine's official esports team, Sibol MLBB, is gearing up for the 32nd Southeast Asian Games – Mobile Legends: Bang Bang (MLBB) competition.
The team is aiming to snag their third championship title for the country, and they're training intensely to defend their title and earn more podium finishes.
This year's competition will feature nine countries, including Singapore, Vietnam, Laos, Malaysia, Indonesia, Timor Leste, Myanmar, the Philippines, and the host country Cambodia.
The MLBB event will have a standalone tournament for women, and the playoffs for MLBB Women are scheduled from May 10-11, 2023, followed by the playoffs for MLBB Men from May 12-14, 2023. Information on groupings and tournament format will be announced by the SEA Games esports organizing committee in the coming weeks.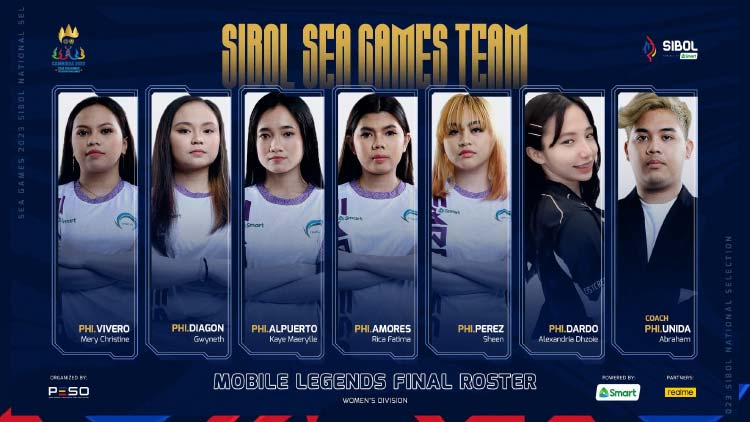 Representing Sibol MLBB – Women will be Mery Christine "PHI.VIVERO" Vivero, Kaye Maerylle "PHI.ALPUERTO" Alpuerto, Rica Fatima "PHI.AMORES" Amores, Sheen "PHI.PEREZ" Perez, Fatima Phoebe "PHI.TABURNAL" Taburnal, Gwyneth "PHI.DIAGON" Diagon, and Alexandria Dhzoie "PHI.DARDO" Dardo, with Abraham Unida as their coach.
Meanwhile, the Sibol MLBB Men is composed mostly of MPL Philippines Season 11 frontrunner and top seed BREN Esports, including Marco "PHI.REQUITANO" Requitano, Angelo Kyle "PHI.ARACANGEL" Arcangel, Michael Angelo "PHI.SAYSON" Sayson, David Charles "PHI.CANON" Canon, Rowgien "PHI.UNIGO" Unigo, and ONIC Philippines' Nowee "PHI.MACASA" Macasa. Francis Glindro will be coaching the team.
See also: ECHO Proud crowned champions of MLBB Development League Philippines Season 1
The Philippines emerged victorious in last year's competition, beating Indonesia in a best-of-five (BO5) series. In 2019, both countries were also the finalists, with the Philippines taking home the crown.