Some Android phones have proprietary calendar apps, which is really frustrating since the best out there is the app from Google.  The Google Calendar app was not available on Google Play before.   Google Calendar used to be an exclusive app on a few Android devices like the Nexus S and Galaxy Nexus but now, it is a stand-alone app that can be downloaded for free from Google Play.  I have been looking for an alternative to the S Calendar app on my Samsung Galaxy Note which I find inadequate.  Thankfully, I can replace it now with Google Calendar.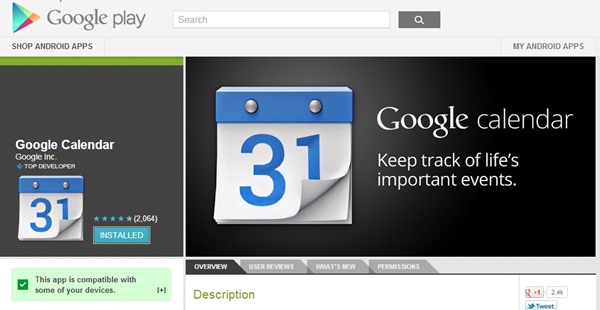 Apart from the clean and simple design, Google Calendar has several useful features.  Google Calendar allows you to manage multiple calendar accounts, making it convenient if you use several calendar accounts.  The basic calendar functions like managing events and responding to invitations is of course supported by Google Calendar but there are other features users will be happy to know about.  Google Calendar allows users to snooze events directly from a notification, use predefined messages to send quick updates directly from the notifications, pinch to zoom in and out of a day and set a home time zone when traveling.
Not all Android users can download Google Calendar, though.  Google Calendar only works on devices running Ice Cream Sandwich (Android 4.0.3+) or Jellybean (Android 4.1).