On the Philippine noontime program It's Showtime, hosts Karylle, Jugs Jugueta and Teddy Corpuz did something that was short of magical.   The show is celebrating its fourth anniversary and like what the show did on previous anniversaries, there is an ongoing talent showdown between the hosts.  This segment is called "Magpasikat Week" since during the entire week, the hosts take turn in showcasing their talents.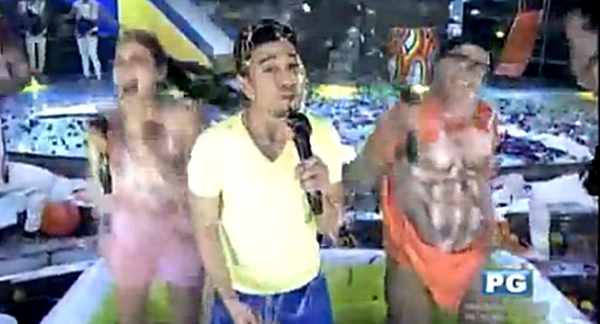 The group composed of Karylle, Jugs Jugueta and Teddy Corpuz did something out of the ordinary, at least by Philippine television standards.  Their performance started out as something confusing and uncreative.  The group made it appear that they learned Hindi and that the performance, which was actually a song number with props and some choreography, was a rendition of a Hindi song.  In the end, however, the biggest surprise came when the group showed a video playback where the performance was reversed and it was all along a rendition of the theme song for It's Showtime performed backwards.  Watch the performance of Karylle, Jugs Jugueta and Teddy Corpuz in the video below, which was uploaded by ABS-CBN on YouTube.
httpvh://www.youtube.com/watch?v=Z5Rx2IfybgI
If you watched the entire video, you'll be impressed.  This trick is now new as it has been used in a lot of music videos.  However, what's impressive is that Karylle, Jugs Jugueta and Teddy Corpuz performed it live.  This means that they memorized the lyrics backwards and made sure everything is perfectly executed.
To prove that the trick is not new, here is a music video of Coldplay's The Scientist.
httpvh://www.youtube.com/watch?v=RB-RcX5DS5A