Little known Japanese wireless speaker JUMPU Tsuyoi-S is built for the outdoors. It is affordable, rugged, and water resistant. Check out our quick review.
JUMPU Tsuyoi-S speaker review
The Japanese word tsuyoi means strong and tough. And its certainly the right adjective to describe this speaker. The JUMPU Tsuyoi-S is a portable wireless speaker that features an IP65 rating, a speakerphone function, and an 8-hour battery life. It connects via Bluetooth v4.1 with a working distance of up to 10m. It also has a 3.5 mm AUX port for wired listening, as well as a X-Bass for enhanced bass.
Design and Build
You know just by looking at it that the JUMPU Tsuyoi-S is a rugged speaker. It has a distinct square shape and a thick, chunky body. The sides and edges are protected by rubber, while the body is made of hard plastic held in place by metal screws. It feels solid and well built. Although there are metal speaker grills on both sides, it only has one speaker.
At the top you'll find the control buttons for power, volume, and play/pause/speakerphone. It has a hand strap attached on the upper right corner, and a LED indicator at the top of the logo.
On the left is a rubber stopper that seals and conceals the USB charging port, and the line-in jack. At the bottom is a screw mount, which can be used to mount the speaker on a bike.
Also Read: JUMPU Tsuyoi-S Bluetooth Speaker is now available in the Philippines
Performance and Audio Quality
According to its documentation, the speaker has a working distance of around 10 meters. In testing, that wasn't the case. The speaker started skipping audio within a few meters less than what was prescribed.
Pairing the device is simple enough. To connect, just turn on the speaker. A voice prompt will inform you that its now on. As soon as its on, the LED will blink blue continuously, which means its ready for pairing. Then go to the Bluetooth settings on your phone and connect to Tsuyoi-S.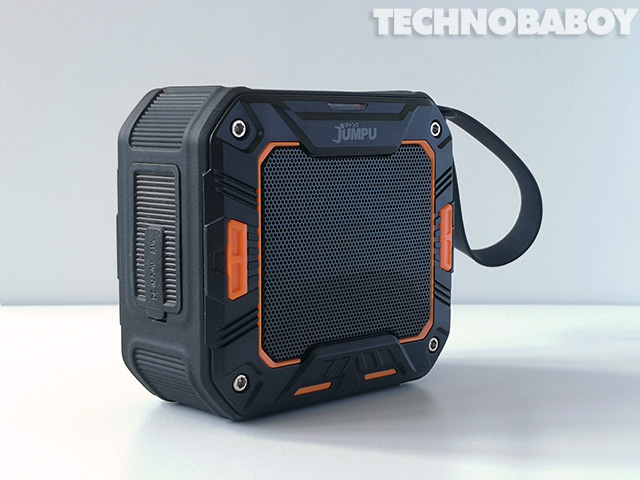 Audio quality is above average. It decent sound, but lacks bass despite the x-bass feature. It has ample volume as well, even when outdoors. On full volume, some songs started to distort but not too much.
The Tsuyoi-S has a 1,500 mAh battery rated to provide 8-hours of playtime. It is decent for the size. During testing, I was able to get a number close to that. I brought it to the office and it managed to last a work day.
Conclusion
If you're looking for an outdoor speaker you can mount on your bike, then you should give the JUMPU TSUYOI-S a try. For PHP1,290, you get an affordable Bluetooth speaker with IP65 water resistance and a rugged build designed to survive trails, mud and splashes of water. It also has decent sound quality which you can play at high volumes, and a speakerphone function.
The JUMPU TSUYOI-S Bluetooth Speaker is available in the Philippines with a suggested retail price of PHP1,290. You can get one in Starmobile kiosks and concept stores.
For more geek-centric news and reviews, please follow us on Facebook (facebook.com/TechnoBaboy), YouTube (TechnoBryan), Twitter (@technobaboy), Instagram (technobryan), and Google+ (technobryan). We'll do our best to keep you up-to-date.